Biden is set to mark the anniversary of his signing of a major climate, health and tax law
Biden is set to mark the anniversary of his signing of a major climate, health and tax law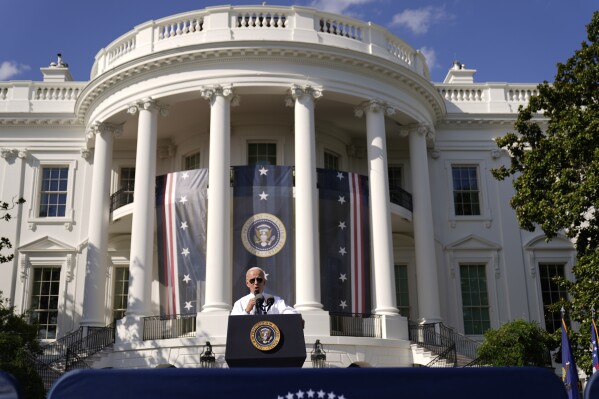 1 of 5 |
FILE – President Joe Biden speaks about the Inflation Reduction Act of 2022 during a ceremony on the South Lawn of the White House in Washington, Sept. 13, 2022. It's a once-in-a-generation undertaking, thanks to three big bills approved by Congress last session. They're now coming online. Biden calls it "Bidenomics." Republicans criticize it as big government overreach. Taken together, the estimated $2 trillion is a centerpiece of Biden's re-election effort. (AP Photo/Andrew Harnik, File)Read More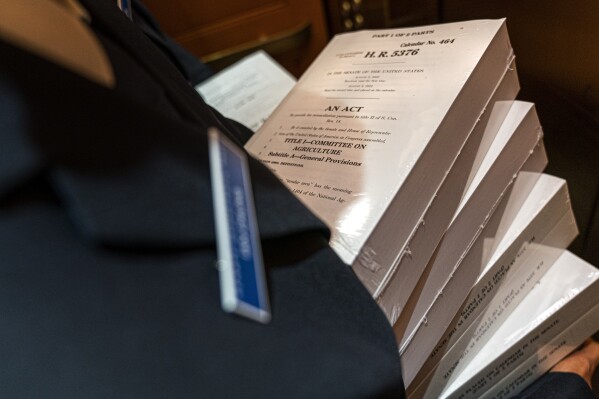 2 of 5 |
FILE – A page holds copies of the Inflation Reduction Act, inside an elevator inside the Capitol, Sept. 7, 2022, in Washington. The one-year anniversary of the Inflation Reduction Act being signed into law is on Wednesday, Aug. 16, 2023. (AP Photo/Jacquelyn Martin, File)
3 of 5 |
FILE – Nicholas Hartnett, owner of Pure Power Solar, carries a panel as he and Brian Hoeppner, right, install a solar array on the roof of a home in Frankfort, Ky., Monday, July 17, 2023. President Joe Biden has been careful not to declare an outright victory against inflation, but the White House says the cost savings from the Inflation Reduction Act are coming as the law is getting enacted. Tax credits will reduce the cost of installing rooftop solar panels by 30%, which will in turn lower monthly electricity bills. (AP Photo/Michael Conroy, File)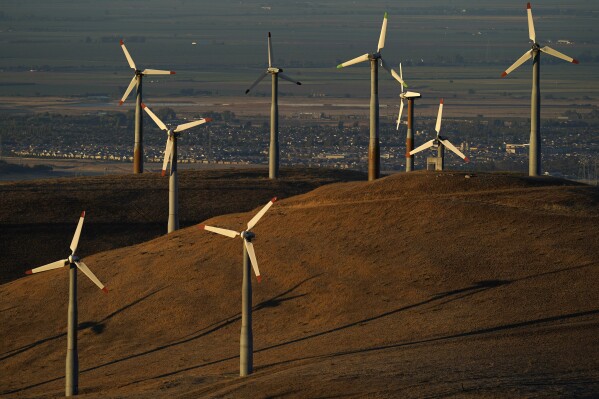 4 of 5 |
FILE – Wind turbines operate in Livermore, Calif., on Wednesday, Aug. 10, 2022. Biden, on his three-state western swing this past week, emphasized to donors and voters how the Inflation Reduction Act addresses climate change and promotes the creation of jobs as the economy moves toward renewable energy. (AP Photo/Godofredo A. Vásquez, File)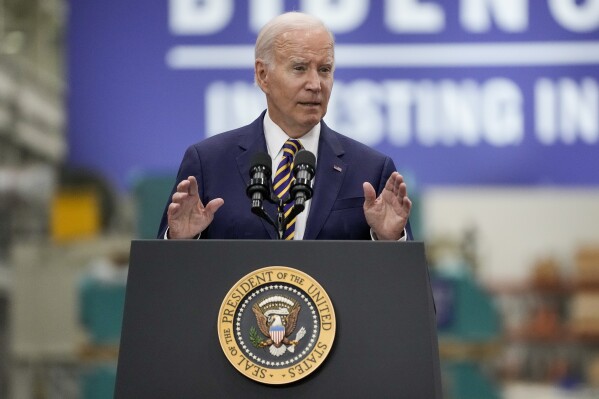 5 of 5 |
President Joe Biden speaks at Ingeteam Inc. Tuesday, Aug. 15, 2023, in Milwaukee. (AP Photo/Morry Gash)

BY SEUNG MIN KIMUpdated 7:22 AM MST, August 16, 2023Share
WASHINGTON (AP) — The White House is ramping up its efforts to illustrate the real-world impact of President Joe Biden's signature climate, health care and tax law by showing how various Americans say they've benefited from his economic policies on the anniversary of the so-called Inflation Reduction Act.
At a White House event Wednesday afternoon to celebrate a year since he signed the bill, Biden will stand alongside people — from union workers to small business owners to consumers — who the White House says have been aided by the law. That sweeping package, along with the bipartisan infrastructure law and a massive bill that bolsters production of semiconductor chips, make up the core of what the White House has branded "Bidenomics." It's aggressively promoting the concept as Biden seeks to improve his standing with voters amid his re-election campaign.
Before the East Room event, the administration is rolling out a new online tool on invest.gov that relays stories from across the country about the impact of the president's economic agenda.
ADVERTISEMENT
The White House is on a sprint to connect what they say is a popular economic agenda with an unpopular incumbent president, as polls show a majority of voters consistently disapprove of Biden's handling of the economy even amid signs of a U.S. economic upswing.
OTHER NEWS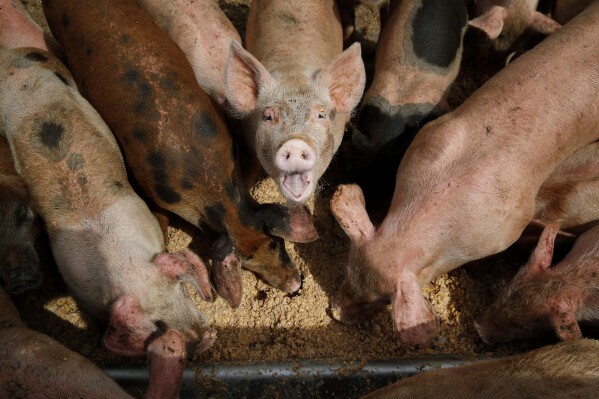 The EPA is rejecting calls for tougher regulation of big livestock farms. It's promising more study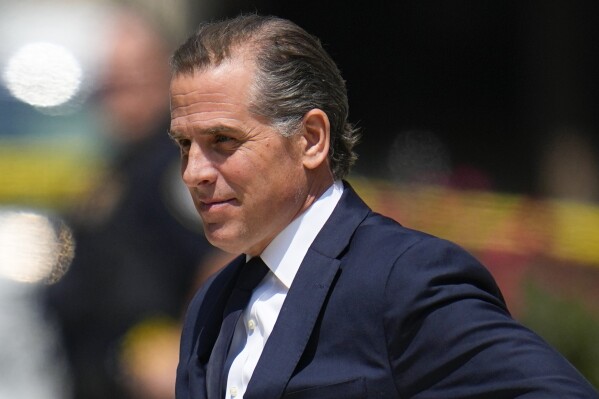 Prosecutors in the Hunter Biden case deny defense push to keep gun charge agreement in place