Gov. Brian Kemp hasn't received 'any evidence' state Sen. Moore has majority necessary for Willis impeachment
Gov. Brian Kemp hasn't received 'any evidence' state Sen. Moore has majority necessary for Willis impeachment
Moore claimed in a letter to the governor Thursday that he had '3/5 of each respective house' behind his motion to call a special session
By Timothy H.J. Nerozzi Fox News
Published August 18, 2023 12:49pm EDT
FIRST ON FOX: Georgia Gov. Brian Kemp's office says the state senator seeking to impeach the prosecutor handling the Georgia case against former President Donald Trump has not provided evidence that he has the necessary support to call a special session.
In a letter to the governor filed Thursday, state Sen. Colton Moore claimed to have the support of "3/5 of each respective house" in the state legislature regarding his efforts to impeach Fulton County District Attorney Fani Willis.
"We have not been provided any evidence to support that assertion," spokesman Garrison Douglas told Fox News Digital.
GEORGIA STATE SENATOR MOVES TOWARD IMPEACHING DA FANI WILLIS OVER TRUMP CHARGES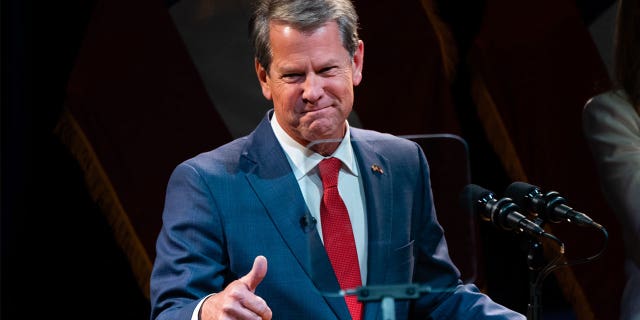 Brian Kemp, governor of Georgia, speaks during a rally in Atlanta, Georgia. (Elijah Nouvelage/Bloomberg via Getty Images)
Moore is moving to impeach Fulton County District Attorney Fani Willis over the charges brought against former President Trump.
"As a Georgia State Senator, I am officially calling for an emergency session to review the actions of Fani Willis," Moore said on social media Thursday. "America is under attack. I'm not going to sit back and watch as radical left prosecutors politically TARGET political opponents."
"We, the undersigned, being duly elected members of the Georgia House of Representatives and Georgia Senate, and comprising 3/5 of each respective house, pursuant to Article IV, Section II, Paragraph VII(b), hereby certify to you, in writing, with a copy to the Secretary of State, that in our opinion an emergency exists in the affairs of the state, requiring a special session to be convened under that section, for all purposes, to include, without limitation, the review and response to the actions of Fani Willis," Moore wrote in his letter to the governor the same day.
Moore, in a statement to Fox News Digital, clarified that the statement in the letter alluding to having a majority in both houses was not accurate.
"Tell Brian Kemp and his team to turn off CNN and open their eyes. I've done 25 TV, radio, and podcast interviews with one identical message: I need 3/5 of my colleagues to sign the letter," Moore told Fox News Digital. "The people of Georgia want action, not more empty promises from fluff politicians."
CNN LEGAL ANALYST DOUBTS FANI WILLIS, SAYS THERE IS 'NO PLANET' WHERE TRUMP IS TRIED IN MARCH: 'NOT HAPPENING'