Trump urges UAW to endorse him in a speech at non-union car parts maker
Trump urges UAW to endorse him in a speech at non-union car parts maker
Frontrunner in Republican primary speaks at Michigan car parts firm one day after Biden joined autoworkers' picket line
Tom Perkins in Clinton Township, MichiganWed 27 Sep 2023 22.13 EDT
Donald Trump tried to woo US autoworkers in a rambling speech in Michigan on Wednesday night that took potshots at Joe Biden, electric vehicles and Barack Obama while pushing culture war issues and fell far short of supporting the core issues that have many car workers currently on strike.
The speech came a day after Joe Biden spoke to striking United Auto Workers members on a picket line nearby. Biden's historic appearance was the first time that a sitting president has walked a picket line.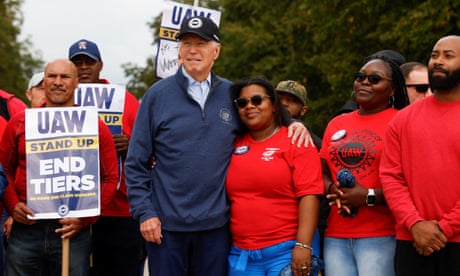 Trump dismissed that as a "photo op" at Drake Enterprises, a non-unionised car parts maker in Macomb county, a few miles from where Biden spoke to striking employees picketing a Ford facility.
The former US president and other prominent Republicans have consistently attacked unions but many are now being more supportive of the UAW strike. Trump is the overwhelming frontrunner in the Republican 2024 nomination race and Michigan and other rust belt states are seen as crucial battlegrounds in the race for the White House.
"Your leadership should endorse me and I will not say a bad thing about them again," said Trump, though he did not substantively address the issues at stake in the strike beyond expressing support for getting better wages.
At one stage Trump said that the UAW leader, Shawn Fain, should endorse him and called him "a good man … he's got to endorse Trump". In the run-up to the visit Fain, however, has been withering in his opinion of Trump and declined to meet him.
"I see no point in meeting with him because I don't think the man has any bit of care about what our workers stand for, what the working class stands for," Fain said before Trump's visit. "He serves a billionaire class, and that's what's wrong with this country." Biden had attended the UAW picket at Fain's invitation.
Several hundred people attended the speech, which was timed to coincide with the latest Republican presidential debate.
"When you look at the thousands of people outside, why couldn't you get a bigger plant?" said Trump.
The crowd appeared to be in the hundreds and while the speech took place, it thinned to less than a hundred as the rain came down. At one moment Trump – who has a long history of exaggerating crowd sizes at his events – falsely claimed that there were "10,000" people outside the venue.
"Just get your union guys, your leaders, to endorse me and I will take care of the rest," said Trump. "Under a Trump presidency, gasoline engines will be allowed and sex changes for children will be banned. Is that OK?"
Trump consistently attacked electric ve