Trump trial set for March 4, 2024, in federal case charging him with plotting to overturn election
Trump trial set for March 4, 2024, in federal case charging him with plotting to overturn election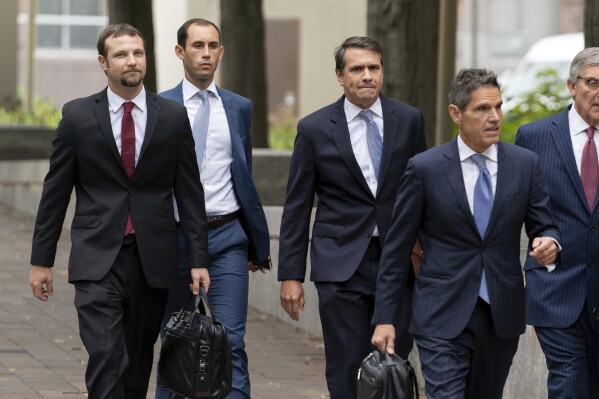 1 of 11 |
Former President Donald Trump attorneys from left, Gregory Singer, Stephen Weiss, Todd Blanche and John Lauro arrive at the E. Barrett Prettyman U.S. Federal Courthouse, Monday, Aug. 28, 2023, in Washington. (AP Photo/Jose Luis Magana)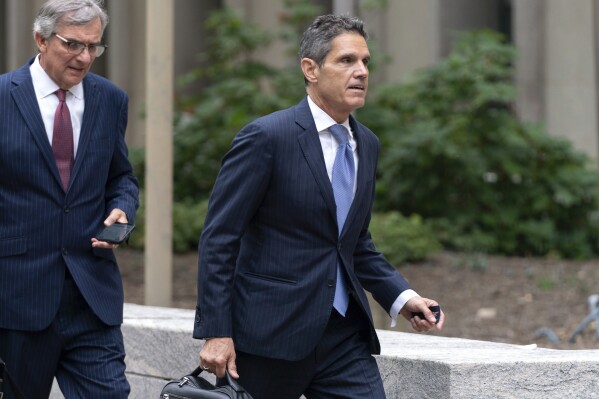 2 of 11 |
Former President Donald Trump attorney John Lauro arrives at the E. Barrett Prettyman U.S. Federal Courthouse, Monday, Aug. 28, 2023, in Washington. (AP Photo/Jose Luis Magana)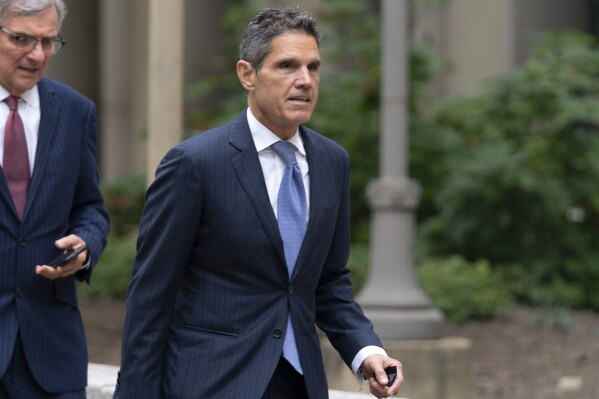 3 of 11 |
Former President Donald Trump attorney John Lauro arrives at the E. Barrett Prettyman U.S. Federal Courthouse, Monday, Aug. 28, 2023, in Washington. (AP Photo/Jose Luis Magana)
4 of 11 |
FILE – Special counsel Jack Smith speaks to the media about an indictment of former President Donald Trump, Tuesday, Aug. 1, 2023, at an office of the Department of Justice in Washington. Lawyers for Trump are due back in court Monday, Aug. 28, as a federal judge considers radically conflicting proposals for a trial date in the case accusing him of working to overturn the results of the 2020 presidential election. Smith's team has proposed a Jan. 2, 2024 trial in federal court in Washington, one of four cities where Trump could face trial as soon as next year. (AP Photo/J. Scott Applewhite, File)
5 of 11 |
FILE – With the White House in the background, President Donald Trump speaks at a rally in Washington, Jan. 6, 2021. Lawyers for Donald Trump are due back in court Monday, Aug. 28, as a federal judge considers radically conflicting proposals for a trial date in the case accusing him of working to overturn the results of the 2020 presidential election. (AP Photo/Jacquelyn Martin, File)
6 of 11 |
FILE – This artist sketch depicts former President Donald Trump, right, conferring with defense lawyer Todd Blanche, center, during his appearance at the Federal Courthouse in Washington, Thursday, Aug. 3, 2023. Special Prosecutor Jack Smith sits at left. Lawyers for Trump are due back in court Monday, Aug. 28, as a federal judge considers radically conflicting proposals for a trial date in the case accusing him of working to overturn the results of the 2020 presidential election.Dana Verkouteren via AP, File)
7 of 11 |
FILE – This undated photo provided by the Administrative Office of the U.S. Courts, shows U.S. District Judge Tanya Chutkan. Lawyers for Donald Trump are due back in court Monday, Aug. 28, as a federal judge considers radically conflicting proposals for a trial date in the case accusing him of working to overturn the results of the 2020 presidential election. Chutkan is expected to set at least a tentative trial date during Monday's status conference. (Administrative Office of the U.S. Courts via AP, File)
8 of 11 |
FILE – Former President Donald Trump speaks at his Mar-a-Lago estate Tuesday, April 4, 2023, in Palm Beach, Fla. A judge on Monday, Aug. 28, set a March 4, 2024, trial date for Trump in the federal case in Washington charging the former president with trying to overturn the results of the 2020 election, rejecting a defense request to push back the case by years. (AP Photo/Evan Vucci, File)
9 of 11 |
Former President Donald Trump's attorney John Lauro accompanied by other lawyers leaves federal court, Monday, Aug. 28, 2023, in Washington. A judge has set a March 4, 2024, trial date for Donald Trump in the federal case in Washington charging the former president with trying to overturn the results of the 2020 election. (AP Photo/Jose Luis Magana)
10 of 11 |
Former President Donald Trump's attorney John Lauro accompanied by other lawyers leaves federal court, Monday, Aug. 28, 2023, in Washington. A judge has set a March 4, 2024, trial date for Donald Trump in the federal case in Washington charging the former president with trying to overturn the results of the 2020 election. (AP Photo/Jose Luis Magana)
11 of 11 |
Former President Donald Trump's attorney John Lauro leaves federal court, Monday, Aug. 28, 2023, in Washington. A judge has set a March 4, 2024, trial date for Donald Trump in the federal case in Washington charging the former president with trying to overturn the results of the 2020 election. (AP Photo/Jose Luis Magana)
BY ERIC TUCKER, LINDSAY WHITEHURST AND MICHAEL KUNZELMANUpdated 9:21 AM MST, August 28, 2023Share
WASHINGTON (AP) — A judge on Monday set a March 4, 2024, trial date for Donald Trump in the federal case in Washington charging the former president with trying to overturn the results of the 2020 election, rejecting a defense request to push back the case by years.
U.S. District Judge Tanya Chutkan rebuffed claims by Trump's attorneys that an April 2026 trial date was necessary to account for the huge volume of evidence they say they are reviewing and to prepare for what they contend is a novel and unprecedented prosecution. But she agreed to postpone the trial slightly beyond the January 2024 date proposed by special counsel Jack Smith's prosecution team.
"The public has a right to a prompt and efficient resolution of this matter," Chutkan said.
MORE ON THE TRUMP INDICTMENTS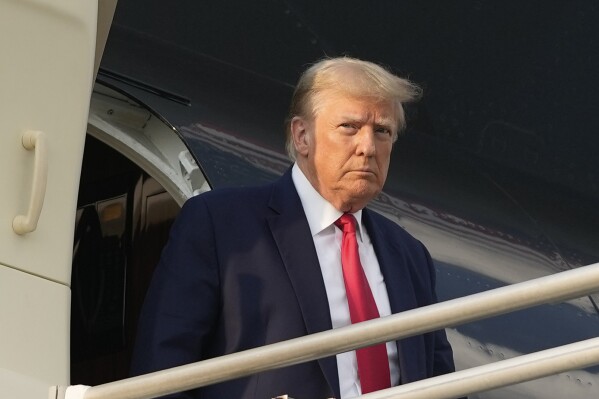 Trump and 18 others charged in the Georgia election case are scheduled to be arraigned on Sept. 6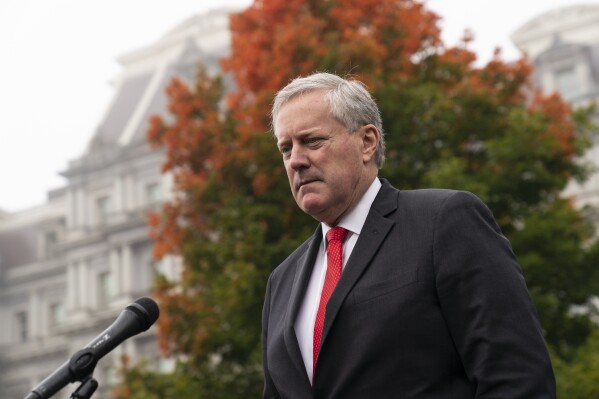 Judge to hear arguments on Mark Meadows' request to move Georgia election case to federal court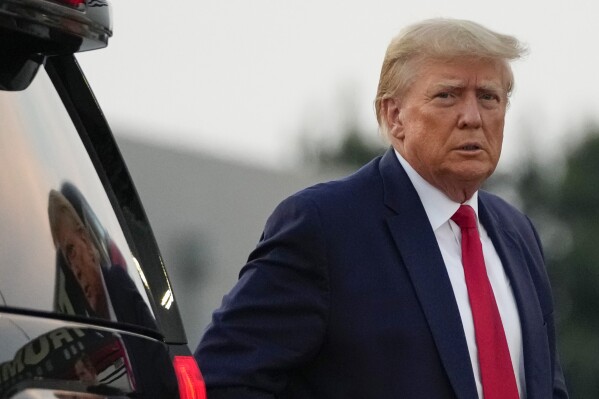 Trump campaign reports raising more than $7 million after Georgia booking
If the current date holds, it would represent a setback to Trump's efforts to push the case back until well after the 2024 presidential election, a contest in which he's the early front-runner for the Republican nomination. The March 2024 date would also guarantee a blockbuster trial in the nation's capitol in the heat of the GOP presidential nominating calendar, likely forcing Trump to juggle campaign and courtroom appearances, and it would come the day before Super Tuesday — a crucial voting day when the largest number of delegates are up for grabs.
"I want to note here that setting a trial date does not depend and should not depend on the defendant's personal or professional obligations," Chutkan said.
The setting of the trial date came despite strong objections from Trump lawyer John Lauro. He said defense lawyers had received an enormous trove of records from Smith's team — a prosecutor put the total at more than 12 million pages — and that the case concerned novel legal issues