Denmark joins Netherlands in offering F-16 jets to Ukraine as Zelenskyy visits
Denmark joins Netherlands in offering F-16 jets to Ukraine as Zelenskyy visits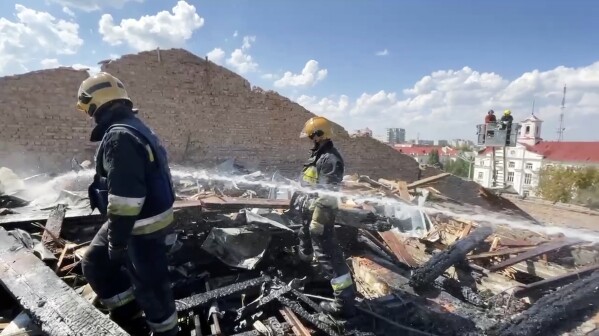 1 of 14 |
In this photo taken from video provided by the Ukrainian Emergency Service, firefighters work on the roof of the Taras Shevchenko Chernihiv Regional Academic Music and Drama Theatre damaged by Russian attack in Chernihiv, Ukraine, Saturday, Aug. 19, 2023. (Ukrainian Emergency Service via AP)Read More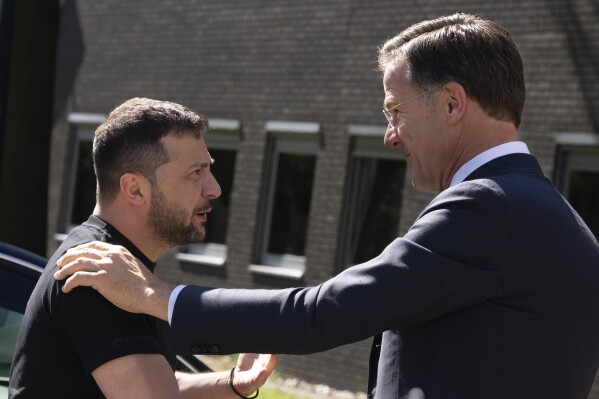 2 of 14 |
Ukrainian President Volodymyr Zelenskyy, left, is greeted by Dutch caretaker Prime Minister Mark Rutte in Eindhoven, Netherlands, Sunday, Aug. 20, 2023. The leaders met at a military air base in the southern Dutch city, a day after Zelenskyy visited Sweden on his first foreign trip since attending a NATO summit in Lithuania last month. On Friday, the Netherlands and Denmark said that the United States had given its approval for the countries to deliver F-16s to Ukraine. (AP Photo/Peter Dejong)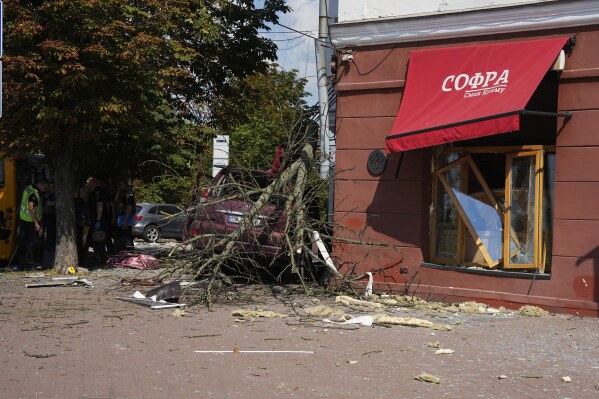 3 of 14 |
Damage in a street after a Russian attack in Chernihiv, Ukraine, Saturday, Aug. 19, 2023. (AP Photo/Efrem Lukatsky)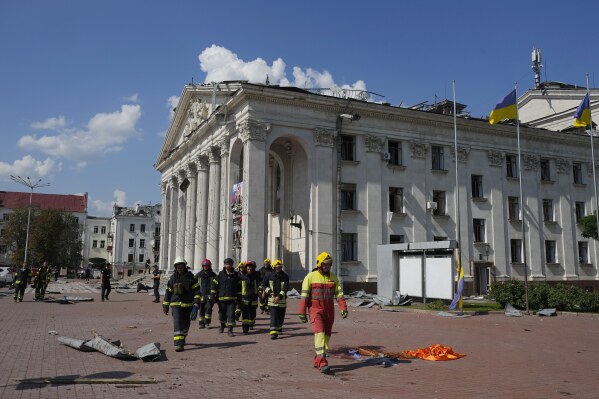 4 of 14 |
Firefighters walk next to the Taras Shevchenko Chernihiv Regional Academic Music and Drama Theatre damaged by a Russian attack in Chernihiv, Ukraine, Saturday, Aug. 19, 2023. (AP Photo/Efrem Lukatsky)
5 of 14 |
Taras Shevchenko Chernihiv Regional Academic Music and Drama Theatre is seen damaged by Russian attack in Chernihiv, Ukraine, Saturday, Aug. 19, 2023. (AP Photo/Efrem Lukatsky)
6 of 14 |
Ukrainian President Volodymyr Zelenskyy, left, meets with Dutch caretaker Prime Minister Mark Rutte during his visit to Eindhoven, Netherlands, Sunday Aug. 20, 2023. (Piroschka van de Wouw/Pool via AP)
7 of 14 |
Ukrainian President Volodymyr Zelenskyy and Dutch caretaker Prime Minister Mark Rutte look at F-16 fighter jets in Eindhoven, Netherlands, Sunday, Aug. 20, 2023. The leaders met at a military air base in the southern Dutch city, a day after Zelenskyy visited Sweden on his first foreign trip since attending a NATO summit in Lithuania last month. On Friday, the Netherlands and Denmark said that the United States had given its approval for the countries to deliver F-16s to Ukraine. (AP Photo/Peter Dejong)
8 of 14 |
Ukrainian President Volodymyr Zelenskyy, center, and Dutch caretaker Prime Minister Mark Rutte, center right, look at F-16 fighter jets in Eindhoven, Netherlands, Sunday, Aug. 20, 2023. The leaders met at a military air base in the southern Dutch city, a day after Zelenskyy visited Sweden on his first foreign trip since attending a NATO summit in Lithuania last month. On Friday, the Netherlands and Denmark said that the United States had given its approval for the countries to deliver F-16s to Ukraine. (AP Photo/Peter Dejong)
9 of 14 |
Ukrainian President Volodymyr Zelenskyy and his wife Olena Selenska, left, are welcomed by Denmark's Crown Princess Mary, right, and Prime Minister Mette Frederiksen at Skrydstrup Airbase, in Vojens, Denmark, Sunday, Aug. 20, 2023. (Mads Claus Rasmussen/Ritzau Scanpix via AP)
10 of 14 |
Ukrainian President Volodymyr Zelenskyy and Dutch caretaker Prime Minister Mark Rutte, right, are seen during a press conference in Eindhoven, Netherlands, Sunday, Aug. 20, 2023. The leaders met at a military air base in the southern Dutch city, a day after Zelenskyy visited Sweden on his first foreign trip since attending a NATO summit in Lithuania last month. On Friday, the Netherlands and Denmark said that the United States had given its approval for the countries to deliver F-16s to Ukraine. (AP Photo/Peter Dejong)
11 of 14 |
Ukrainian President Volodymyr Zelenskyy, left, and Dutch caretaker Prime Minister Mark Rutte talk as they walk towards a press conference in Eindhoven, Netherlands, Sunday, Aug. 20, 2023. The leaders met at a military air base in the southern Dutch city, a day after Zelenskyy visited Sweden on his first foreign trip since attending a NATO summit in Lithuania last month. On Friday, the Netherlands and Denmark said that the United States had given its approval for the countries to deliver F-16s to Ukraine. (AP Photo/Peter Dejong)
12 of 14 |
Ukrainian President Volodymyr Zelenskyy and his wife Olena Selenska, left, are welcomed by Denmark's Crown Princess Mary, right, and Prime Minister Mette Frederiksen at Skrydstrup Airbase, in Vojens, Denmark, Sunday, Aug. 20, 2023. (Mads Claus Rasmussen/Ritzau Scanpix via AP)
13 of 14 |
Ukrainian President Volodymyr Zelenskyy, left, and Denmark's Prime Minister Mette Frederiksen sit in a F-16 fighter jet at Skrydstrup Airbase, in Vojens, Denmark, Sunday, Aug. 20, 2023. (Mads Claus Rasmussen/Ritzau Scanpix via AP)
14 of 14 |
Ukrainian President Volodymyr Zelenskyy sits in a F-16 fighter jet at Skrydstrup Airbase, in Vojens, Denmark, Sunday, Aug. 20, 2023. (Mads Claus Rasmussen/Ritzau Scanpix via AP)
BY MIKE CORDER AND KARL RITTERUpdated 9:19 AM MST, August 20, 2023Share
EINDHOVEN, Netherlands (AP) — The Netherlands and Denmark announced Sunday they will give F-16 warplanes to Ukraine, a long-awaited announcement that Ukrainian President Volodymyr Zelenskyy called an important motivation for his country's forces, embroiled in a difficult counteroffensive against Russia.
The promise of new fighter jets came the day after an unusually brazen Russian missile strike on a Ukrainian theater that killed seven people and wounded almost 150 others in the northern city of Chernihiv. Zelenskyy vowed stern retaliation for the attack, whose victims included a slain 6-year-old girl dead and 15 wounded children.
After months of entreaties from Zelenskyy for F-16s to bolster the Ukrainian air force, the U.S. recently gave approval for the Netherlands and Denmark to provide Ukraine the American-made jets. Zelenskyy travelled to both countries Sunday to finalize the delivery deals.
ADVERTISEMENT
''F-16s will certainly give new energy, confidence, and motivation to fighters and civilians. I'm sure it will deliver new results for Ukraine and the entire Europe,″ the Ukrainian leader said.
OTHER NEWS