Donald Trump's bond is set at $200,000 in Georgia case over efforts to overturn 2020 election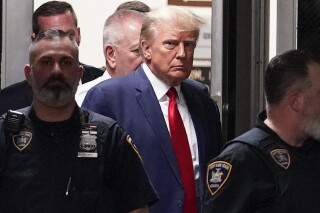 BY ALANNA DURKIN RICHER AND JILL COLVINUpdated 2:58 PM MST, August 21, 2023Share
Donald Trump's bond has been set at $200,000 ahead of his surrender to authorities in the Georgia case accusing the former president of illegally scheming to overturn his 2020 election loss, according to court papers filed Monday.
Trump, who is facing a Friday deadline to turn himself in, is also barred from intimidating co-defendants, witnesses or victims in the case — including on social media — according to the bond agreement signed by Fulton County District Attorney Fani Willis, Trump's defense attorneys and the judge. It explicitly includes "posts on social media or reposts of posts" made by others.
Trump has repeatedly used social media to attack people involved in the criminal cases against him as he campaigns to reclaim the White House in 2024. He has been railing against Willis since before he was indicted, and singled out Georgia Gov. Brian Kemp — a Republican who rebuffed his efforts to overturn the election — by name in a social media post Monday morning.
ADVERTISEMENT
The agreement prohibits the former president from making any "direct or indirect threat of any nature" against witnesses or co-defendants, and from communicating in any way about the facts of the case with them, except through attorneys.
RELATED STORIES