Airbus wins record order for 500 jets from India's IndiGo at Paris Air Show
Airbus wins record order for 500 jets from India's IndiGo at Paris Air Show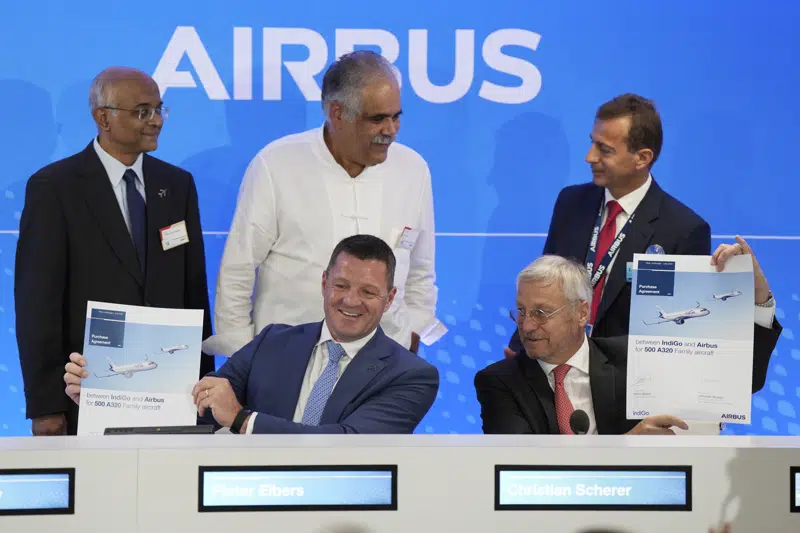 1 of 6
CEO of IndiGo Pieter Elbers, bottom left, Airbus Chief Commercial Officer and Head of International Christian Scherer, borrom right, Chairman and Non-Executive Independent Director of IndiGo Dr. Venkataramani Sumantran, left, Promoter & Managing Director of IndiGo Rahul Bhatia, centre, and Airbus CEO Guillaume Faury pose for a picture with signed documents during a news conference during the Paris Air Show in Le Bourget, north of Paris, France, Monday, June 19, 2023. (AP Photo/Lewis Joly)
PARIS (AP) — India's IndiGo airline is buying 500 passenger jets from European planemaker Airbus, the two companies said Monday, in a record-setting order that underscores surging demand for air travel fueled by the country's economic growth.
IndiGo, India's dominant carrier, is buying the narrow-body A320 aircraft in what the companies said was the single biggest purchase agreement in commercial aviation history.
Executives from both companies announced the deal on the opening day of the Paris Air Show, the world's largest event focusing on aviation and space industry. They didn't disclose how much the order was worth, but it would likely amount to tens of billions of dollars.
The order is "an enormous milestone," IndiGo CEO Peter Elbers said at a press conference. "No one has ever ordered an order of this magnitude. And it speaks to the potential of Indian aviation and the ambitions which IndiGo is having."
ADVERTISEMENT