Hoover Institution Hosts First Education Summit Featuring Scholars, Educators, And Advocates For Change
Hoover Institution Hosts First Education Summit Featuring Scholars, Educators, And Advocates For Change
Wednesday, March 30, 2022Hoover Institution, Stanford University

Hoover Institution (Stanford, CA) – The Hoover Institution hosted its first education summit on Wednesday, March 9, and Thursday, March 10, featuring discussions with scholars, educators, activists, and other experts about the formulation and advancement of policies aimed at improving outcomes for American K–12 students.
The idea for an education summit was conceptualized by Condoleezza Rice, who, since taking leadership of the Hoover Institution in 2020, has stressed the importance of quality education opportunities, especially in helping disadvantaged and minority youth overcome discrimination and achieve true social, political, and economic equality.
The summit was organized by Macke Raymond, Hoover distinguished research fellow and founder and director of Stanford University's Center for Research on Education Outcomes (CREDO). Raymond was editor of a 2021 Hoover report, How to Improve Our Schools in the Post-COVID Era, which focused on the challenges of making up for students' learning losses caused by school closures, and on how the pandemic period has revealed to the public glaring deficiencies within the education system, thus creating extraordinary opportunities for change.
Click here to watch Macke Raymond's opening remarks at the summit.
A New Day for Education Work at the Hoover Institution
Condoleezza Rice, Tad and Dianne Taube Director of the Hoover Institution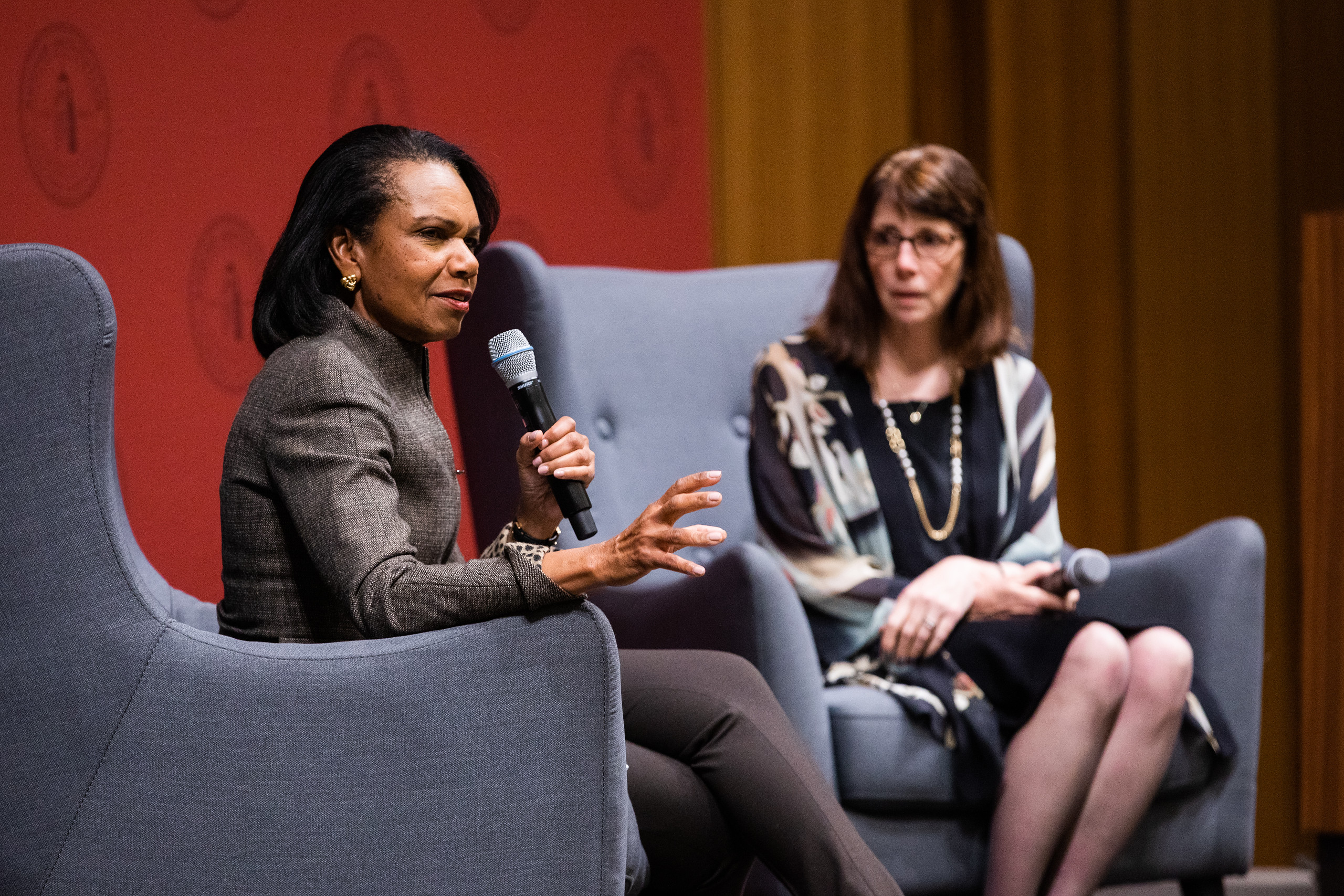 Hoover director Condoleezza Rice in conversation with Distinguished Research Fellow Macke Raymond during the opening night of the Hoover Education Summit 2022.
In opening remarks at the conference on March 9, Condoleezza Rice explained that what has made America more prosperous and innovative than other nations is that its diverse population, particularly those born in less-fortunate circumstances, have not been constrained to live out their wholes lives in a specific economic class. Rather, Americans have enjoyed distinct opportunities to climb up from the "bottom rung of the ladder" in their society and achieve great success and meaning in their lives. The key factor for social mobility in America is access to education, she maintained.
This was especially true for Rice, who grew up in segregated Birmingham, Alabama. For her and other Black children in the South, education was their "armor." She stressed how critical it is today to expand access to a quality education, explaining that the modern economy punishes those who have little or no skills in its labor force. In addition, Rice explained how education is also critical to national security. She worries, for example, that only 30 percent of members of the US military (the most technologically advanced in the world) can pass assessments demonstrating proficiency in basic math skills.
Click here to watch Condoleezza Rice's remarks, followed by an audience Q&A moderated by Macke Raymond.
Education Leaders Carousel
Hoover stands with many passionate, driven experts and leaders all working to improve the US K–12 public education system. Many of the top experts shared their ideas in a few video montages shared throughout the program to help stimulate conversations during the Hoover Education Summit 2022 addressing the topics of "The Biggest Challenges Facing US K–12 Education," "The Meaningful Changes that Need to Be Enacted in the US K–12 Education System," and "What Does Success Look Like 10 Years from Now?"