Rosalynn Carter marks 96th birthday at home with the former president, butterflies and ice cream
Rosalynn Carter marks 96th birthday at home with the former president, butterflies and ice cream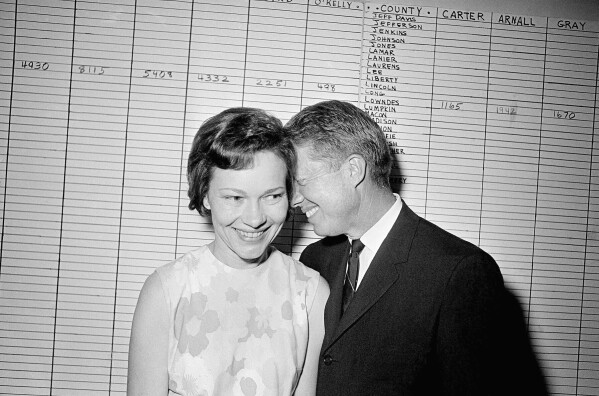 1 of 5 |
FILE – In this Sept. 15, 1966, file photo, then Georgia State Sen. Jimmy Carter hugs his wife, Rosalynn, at his Atlanta campaign headquarters. Rosalynn Carter turns 96 on Friday, Aug. 18, 2023 and is celebrating at home in Plains, Ga., with her family, including former President Jimmy Carter. Her plan includes eating cupcakes and peanut butter ice cream, then releasing butterflies in her garden — with friends doing the same around the Carters' hometown. (AP Photo/File)Read More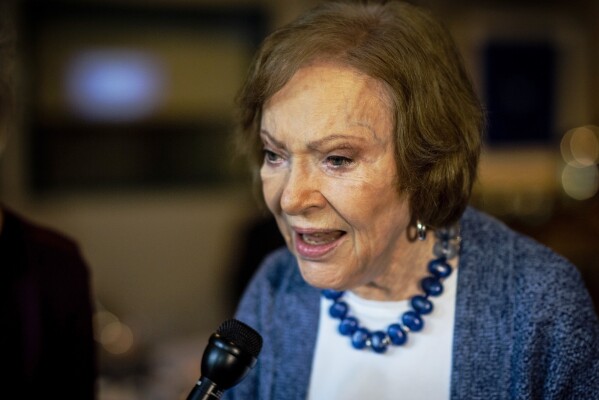 2 of 5 |
FILE – The former first lady Rosalynn Carter speaks to the press at conference at The Carter Center on Nov. 5, 2019, in Atlanta. Rosalynn Carter turns 96 on Friday, Aug. 18, 2023 and is celebrating at home in Plains, Ga., with her family, including former President Jimmy Carter. Her plan includes eating cupcakes and peanut butter ice cream, then releasing butterflies in her garden — with friends doing the same around the Carters' hometown. (AP Photo/Ron Harris, File)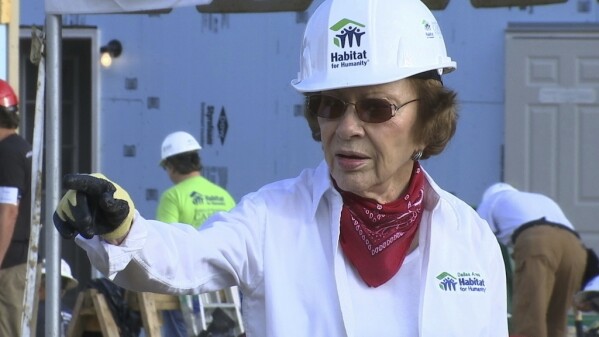 3 of 5 |
FILE – Former U.S. First Lady Rosalynn Carter helps build a home in Memphis, Tenn., for Habitat for Humanity on Aug. 22, 2016. Rosalynn Carter turns 96 on Friday, Aug. 18, 2023 and is celebrating at home in Plains, Ga., with her family, including former President Jimmy Carter. Her plan includes eating cupcakes and peanut butter ice cream, then releasing butterflies in her garden — with friends doing the same around the Carters' hometown. (AP Photo/Alex Sanz, file)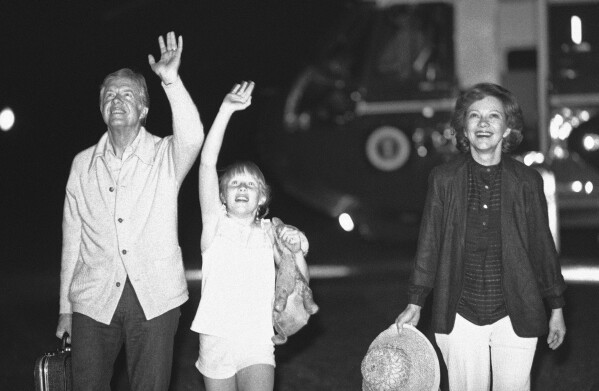 4 of 5 |
FILE – President Jimmy Carter, daughter Amy and first lady Rosalynn Carter wave to a group of people waiting on the Truman balcony of the White House in Washington, July 2, 1979 as the Carters arrive after their trip to Tokyo and South Korea. Rosalynn Carter turns 96 on Friday, Aug. 18, 2023 and is celebrating at home in Plains, Ga., with her family, including former President Jimmy Carter. Her plan includes eating cupcakes and peanut butter ice cream, then releasing butterflies in her garden — with friends doing the same around the Carters' hometown. (AP Photo, file)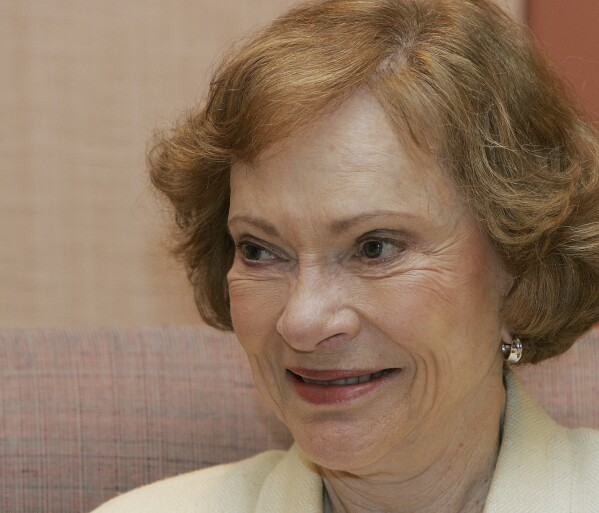 5 of 5 |
FILE – Former first lady Rosaylnn Carter smiles during an interview at the Carter Center in Atlanta, June 13, 2006. Rosalynn Carter turns 96 on Friday, Aug. 18, 2023 and is celebrating at home in Plains, Ga., with her family, including former President Jimmy Carter. Her plan includes eating cupcakes and peanut butter ice cream, then releasing butterflies in her garden — with friends doing the same around the Carters' hometown. (AP Photo/Ric Feld, file)

BY BILL BARROWUpdated 9:10 PM MST, August 17, 2023Share
ATLANTA (AP) — Rosalynn Carter will celebrate her 96th birthday at home Friday with her husband, former President Jimmy Carter, and other family members, while the surrounding community of Plains, Georgia, honors the former first lady's years of public health advocacy.
The latest milestone comes as Rosalynn Carter navigates dementia and the former president, now 98, continues to receive hospice care. Yet they remain together in the same small town where they were born, married and that anchored Jimmy Carter's victorious 1976 presidential campaign.
Rosalynn will have a quiet birthday celebration, according to The Carter Center, the human rights organization the pair opened in Atlanta after losing his 1980 reelection bid. She plans to eat cupcakes and peanut butter ice cream, nodding to the couple's experience as Georgia peanut farmers, which became part of their political branding.
ADVERTISEMENT
She also will release butterflies in the Carters' garden; her love of butterflies traces back to childhood. Extended family and friends also plan for several butterfly releases around Plains, including at the small public garden next to the home where Eleanor Rosalynn Smith was born on Aug. 18, 1927.
OTHER NEWS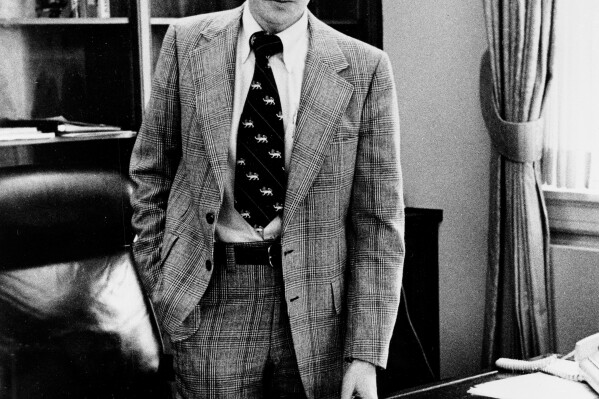 Hugh Carter Jr., the cousin who helped organize Jimmy Carter's 'Peanut Brigade,' has died
Jimmy and Rosalynn Carter mark 77th wedding anniversary at home in Plains, Georgia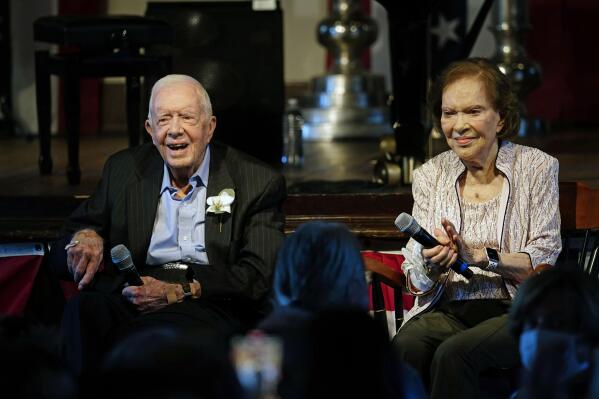 Former first lady Rosalynn Carter has dementia, The Carter Center says
The Rosalynn Carter Institute for Caregivers is sponsoring a screening of a new film, "Unconditional," which focuses on the challenges people face as caregivers for sick, aging and disabled loved ones. The event, scheduled for 6:30 p.m. at Plains High School, is open to the public.
Since her husband was Georgia governor in the early 1970s, Rosalynn Carter has called for a more comprehensive American health care system treating mental health as integral to overall health and recognizing the importance of caregivers to the nation's social and economic well-being.
"Her incredible ability is to both look at a problem from the need for policy changes, and to think about the individual who lives next door or down the street and is struggling," said Jennifer Olsen, who leads the Rosalynn Carter Institute.
Olsen noted the former first lady has pushed multiple U.S. administrations to establish an office within the Department of Health and Human Services dedicated exclusively to advocating for caregivers. The office develops specific programs to aid caregivers and analyzes all public policy — from tax provisions to labor rules and regulations — through the vantage point of people caring for loved ones.
ADVER