Judge denies request to block Florida law making it a crime to drive people in the US illegally
Judge denies request to block Florida law making it a crime to drive people in the US illegally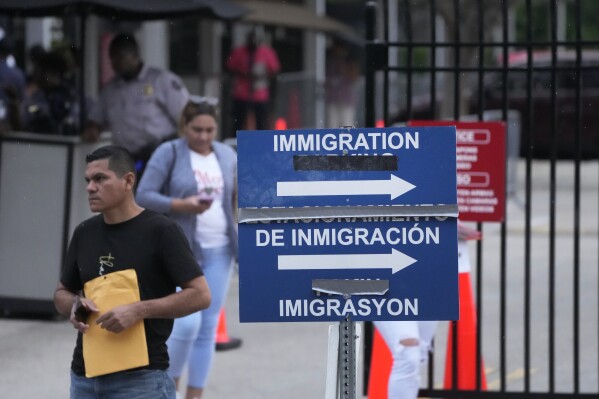 1 of 2 |
People leave the Immigration and Customs Enforcement (ICE) offices, Wednesday, July 26, 2023, in Miramar, Fla. (AP Photo/Wilfredo Lee)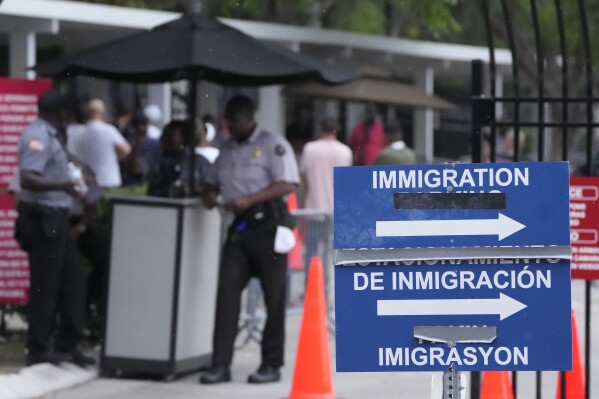 2 of 2 |
Officers stand outside the Immigration and Customs Enforcement (ICE) offices, Wednesday, July 26, 2023, in Miramar, Fla. (AP Photo/Wilfredo Lee)

BY MIKE SCHNEIDERUpdated 5:11 PM MST, August 8, 2023Share
ORLANDO, Fla. (AP) — Civil rights groups asked a federal judge Tuesday to stop Florida officials from enforcing a section of a new state immigration law that criminalizes transporting someone who has entered the United States unlawfully. But the jurist denied the request immediately on a technicality.
The portion of the law known as Section 10 makes it unsafe for people to get to medical appointments, meet with family and go to work, the groups said in a motion that is part of a July lawsuit challenging the law.
"For many individual Plaintiffs, Section 10 interferes with their ability to go about their daily lives," said the motion, which asks for a temporary injunction halting enforcement.
ADVERTISEMENT
Almost immediately after it was filed, U.S. District Judge Roy Altman denied the request for a temporary injunction on a technicality, saying Gov. Ron DeSantis and other defendants who include prosecutors from across Florida hadn't been properly given notice about the motion. The judge said the civil rights groups could file the request again.
OTHER NEWS