Record aircraft purchase announced at Paris Airshow
Record aircraft purchase announced at Paris Airshow
Share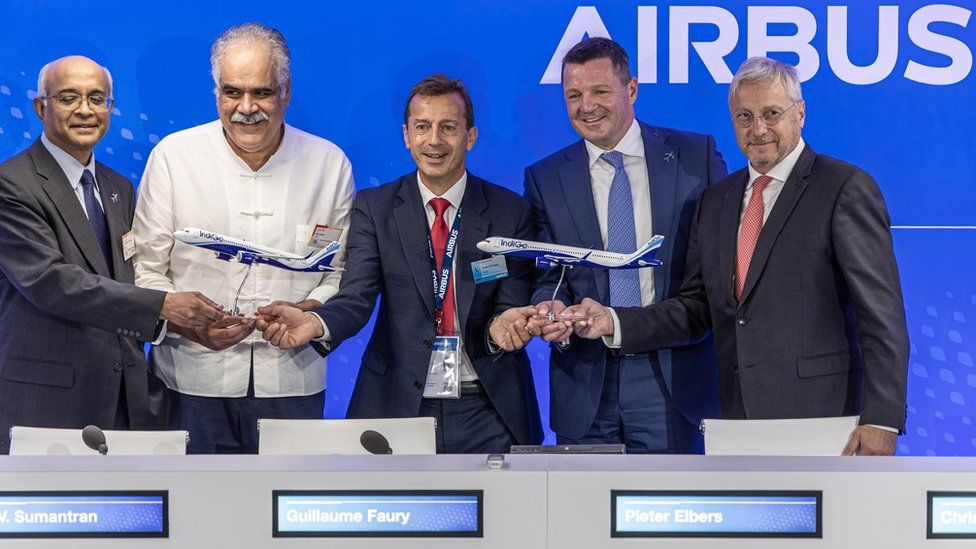 By Theo Leggett in Paris & Nikhil Inamdar in Mumbai
BBC News
Indian carrier IndiGo has made a record order for 500 Airbus A320 aircraft – the largest single purchase agreement by any airline in commercial aviation history.
The deal, announced on the first day of the Paris Airshow, is worth roughly $55bn before any bulk-order discounts.
IndiGo now has an order book of 1,330 aircraft with Airbus.
This translates into a steady stream of deliveries planned between 2030 and 2035.
The new deliveries will help budget carrier IndiGo lower its operating costs and improve fuel efficiency, the company says.
India is a burgeoning aviation market, with some analysts saying it is on track to replace China as the aerospace industry's next growth frontier.
The country is expected to be the fastest-growing G20 economy over the next few years and has seen a significant increase in the number of first-time flyers since the pandemic.
And there's still a large runway for growth. Under 5% of the country's 1.4 billion people are estimated to have ever taken a flight and air traffic in India has been growing hugely as disposable incomes rise.
In February, Air India, IndiGo's rival, made headlines by placing its own order for 470 aircraft from both Airbus and Boeing.
This latest deal shows that confidence is returning to the airline industry in the wake of the pandemic – and this order from the low-cost carrier is a statement of ambition from one of the fastest-growing airlines in the world.
Ryanair and Saudi start-up Riyadh Air have also recently made large aircraft orders. But while airlines now seem keen to invest in new aircraft, manufacturers are struggling to build them quickly enough, because supply chains remain disrupted by the after-effects of the Covid shutdowns.
While this may be by far the most dramatic order seen so far at the Paris Airshow, it is unlikely to be the last.
The airliner market ground to a halt during the pandemic, but now carriers are making up for lost time, renewing their fleets and in some cases expanding aggressively as well.
Related Topics