Ukraine war: BBC on the front line as Ukraine attacks Russian trenches
Ukraine war: BBC on the front line as Ukraine attacks Russian trenches
Share
Related Topics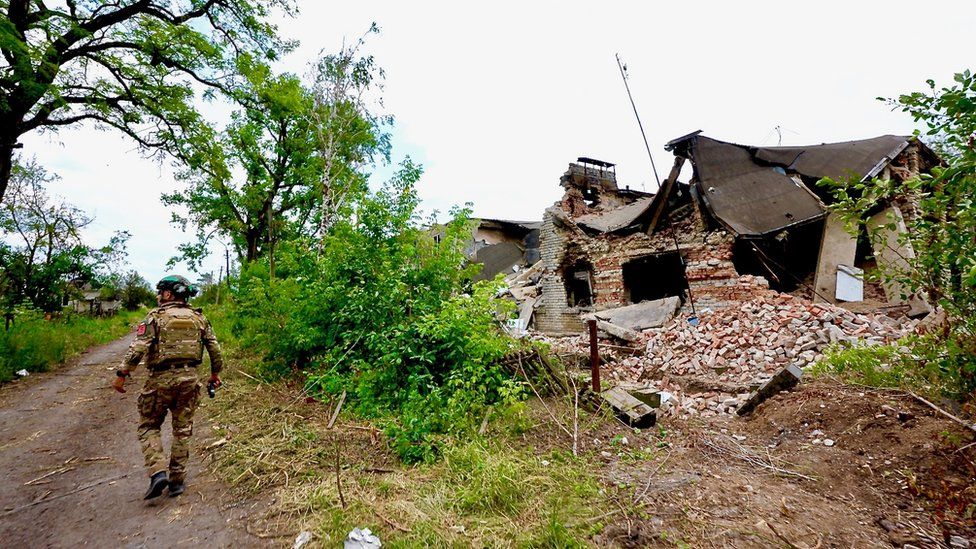 By Quentin Sommerville
Blahodatne, Ukraine
Two weeks since the counter-offensive began, Ukraine is making modest but steady progress in three areas of attack across the 1,000km (620 mile) front line.
Troops are launching probing attacks, while most of Ukraine's forces are being held in reserve, waiting for a big enough opening in Russian defences to launch a main attack and try to recapture land in the south of the country.
The fighting has been hard, with heavy casualties on both sides, and opposing armies claiming the upper hand. Ukraine's advance in southern Donetsk has stuttered, but continues.
The BBC joined the 68th Jaeger Brigade as its combat forces sought to expand their control eastward of the recently regained village of Blahodatne.
In their sights were a series of trenches protecting Russian forces on nearby hilltops.

The men of a specialised drone unit grab cameras, roll cables and load a pickup truck with tins of ammunition, crates of smoke grenades and armour-piercing rounds.
Aside from them, there's little sign of life in Blahodatne. Down a lane, the wreckage of two heavily armoured American-made MRAP vehicles lie stranded, one a burnt-out shell. There are more of these mine-resistant vehicles disabled in the fields beyond.
"Steer clear of those, the Russians keep hitting them," we are warned. Russia has made much of the losses of Western-donated tanks and vehicles, even as Vladimir Putin admitted it has lost dozens of tanks since the counter-offensive began on 5 June.
Troops are attacking at three points: Bakhmut, where they are advancing north and south of the city, which remains firmly under Russian control; south of Zaporizhzhia; and in southern Donetsk, where a number of villages have been taken back.
https://emp.bbc.com/emp/SMPj/2.49.3/iframe.htmlMedia caption,
Watch: Yaroslav starts talking about the frequency of Russian fire and is interrupted by a blast
Blahodatne is one of those. Another salvo comes in and the soldiers take cover in the cellar of a ruined house.
A dirt floor passageway is lit with oil lamps, casting soft yellow light down its length to a stone and iron stove with three sturdy pots atop. Towels hang from a washing line. A rough wooden door opens and, in a headscarf, Nina Fedorivna emerges.
She has been living down here for the past year. Russian soldiers came by only once, she says.
She never, for a second, considered leaving the village.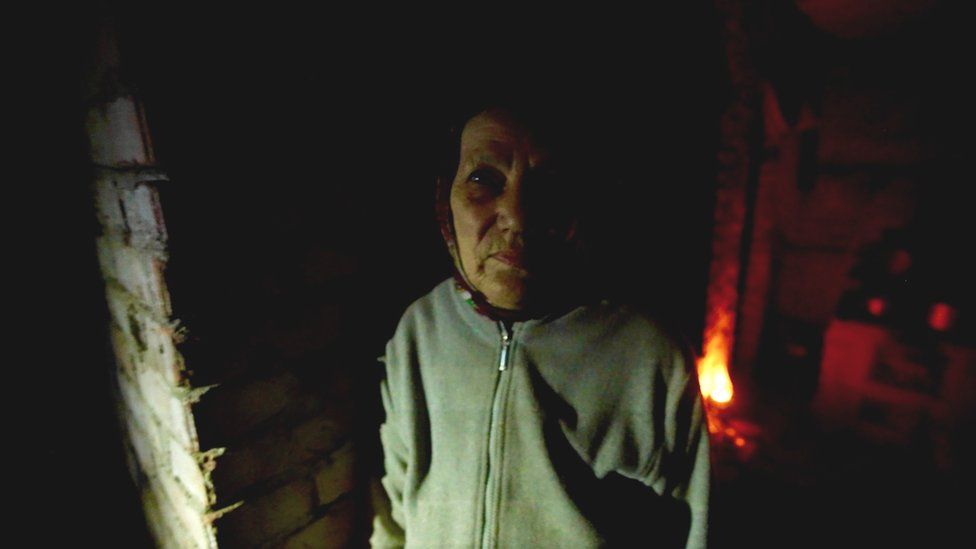 The artillery barrage over, we leave through a lane at the end of her house. Three Russian corpses lie in a ditch, just beyond Nina Fedorivna's vegetable patch. A truck with the Z symbol, which was used by Russian forces, sits nearby riddled with bullet and shrapnel holes. The fighting here was at close quarters.
Throughout the village roses are in bloom – but the smell of corpses catches the back of your throat.
There's no time to delay – the soldiers have an air of concentration and purpose. They are clearly preparing for something.
They head east, leaving Blahodatne behind. The two-car convoy is well spaced in case of Russian attack. The fields around are heavily mined, poles with red-and-white ribbon mark cleared ground.
As we get close to another abandoned American armoured vehicle, there's an explosion, just missing the wreckage. It is likely from a Russian drone.
I was in this area back in March. Then, the front lines had barely moved a few metres in months. Russia was using far more artillery than Ukrainian forces, who mainly hunkered down in trenches waiting for the barrages to end. At the time, a commander told me they were conserving their shells for the counter-offensive. On this visit, Ukrainian guns didn't stop for the two days I was with the brigade.
The cars speed on to a network of trenches hidden in a line of trees. There, company commander, Senior Sergeant Andrii Onistrat, 49, runs his men through their next mission – a Ukrainian assault is planned for the next day on the Russian trenches, 3km (1.8 miles) away at the foot of the low hills to the south.