Train Carrying Hazardous Materials Derails in Arizona: Reports
Train Carrying Hazardous Materials Derails in Arizona: Reports
BY GIULIA CARBONARO ON 3/16/23 AT 3:39 AM EDT
SHARE
NEWS TRAIN CHEMICALS TRAIN DERAILMENT ARIZONA
Afreight train reported to be carrying hazardous materials was derailed in western Arizona on Wednesday evening. There were said to be no immediate spills or leaks from the train in Mohave County, where the incident took place.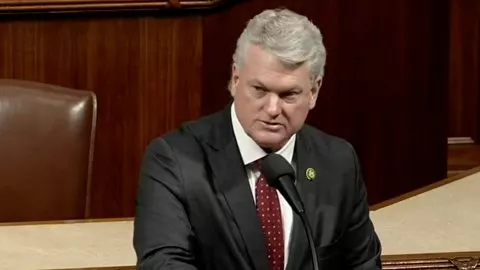 There were conflicting reports about what the train was carrying. A spokesperson for the Mohave County Sheriff's Office earlier said the train was reportedly carrying hazardous materials, CNN reported.
However, in response to a request for comment from Newsweek, BNSF said in a written statement: "BNSF Railway can confirm that a train carrying corn syrup derailed near Topock in western Arizona, close to the California border on March 15, at approximately 7:40 pm local time. There were no injuries as a result of the derailment and preliminarily reports indicate there are no hazardous materials involved."
A spokesperson for the Mohave County Sheriff's Office, Anita Mortensen, told The New York Times that the train derailed near Milepost 9 of Interstate 40. The sheriff's office was notified of the incident after 8 p.m. on Wednesday.
The incident follows the derailment of a freight train carrying hazardous material in East Palestine, eastern Ohio, in early February. In that case, the derailment caused a major fire that covered the entire town in smoke—sparking concerns over the possible exposure of residents to toxic chemicals, as over a million gallons of hazardous material and pollutants were released into the atmosphere surrounding East Palestine. Residents were evacuated by authorities to avoid being endangered.
Norfolk Southern, which operated the Ohio train, is being sued by the state of Ohio for "recklessly endangering" the health of residents and the state's natural resources. Ohio Attorney General Dave Yost said that the "derailment was entirely avoidable."
Another Norfolk Southern train derailed near Springfield, Ohio on March 4, with 28 out of the vehicle's 212 cars leaving the tracks. No hazardous material was involved. The incident—the second train derailment in the state in just over a month—raised concerns over the safety of the railway in the country and Norfolk Southern's performance.
There's no information available about how many cars were on the train that derailed in Arizona on Wednesday. The National Transportation Safety Board (NTSB) and BNSF were reportedly notified of the incident and are now investigating the derailment.
NEWSWEEK SUBSCRIPTION OFFERS >
Approximately eight cars are reported to be derailed. The main track is blocked and