US offers almost 500,000 Venezuelans legal status
US offers almost 500,000 Venezuelans legal status
Share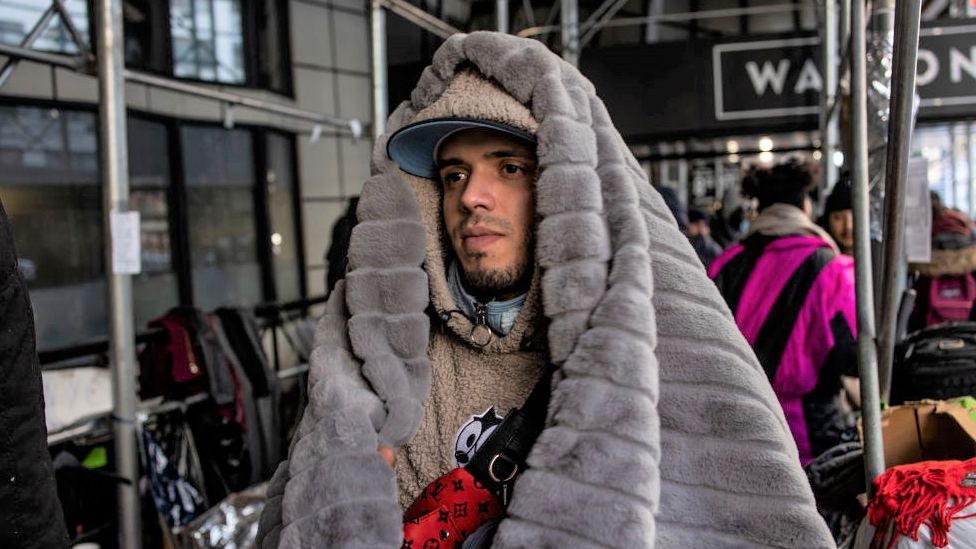 Venezuelans seeking asylum in the US who are already living in the country will be allowed to work legally under new rules announced by the Biden administration.
About 472,000 people will be eligible for Temporary Protected Status (TPS) for a period of 18 months.
It follows calls by Democrats to expand work access for newly-arrived migrants.
US cities have been grappling with large numbers fleeing economic and political turmoil in Venezuela.
ADVERTISEMENT
People must have been living in the US on or before 31 July to be eligible for temporary deportation relief and access to work permits under TPS. If granted, they will be allowed to work while they wait for an asylum determination to be made.
Some 243,000 Venezuelans already have the status stemming from a 2021 policy that was renewed last year.
The US Department of Homeland Security (DHS) said the expansion of protected status for Venezuelans was warranted due to the country's "increased instability and lack of safety".
"Temporary protected status provides individuals already present in the United States with protection from removal when the conditions in their home country prevent their safe return," Homeland Security Secretary Alejandro Mayorkas said in a statement.
"That is the situation that Venezuelans who arrived here on or before 31 July of this year find themselves in."
Those who have arrived after that date, Mr Mayorkas said, will "be removed when they are found to not have a legal basis to stay".
New York Mayor Eric Adams had been calling on President Joe Biden to allow migrants to have access to employment.
The city has been struggling to shelter tens of thousands of migrants, many of them from Venezuela, in more than 200 hotels, shelters, tent cities and other facilities.
Mr Adams, a Democrat, blamed the federal and state government for not providing enough aid for the city to offer housing and other social services for new arrivals.
"Our administration and our partners across the city have led the calls to 'Let Them Work,' so I want to thank President Biden for hearing our entire coalition, including our hard-working congressional delegation, and taking this important step that will bring hope to the thousands of Venezuelan asylum seekers currently in our care who will now be immediately eligible for Temporary Protected Status," he said on Wednesday.
In a joint statement, Senate Majority Leader Chuck Schumer and House Democratic Leader Hakeem Jeffries – both New York Democrats – said that the move is a "welcome step forward" that "will provide needed relief to New York's systems straining to support newly arrived immigrants".
"The decision will also substantially reduce the cost to New York taxpayers with respect to the sheltering of asylum seekers," the statement added.
New York's Governor, Kathy Hochul, said that while there's "more work to do", state officials are ready to "immediately" begin the process of "signing people up for work [and] getting them into jobs so they can become self-sufficient".
The number of migrants illegally crossing the US-Mexico border has rebounded in recent months, after a drop in May following the Biden administration's new stricter asylum rules.
Republican-led states have been transporting migrants to Democratic-run areas in protest at border policies.
They said the measure was designed to increase pressure on President Biden to do more to reduce the number of migrants crossing the southern US border.
The United Nations says more than seven million people have left Venezuela as the oil giant's economy has collapsed under President Nicolas Maduro, who has been in power since 2013.
Related Topics
More on this story