Lots of indoor farms are shutting down as their businesses struggle. So why are more being built?
Lots of indoor farms are shutting down as their businesses struggle. So why are more being built?
0 seconds of 2 minutes, 32 secondsVolume 90%
Across the country, more and more vertical farms – indoor operations meant to grow fresh food more locally – are going up even as more and more are coming down. (Sept. 17) (AP Video: Joshua A. Bickel and Kendria LaFleur, produced by Joshua A. Bickel)Videos
1Photos
11
BY MELINA WALLING AND KENDRIA LAFLEURUpdated 5:44 PM MST, September 17, 2023Share
CLEBURNE, Texas (AP) — Inside a bright greenhouse about an hour outside Dallas, workers in hairnets and gloves place plugs of lettuce and other greens into small plastic containers — hundreds of thousands of them — that stack up to the ceiling. A few weeks later, once the vegetables grow to full size, they'll be picked, packaged and shipped out to local shelves within 48 hours.
This is Eden Green Technology, one of the latest crop of indoor farming companies seeking their fortunes with green factories meant to pump out harvests of fresh produce all year long. The company operates two greenhouses and has broken ground on two more at its Cleburne campus, where the indoor facilities are meant to shelter their portion of the food supply from climate change while using less water and land.
But that's if the concept works. And players in the industry are betting big even as rivals wobble and fail. California-based Plenty Unlimited this summer broke ground on a $300 million facility, while Kroger announced that it will be expanding its availability of vertically farmed produce. Meanwhile, two indoor farming companies that attracted strong startup money — New Jersey's AeroFarms and Kentucky's AppHarvest — filed for bankruptcy reorganization. And a five-year-old company in Detroit, Planted Detroit, shut its doors this summer, with the CEO citing financial problems just months after touting plans to open a second farm.
ADVERTISEMENT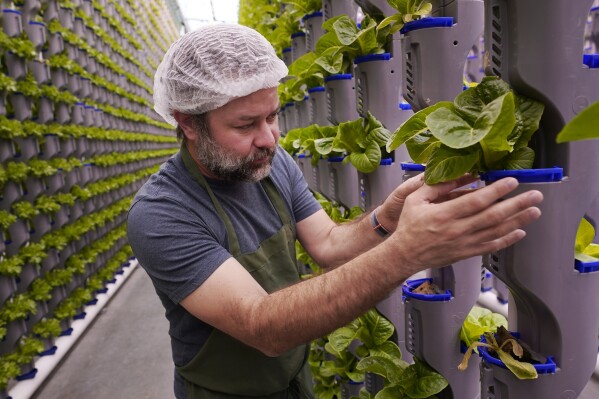 The industry churn doesn't bother Jacob Portillo, a grower with Eden Green who directs a plant health team and monitors irrigation, nutrients and other factors related to crop needs.
"The fact that other people are failing and other people are succeeding, that's going to happen in any industry you go to, but specifically for us, I think that especially as sustainable as we're trying to be, the sustainable competitors I think are going to start winning," he said.
Indoor farming brings growing inside in what experts sometimes call "controlled environment agriculture." There are different methods; vertical farming involves stacking produce from floor to ceiling, often under artificial lights and with the plants growing in nutrient-enriched water. Other growers are trying industrial-scale greenhouses, indoor beds of soil in massive warehouses and special robots to mechanize parts of the farming process.
READ MORE FROM CLIMATE AND ENVIRONMENT