Aftershock rattles Morocco as rescuers seek survivors from the earthquake that killed over 2,100
Aftershock rattles Morocco as rescuers seek survivors from the earthquake that killed over 2,100
0 seconds of 1 minute, 18 secondsVolume 90%
Residents of the Old Medina in Marrakech returned to their homes Saturday to assess the damage caused by the most powerful earthquake to hit Morocco in 120 years that killed more than 2,000 people. (Sep. 9)Videos
3Photos
26
BY SAM METZ AND MOSA'AB ELSHAMYUpdated 9:11 AM MST, September 10, 2023Share
AMIZMIZ, Morocco (AP) — An aftershock rattled Moroccans on Sunday as they mourned victims of the nation's strongest earthquake in more than a century and sought to rescue survivors while soldiers and aid workers raced to reach ruined mountain villages. The disaster killed more than 2,100 people — a number that is expected to rise.
The United Nations estimated that 300,000 people were affected by Friday night's magnitude 6.8 quake and some Moroccans complained on social networks that the government wasn't allowing more outside help. International aid crews were poised to deploy, but some grew frustrated waiting for the government to officially request assistance.
"We know there is a great urgency to save people and dig under the remains of buildings," said Arnaud Fraisse, founder of Rescuers Without Borders, who had a team stuck in Paris waiting for the green light. "There are people dying under the rubble, and we cannot do anything to save them."
ADVERTISEMENT
Help was slow to arrive in Amizmiz, where a whole chunk of the town of orange and red sandstone brick homes carved into a mountainside appeared to be missing. A mosque's minaret had collapsed.
"It's a catastrophe,'' said villager Salah Ancheu, 28. "We don't know what the future is. The aid remains insufficient."
MORE ON EARTHQUAKE IN MOROCCO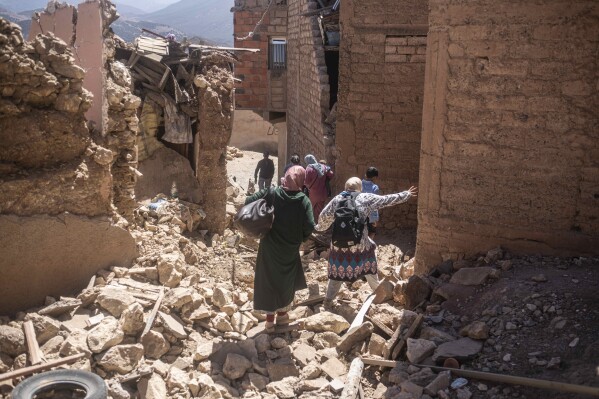 Moroccan villagers mourn after earthquake brings destruction to their rural mountain home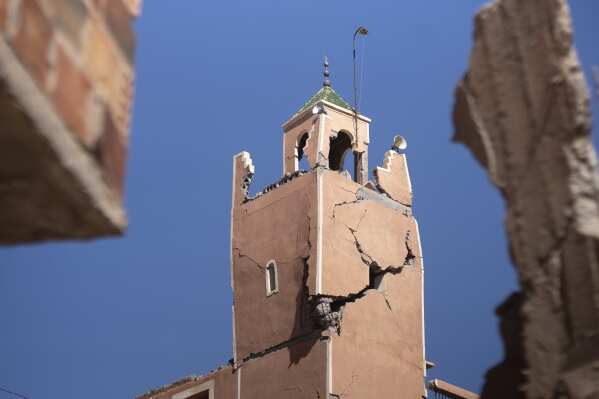 Morocco earthquake: A look at the deadliest quakes over the past 25 years
Live Updates: Offers from abroad start to pour in to Morocco after devastating earthquake
Residents swept rubble off the main unpaved road into town and people cheered when trucks full of soldiers arrived. But they pleaded for more help.
"There aren't ambulances, there aren't police, at least for right now," Ancheu said.