Georgia judge rules that Sidney Powell and Kenneth Chesebro can be tried together starting Oct. 23
Georgia judge rules that Sidney Powell and Kenneth Chesebro can be tried together starting Oct. 23
1 of 6 |
Fulton County Superior Judge Scott McAfee hears motions from attorneys representing Ken Chesebro and Sidney Powell in Atlanta on Wednesday, Sept. 6, 2023. (Jason Getz/Atlanta Journal-Constitution via AP, Pool)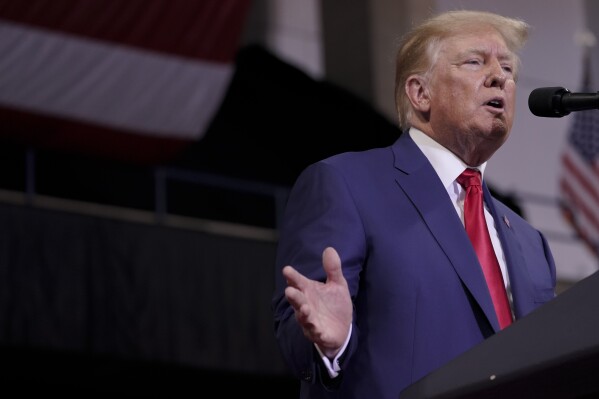 2 of 6 |
FILE – Former President Donald Trump speaks at a rally in Wilkes-Barre, Pa., Sept. 3, 2022. Shareholders of a business looking to merge with the social media company that houses Trump's Truth Social have voted to extend a deadline to give more time to complete the deal. Digital World Acquisition Corp. said Wednesday, Sept. 6, 2023 that its stockholders voted to give up to a one-year extension to finish the deal. (AP Photo/Mary Altaffer, File)
3 of 6 |
Attorney Brian Rafferty (right), who is defending Sidney Powell, argues before Fulton County Superior Judge Scott McAfee. McAfee is hearing motions from attorneys representing Ken Chesebro and Sidney Powell in Atlanta on Wednesday, Sept. 6, 2023. (Jason Getz/Atlanta Journal-Constitution via AP, Pool)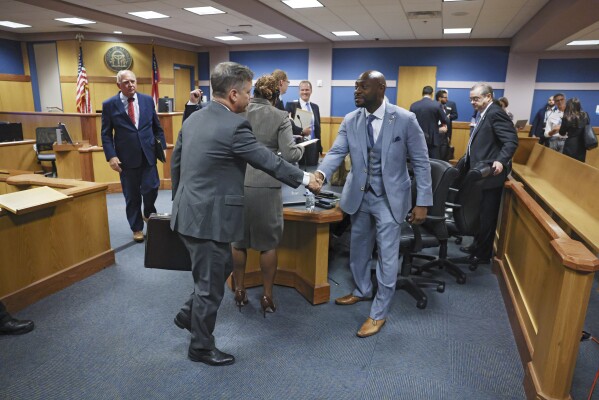 4 of 6 |
Attorney Brian Rafferty (left), who is defending Sidney Powell, and Special Prosecutor Nathan Wade shake hands after Fulton County Superior Judge Scott McAfee heard motions from attorneys representing Ken Chesebro and Sidney Powell in Atlanta on Wednesday, Sept. 6, 2023. (Jason Getz/Atlanta Journal-Constitution via AP, Pool)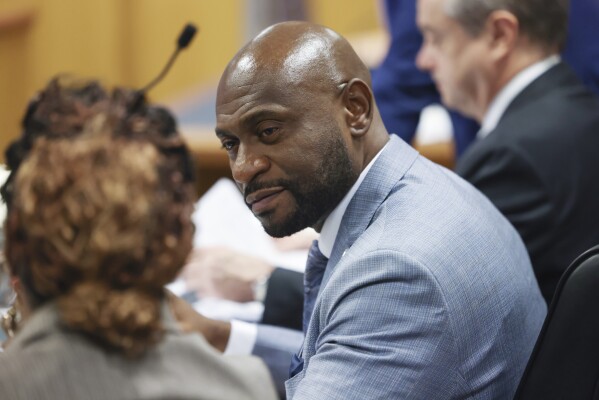 5 of 6 |
Special Prosecutor Nathan Wade, representing the District Attorney's office, argued before Fulton County Superior Judge Scott McAfee who heard motions from attorneys representing Ken Chesebro and Sidney Powell in Atlanta on Wednesday, Sept. 6, 2023. Prosecutors in the Georgia election subversion case involving ex-President Donald Trump say a trial would likely take four months. The estimate from Wade came during a hearing Wednesday before Fulton County Superior Court Judge Scott McAfee on attempts by Chesebro and Powell to be tried separately. (Jason Getz/Atlanta Journal-Constitution via AP, Pool)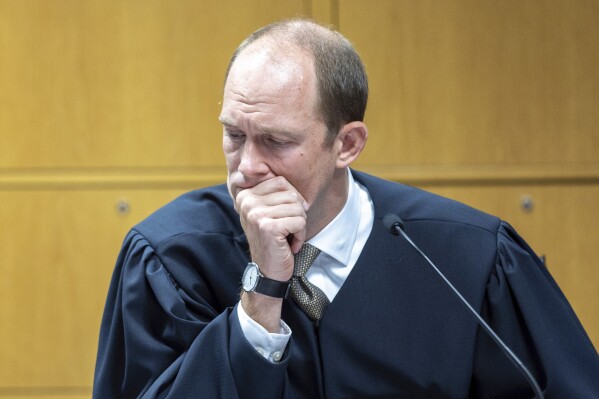 6 of 6 |
Fulton County Superior Court Judge Scott McAfee listens as he presides over a hearing regarding media access in the case against former President Donald Trump and 18 others at the Fulton County Courthouse in Atlanta, Thursday, Aug, 31, 2023. (Arvin Temkar/Atlanta Journal-Constitution via AP, Pool)
BY KATE BRUMBACKUpdated 1:31 PM MST, September 6, 2023Share
ATLANTA (AP) — The judge overseeing the Georgia election subversion case involving former President Donald Trump on Wednesday denied requests by two of the 19 defendants to be tried alone, instead saying the pair would be tried together starting next month.
Since lawyers Kenneth Chesebro and Sidney Powell have both filed speedy trial demands, Fulton County Superior Court Judge Scott McAfee said their trial would begin Oct. 23, but he seemed skeptical of prosecutors' arguments that all 19 defendants could be tried together that soon.
"It just seems a bit unrealistic to think we can handle all 19 in 40 days. That's my initial reaction," he said.
ADVERTISEMENT
The hearing provided some insight into how the case could play out, with prosecutors estimating a trial would take four months and that they'd call more than 150 witnesses. It was also broadcast live on television and on the judge's YouTube channel, a marked difference from the other three criminal cases against Trump, where cameras have not been allowed in the courtroom during proceedings.
OTHER NEWS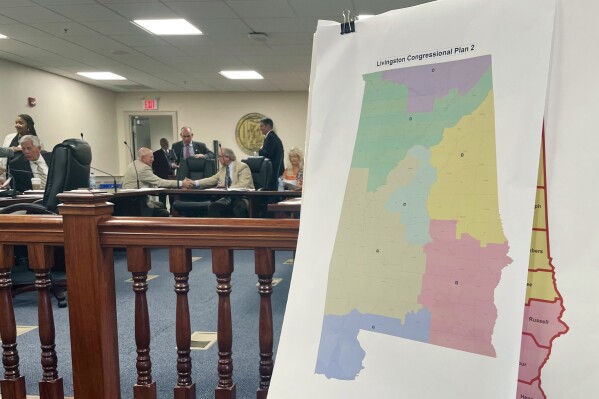 Legal fights over voting districts could play role in control of Congress for 2024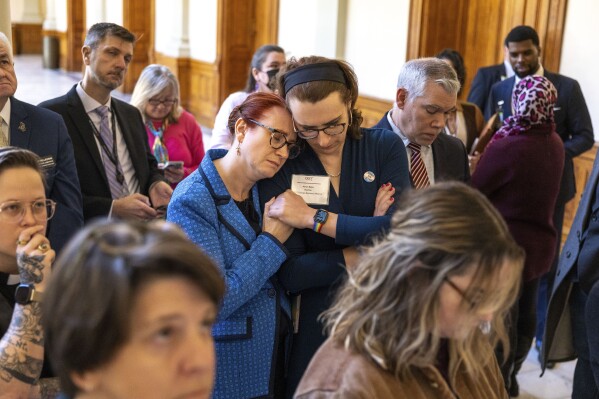 Georgia can resume enforcing ban on hormone replacement therapy for transgender youth, judge says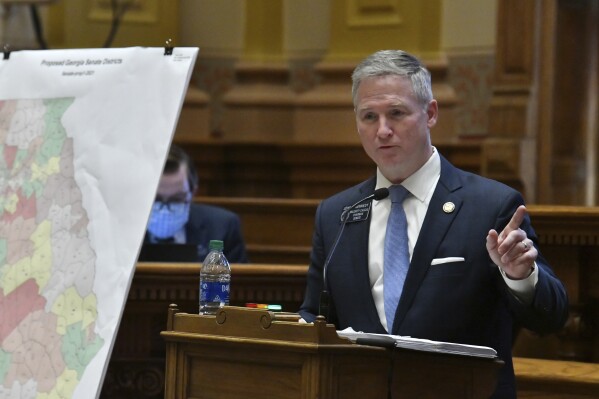 A Georgia redistricting trial begins with a clash over what federal law requires for Black voters
Special prosecutor Nathan Wade, who provided the four-month estimate, said that did not include jury selection and added that whether or not defendants choose to testify could affect timing. But he said he expects a trial to take that long regardless of how many defendants it includes, arguing that because the trial was brought under Georgia's anti-racketeering law prosecutors would seek to prove the entire conspiracy against each defendant.
In announcing the wide-ranging 41-count indictment last month, Fulton County District Attorney Fani Willis said she wants to try all 19 defendants together. But the legal maneuvering that has already begun in the three weeks since the indictment was returned underscores the logistical complexity inherent in such a sprawling indictment with so many defendants.
Already some defendants are seeking to speed up the process, some are trying to separate themselves from the others accused in the alleged conspiracy and some are trying to move the charges against them from a state court to federal court. All of them have pleaded not guilty.https://www.youtube.com/embed/x6y_qJ17ShY?enablejsapi=1