GM's Cruise autonomous vehicle unit agrees to cut fleet in half after 2 crashes in San Francisco
GM's Cruise autonomous vehicle unit agrees to cut fleet in half after 2 crashes in San Francisco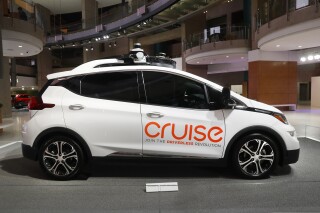 BY THE ASSOCIATED PRESSUpdated 10:52 AM MST, August 19, 2023Share
General Motors' Cruise autonomous vehicle unit has agreed to cut its fleet of San Francisco robotaxis in half as authorities investigate two recent crashes in the city.
The state Department of Motor Vehicles asked for the reduction after a Cruise vehicle without a human driver collided with an unspecified emergency vehicle on Thursday.
"The DMV is investigating recent concerning incidents involving Cruise vehicles in San Francisco," the DMV said Saturday in a statement to The Associated Press. "Cruise has agreed to a 50% reduction and will have no more than 50 driverless vehicles in operation during the day and 150 driverless vehicles in operation at night."
ADVERTISEMENT
The development comes just over a week after California regulators allowed Cruise and Google spinoff Waymo to operate autonomous robotaxis throughout San Francisco at all hours, despite safety worries spurred by recurring problems with unexpected stops and other erratic behavior.
OTHER NEWS