Jason Aldean's 'Try That in a Small Town' rockets to No. 2 on charts after music video controversy
Jason Aldean's 'Try That in a Small Town' rockets to No. 2 on charts after music video controversy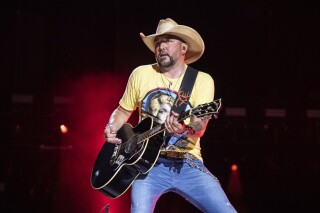 BY MARIA SHERMANPublished 2:15 PM MST, July 24, 2023Share
LOS ANGELES (AP) — Jason Aldean 's "Try That in a Small Town" is experiencing exponential growth following controversy over its music video.
"Try That in a Small Town," which was released in May, debuted at No. 2 on the Billboard Hot 100 this week just behind BTS's Jung Kook solo single "Seven," featuring Latto. The track experienced the biggest sales week for a country song in over 10 years.
According to Luminate, the song hit 11.7 million on-demand audio and video streams between July 14 and 20, marking a 1,000% increase from the previous week. Prior to the music video release on July 14, the track accounted for 987,000 streams in the U.S.
ADVERTISEMENT
RELATED STORIES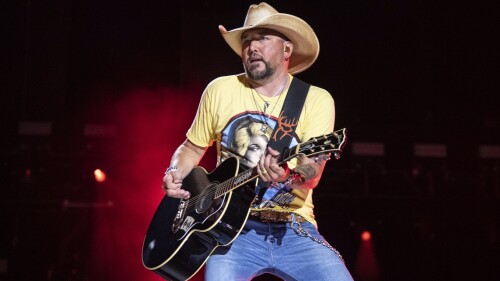 Jason Aldean's new music video was filmed at a lynching site. A big country music network pulled it
Claim that Luke Bryan pulled his videos from CMT originated as satire
Carrie Underwood, Jason Aldean win big at CMT Music Awards
Digital song sales increased from 1,000 to 228,000, in those same weeks, respectively.
The music video for the song lasted just one weekend on Country Music Television before the network pulled it in response to an outcry over its setting and lyrics. When the network removed the video from its rotation, it had 350,000 views on YouTube. Now that number is now over 16 million, and it is the No. 1 trending video under the "music" category.
In the visual, Aldean — who has been awarded country music artist of the decade by the Academy of Country Music — performs in front of the Maury County Courthouse in Columbia, Tennessee. It is the site of the 1946 Columbia race riot and the 1927 mob lynching of an 18-year-old Black teenager named Henry Choate.
AP Top Stories July 24 P
https://www.youtube.com/watch?v=Z78VT2yf3WQ
0 seconds of 1 minute, 4 secondsVolume 90%