8 Reasons to Buy Your Groceries From Misfits Market
8 Reasons to Buy Your Groceries From Misfits Market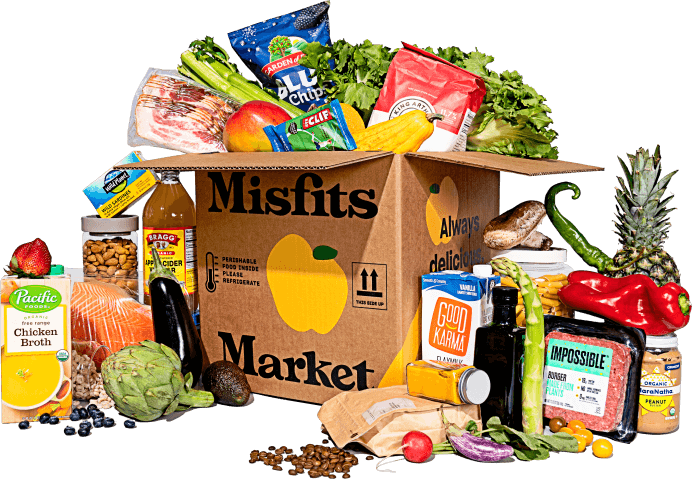 Ready to start saving big by saving food? Make the switch to Misfits Market and discover everything that sets us apart from traditional grocery stores.
1. Start saving up to 40% on your groceries
We partner directly with farmers and makers to source high-quality groceries for less, then pass the savings on
to you.
2. Cut extra costs with our free membership
We're not like the other guys. You won't find any monthly subscription costs, hidden fees, or catches with us.
3. Buy groceries that are better for the planet
By joining Misfits Market, you can help fix a broken food system and build a more sustainable future by eating delicious groceries that might otherwise have gone to waste.
4. Customize every order
Every order that you build is fully customizable. You can order a box full of just fresh organic fruits and veggies or even a box filled with your new favorite snacks.
5. Make your grocery shopping easier
Skip the trips to the grocery store and check off your shopping list in just minutes. We do all the legwork and deliver everything straight to your door.
6. Discover new brands you'll love
We're always adding new products to our shop so it's easy to try familiar favorites and find something new to love.
7. Shop everything from free-range chicken to wild-caught seafood
Stock up on even more groceries than ever before with our growing selection of high-quality meats, seafood, plant-based proteins, and dairy products (with more items on the way!) for up to 40% less than traditional grocery stores.
8. Still on the fence? See what our customers have to say:
"Honestly the best service I've ever used. Customer service is extremely responsive if there's an issue and the quality of the product is great. I've saved over $75 on just 3 orders. ✌ ️It is so nice to be able to get real, fresh produce again."
"Your produce is excellent, so is your meat, fish and chicken! And products! So happy I ordered from you. I stopped all other food delivery."