AP source: Assailant shouted 'Where is Nancy?' in attack
AP source: Assailant shouted 'Where is Nancy?' in attack
By KEVIN FREKING, MICHAEL BALSAMO and COLLEEN LONG5 minutes ago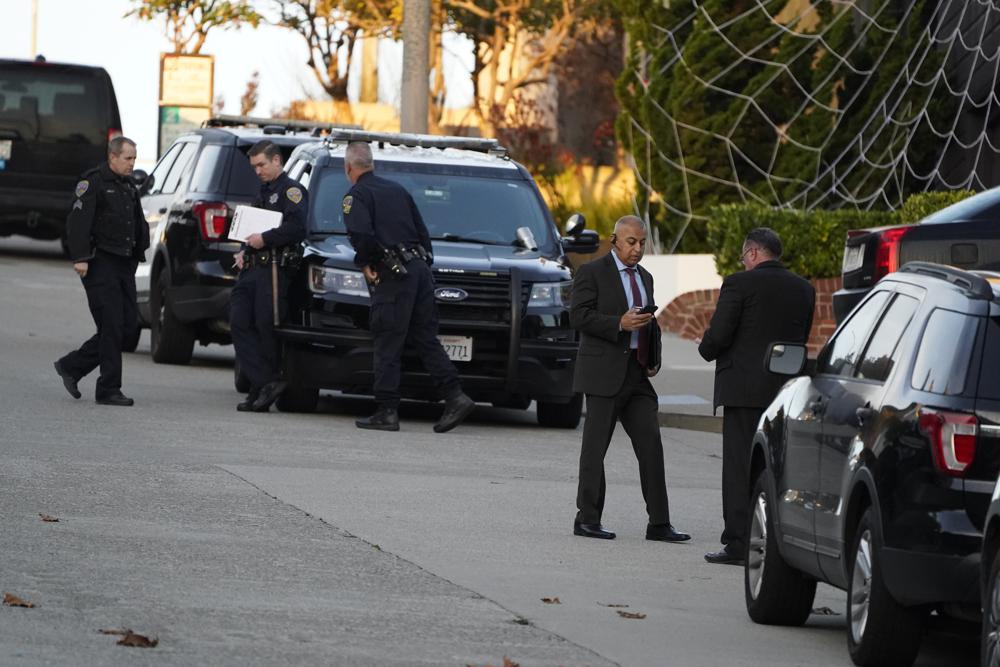 1 of 6
Police investigators work outside the home of Paul Pelosi, the husband of House Speaker Nancy Pelosi, in San Francisco, Friday, Oct. 28, 2022. Paul Pelosi, was attacked and severely beaten by an assailant with a hammer who broke into their San Francisco home early Friday, according to people familiar with the investigation. (AP Photo/Eric Risberg)
WASHINGTON (AP) — The intruder who attacked House Speaker Nancy Pelosi's husband in their San Francisco home was searching for the Democratic leader, shouting "Where is Nancy, where is Nancy?" before assaulting Paul Pelosi with a hammer.
That was a chilling echo of the chants during the Jan. 6, 2021, insurrection at the Capitol, when rioters trying to stop Joe Biden's election searched menacingly through the halls for the speaker.
Paul Pelosi was attacked and severely beaten by an assailant with a hammer who broke into the Pelosi home early Friday, according to people familiar with the investigation. The intruder confronted him shouting for the speaker's whereabouts, according to another person briefed on the situation.
The 82 year-old suffered blunt force injuries to his head and body, according to two people who spoke to The Associated Press on condition of anonymity to discuss the ongoing probe.
ADVERTISEMENT
The suspect was identified as David Depape, two of the people familiar with the matter told The Associated Press. He was in custody.
Paul Pelosi was being treated by doctors for bruising, severe swelling and other injuries. Nancy Pelosi's office said he was expected to make a full recovery.
Barack Obama gets a midterm do-over to help boost DemocratsBiden to vote early in Delaware with his granddaughterNicaragua's Ortega says US sanctions will make more migrantsBiden zeroes in on economic message as campaign winds down
While the circumstances of the attack were unclear, the attack raised questions about the safety of members of Congress and their families. Threats to lawmakers are at an all-time high almost two years after the Capitol insurrection. The attack also came just 11 days ahead of midterm elections in which crime and public safety have emerged as top concerns among Americans.
In 2021, Capitol Police investigated around 9,600 threats made against members of Congress, and members have been physically attacked in recent years. Former Rep. Gabrielle Giffords, D-Ariz., was shot in the head at an event outside a Tucson grocery store in 2011, and Rep. Steve Scalise, R-La., was severely injured when a gunman opened fire on a Republican congressional baseball team practice in 2017.
Members of Congress have received additional dollars for security at their homes, but some have pushed for yet more protection as people have shown up at their homes and as members have received an increasing number of threatening communications.
Pelosi's husband assaulted at California home
Paul Pelosi, the husband of House Speaker Nancy Pelosi, was severely beaten by an assailant who broke into their San Francisco home, and he's being treated by doctors for injuries, according to people familiar with the matter. (Oct. 28)
0 seconds of 1 minute, 54 secondsVolume 90%