Ukraine war: Ukrainian army approaches Kherson, Russian 'evacuations', dam warnings 
Ukraine war: Ukrainian army approaches Kherson, Russian 'evacuations', dam warnings 
By Euronews with AP, Reuters • Updated: 21/10/2022 – 21:42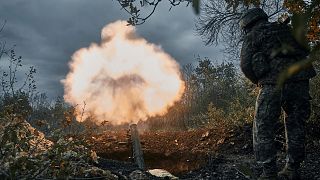 Ukrainian soldiers fire the Russian positions with the mortar in Bakhmut, Donetsk region, Ukraine. Friday, 21 October 2022. – Copyright LIBKOS/Copyright 2022 The AP. All rights reserved.
SHARE THIS ARTICLE
1. Russia 'deliberately' delaying Ukrainian grain exports
Volodymyr Zelensky accused Russia of "deliberately" delaying the passage of ships loaded with Ukrainian grain on Friday, restricting vital supplies for many countries in Africa and Asia.
"More than 150 ships are in a queue to fulfil contractual obligations to supply our agricultural products," said the Ukrainian President.
"This is an artificial queue, which has arisen only because Russia deliberately delays the passage of ships".
China, Egypt, Bangladesh, Indonesia, Iraq and Lebanon are the main countries impacted by the blockages, which involve "about three million tons of food".
Russia and Ukraine agreed in July to resume Ukrainian grain exports that had been languishing in silos since the start of the war in February.
Russia later criticised the deal — brokered by the UN and Turkey — saying its own exports were hampered by the sanctions.
2. Ukrainian forces approach Kherson
Russian and Ukrainian troops are preparing for a major battle over the strategic southern city of Kherson, which Russian President Vladimir Putin has illegally annexed and subjected to martial law.
SPONSORED CONTENT
The Royal Family Is Cringing At Meghan Markle's Net Worth
Everyone expects a royal family member to be rich but these drastic differences in their wealth is just astonishing.
By Money Pop
On Friday, Zelenksyy welcomed the "good results" of his army against Russian troops, claiming they had recaptured dozens of areas and recovered Russian weapons, including tanks and artillery.
"Thank you," the Ukrainian President said to his troops battling it out in the area via video.
Fighting and evacuations were reported in the Kherson region on Thursday as Moscow tried to pound Ukraine into submission with more missile and drone attacks on critical infrastructure.
Putin declared martial law on the annexed regions of Kherson, Luhansk, Donetsk and Zaporizhzhia on Wednesday, in an attempt to assert Russian authority, amid battlefield setbacks, a troubled troop mobilisation, increasing criticism at home and abroad, and international sanctions.
The unsettled status of the annexed territories was visible in the Kherson region's capital, where Russian military officials have replaced Kremlin-installed civilian leaders as part of martial law measures.
President Volodymyr Zelenskyy's office said on Thursday that Ukrainian forces mounted 15 attacks on Russian military strongholds in the Kherson region.
As many as 2,000 Russian draftees have entered the Kherson region "to replenish losses and strengthen units on the front line," according to Ukraine's Army General Staff.
Russia's Defence Ministry spokesman said Kremlin forces repelled Ukrainian attempts to advance with tanks on the Kherson villages of Sukhanove, Nova Kamianka and Chervonyi Yar.
Russia's new military commander in Ukraine this week acknowledged the threat posed by Ukraine's counteroffensive to Kherson.
General Sergei Surovikin claimed that Ukrainian forces were using HIMARS rockets to strike the city, adding that "as a whole the situation in the [war] zone can be described as tense."
UK Defence Ministry said on Thursday that Russian authorities are considering "a major withdrawal of their forces" from all areas west of the Dnipro river.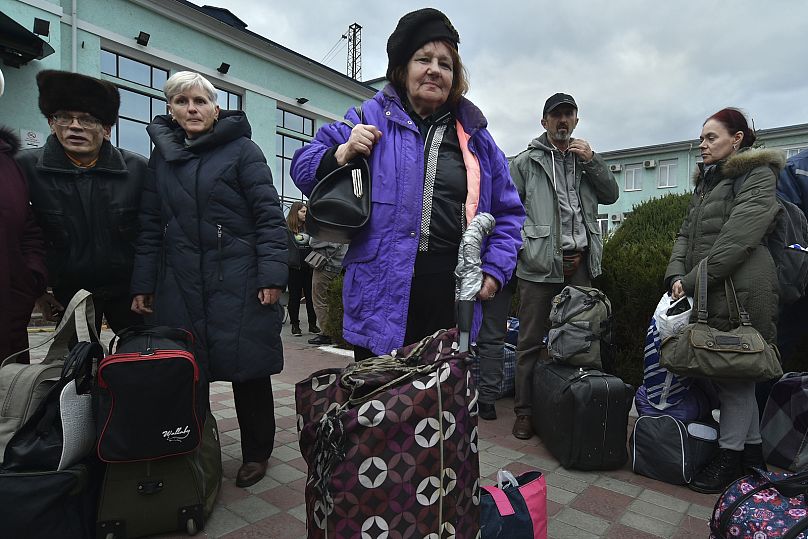 3. Russia resumes 'evacuations' from Kherson
Russian-installed officials have urged residents in Kherson to "evacuate", both for their safety and to allow the military to fortify.
Kremlin-backed governor Vladimir Saldo said authorities were moving civilians to "keep people safe" and allow the military to "act resolutely".
Others have claimed these "evacuations" of Ukrainian civilians to Russian-controlled territories are forced or that people have no alternative route to safety.
Officials said some 15,000 residents had been relocated from the city and surrounding areas as of Thursday.
Kherson city, with a pre-war population of around 284,000, was one of the first urban areas Russia captured when it invaded Ukraine, and it remains the largest city it holds.
It is a prime target for both sides because of its key industries and major river port.
Reports of sabotage and assassinations of Moscow-backed officials in Kherson have surfaced for months in what appeared to be one of the m