The Trump era has changed the politics of local elections in Georgia, a pivotal 2024 battleground
The Trump era has changed the politics of local elections in Georgia, a pivotal 2024 battleground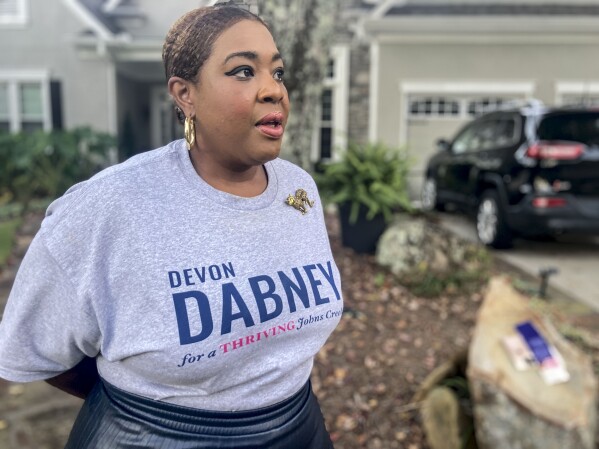 1 of 2 |
Devon Dabney, a candidate for city council in Johns Creek, Ga., stands outside her home and discusses her candidacy on Monday, Oct. 23, 2023. The contest is nonpartisan and Dabney calls herself an independent, but she faces criticism from some voters in this historically Republican-leaning enclave because she says she has voted for Democrats in the past. The political dynamics in some of Atlanta's suburbs reflect how partisan and cultural divisions have trickled down to local campaigns. (AP Photo/Bill Barrow)Read More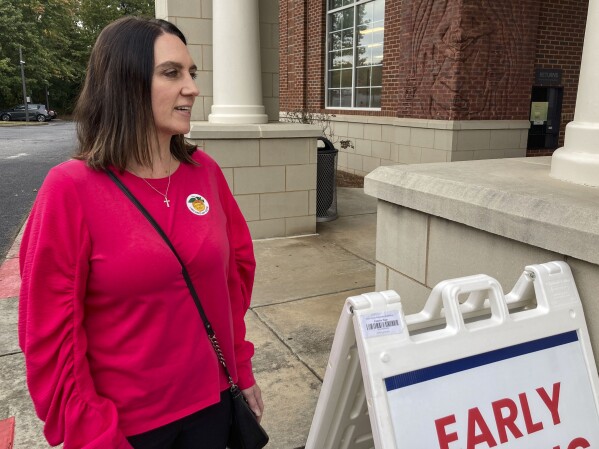 2 of 2 |
Stacy Skinner, a city councilwoman in John's Creek, Georgia, leaves her early voting location after casting her ballot for her reelection on Oct. 19, 2023. Skinner has accepted an endorsement from Veterans for Trump. But she's careful about how she uses it. The dynamics show how national political fault lines are filtering down to local government and campaigns. (AP Photo/Bill Barrow)Read More

BY BILL BARROWUpdated 4:23 AM MST, October 29, 2023Share
JOHNS CREEK, Ga. (AP) — As she accepted an endorsement from a group called Veterans for Trump, Stacy Skinner spoke about how she got into politics because Democrats "were starting to infiltrate on the local level."
Former President Donald Trump and other national Republicans often warn of takeovers by China or people crossing the U.S.-Mexico border. Skinner is running for reelection to the City Council of Johns Creek, an Atlanta suburb of about 85,000.
Yet the 44-year-old does not openly promote her Trump association, telling inquisitive voters in this Republican-leaning enclave only that she is "conservative." Skinner's opponent, Devon Dabney, meanwhile, faces questions about being a Democrat.
ADVERTISEMENT
Going into the 2024 presidential election, the dynamics in Johns Creek and other nearby Atlanta suburbs reflect how partisan and cultural divisions that intensified since Trump's 2016 run have trickled down to local campaigns. Some activists and voters now view these nominally nonpartisan contests as critical fronts in shaping the nation's identity.
RELATED STORIES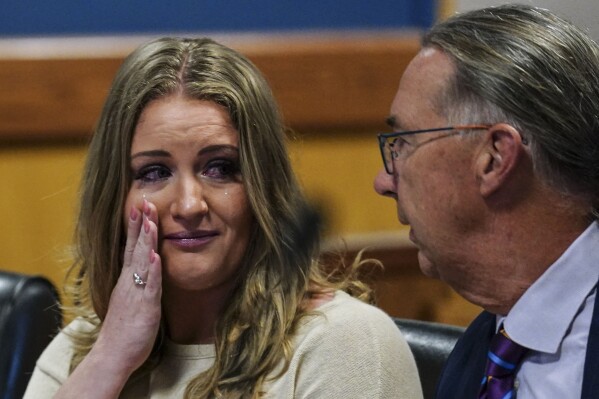 Jenna Ellis becomes latest Trump lawyer to plead guilty over efforts to overturn Georgia's election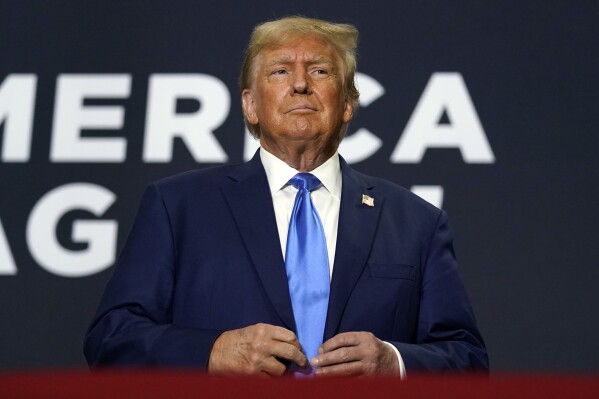 The 19 people accused of trying to overturn the 2020 election in Georgia to keep Trump in power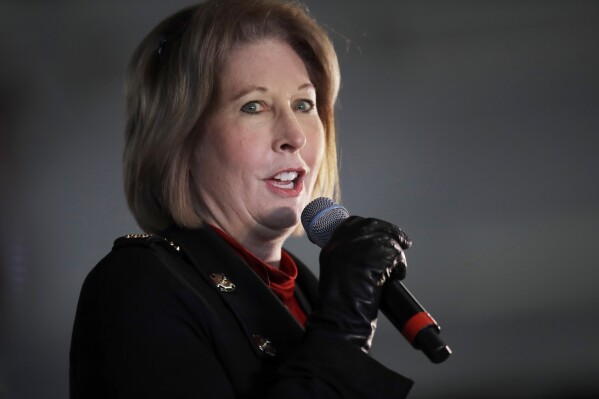 Georgia prosecutors are picking up cooperators in the Trump 2020 election case. Will it matter?
"People have a right to know who they're voting for," said Betsy Kramer, a Republican Party volunteer who is backing Skinner in Johns Creek, which is about 30 miles north of downtown Atlanta in Fulton County. "I'm not voting for a Democrat," Kramer said. "I'm concerned that if Democrats start taking over north Fulton, the whole area is going to change dramatically."
The suburbs of Georgia's largest city once anchored the state's Republican establishment. Today, they play a prime role in determining the outcomes of statewide races. In 2020, they were pivotal in Democrat Joe Biden's close victory over Trump, the Republican incumbent, in the president election.
This swath of the metro area has become more demographically and politically diverse over recent decades, with growth among Asian American, Black and Hispanic populations that help boost Democrats' vote totals. The share of Georgia residents who identify as white and non-Hispanic fell in the most recent census to 50.1%, the lowest on record.
ADVERTISEMENT