action in ruling on universities using race in admissions decisions
action in ruling on universities using race in admissions decisions
In 6-3 affirmative action opinion, Supreme Court decides using race as factor in college admissions violates Constitution's 14th Amendment
By Anders Hagstrom , Haley Chi-Sing , Brianna Herlihy , Bill Mears , Shannon Bream | Fox News
The U.S. Supreme Court handed down a major ruling on affirmative action Thursday, rejecting the use of race as a factor in college admissions as a violation of the 14th Amendment's Equal Protection Clause.
In a 6-3 decision, Chief Justice John Roberts wrote in the majority opinion that, "A benefit to a student who overcame racial discrim­ination, for example, must be tied to that student's courage and determination."
"Or a benefit to a student whose herit­age or culture motivated him or her to assume a leadership role or attain a particular goal must be tied to that student's unique ability to contribute to the university. In other words, the student must be treated based on his or her ex­periences as an individual—not on the basis of race," the opinion reads.
"Many universities have for too long done just the oppo­site. And in doing so, they have concluded, wrongly, that the touchstone of an individual's identity is not challenges bested, skills built, or lessons learned but the color of their skin. Our constitutional history does not tolerate that choice," the opinion states.
SUPREME COURT HANDS RELIGIOUS FREEDOM WIN TO POSTAL WORKER WHO REFUSED TO WORK ON SUNDAY
Justice Roberts was joined by Justices Clarence Thomas, Samuel Alito, Neil Gorsuch, Brett Kavanaugh and Amy Coney Barrett.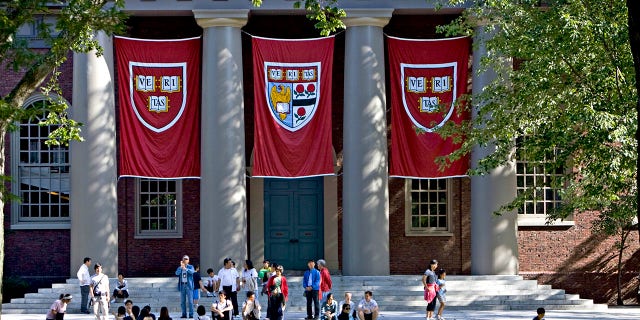 Harvard banners hang outside Memorial Church on the Harvard University campus in Cambridge, Massachusetts, on Friday, Sept. 4, 2009. The Supreme Court ruled in affirmative action cases, including one over Harvard's admissions practices. (Photo by Michael Fein/Bloomberg via Getty Images)
Justice Sonia Sotomayor wrote the main dissent, joined by Justices Elena Kagan and in part by Justice Ketanji Brown Jackson, who recused herself from the Harvard case due to her previous role on Harvard's Board of Overseers.
President Biden is expected to deliver remarks on the decision at 12:30 p.m. on Thursday.
In 2003, Justice Sandra Day O'Connor was the "swing" – or deciding – vote in a landmark Supreme Court case over race.
FOX NEWS POLL: VOTER TRUST AND CONFIDENCE IN INSTITUTIONS HITS ROCK-BOTTOM
While upholding the University of Michigan's affirmative action policies for minority law school applicants, the court majority led by O'Connor offered this caveat: "We expect that 25 years from now, the use of racial preferences will no longer be necessary to further the interest approved today."
Fast-forward 19 years, and a 6-3 conservative court majority has now blocked colleges and universities from using race as part of the competitive admissions process.
The justices decided two separate legal challenges over just how Harvard University – a private institution – and the University of North Carolina – a public one – decide who fills their classrooms.
These prominent schools say their standards have a larger societal goal, one endorsed for decades by the courts: to promote a robust, intellectually diverse campus for future leaders.
But a coalition of Asian American students says the criteria discriminated with a "racial penalty" – holding them to a selectively higher standard than many Black and Hispanic students.
READ THE SUPREME COURT AFFIRMATIVE ACTION OPINION – APP USERS, CLICK HERE: