Frantic searching in Turkey, Syria after quake kills 4,000
Frantic searching in Turkey, Syria after quake kills 4,000
By MEHMET GUZEL, GHAITH ALSAYED and SUZAN FRASER34 minutes ago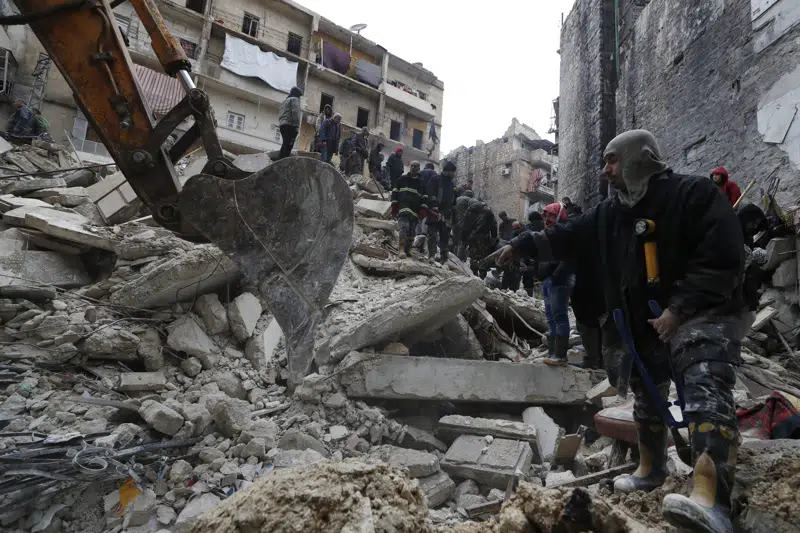 1 of 24
Syrian Civil Defense workers and security forces search through the wreckage of collapsed buildings, in Aleppo, Syria, Monday, Feb. 6, 2023. A powerful earthquake rocked wide swaths of Turkey and neighboring Syria on Monday, toppling hundreds of buildings and killing and injuring thousands of people. (AP Photo/Omar Sanadiki)
ADANA, Turkey (AP) — Rescuers raced Tuesday to rescue survivors from the rubble of thousands of buildings brought down by a 7.8 magnitude earthquake and multiple aftershocks that struck eastern Turkey and neighboring Syria, killing more than 4,000 people.
Countries around the world dispatched teams to assist in the rescue efforts, but a day after the earthquake struck the number of emergency crews on the ground remained few, with their efforts impeded by frigid temperatures and close to 200 aftershocks, which made the search through unstable structures perilous.
Nurgul Atay told The Associated Press she could hear her mother's voice beneath the rubble of a collapsed building in the city of Antakya, the capital of Hatay province, but that her and others efforts to get into the ruins had been futile without any rescue crews and heavy equipment to help.
"If only we could lift the concrete slab we'd be able to reach her," she said. "My mother is 70-years-old, she won't be able to withstand this for long."
ADVERTISEMENT
Across Hatay province, just southwest of the earthquake's epicenter, officials say as many as 1,500 buildings were destroyed and many people reported relatives being trapped under the rubble with no aid or rescue teams arriving.