Defense set to begin in impeachment trial of Texas Attorney General Ken Paxton
Defense set to begin in impeachment trial of Texas Attorney General Ken Paxton
1 of 14 |
Texas Lt. Gov. Dan Patrick, left, listens to legal counsel Lana Myers, right, during the impeachment trial for Texas Attorney General Ken Paxton in the Senate Chamber at the Texas Capitol, Wednesday, Sept. 13, 2023, in Austin, Texas. (AP Photo/Eric Gay)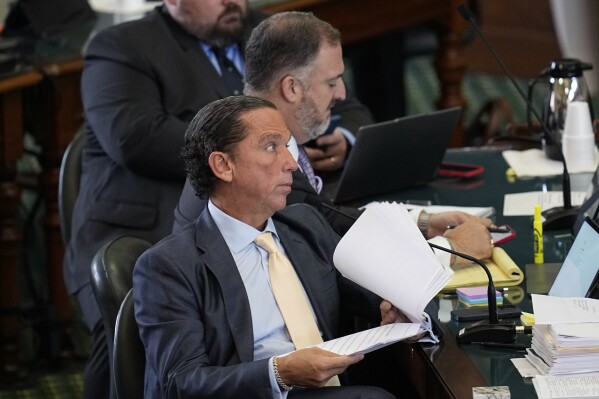 2 of 14 |
Defense attorney Tony Buzbee, front, listens to testimony during the impeachment trial for Texas Attorney General Ken Paxton in the Senate Chamber at the Texas Capitol, Wednesday, Sept. 13, 2023, in Austin, Texas. (AP Photo/Eric Gay)
3 of 14 |
Texas state Sen. Roland Gutierrez, front center, and other state senators acting as jurors enter the Senate Chamber for day six of the impeachment trial for Texas Attorney General Ken Paxton at the Texas Capitol, Wednesday, Sept. 13, 2023, in Austin, Texas. (AP Photo/Eric Gay)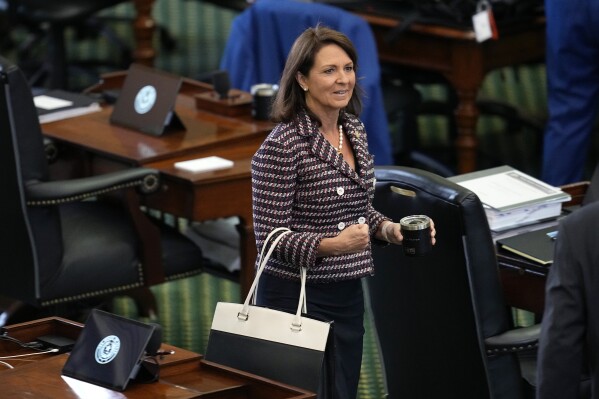 4 of 14 |
State Sen. Angela Paxton, R-McKinney, enters the Senate Chamber for the impeachment trial for Texas Attorney General Ken Paxton, her husband, at the Texas Capitol, Wednesday, Sept. 13, 2023, in Austin, Texas. (AP Photo/Eric Gay)
5 of 14 |
Texas Lt. Gov. Dan Patrick, center, and legal counsel Lana Myers, right, listen to defense and prosecution attorneys during the impeachment trial for Texas Attorney General Ken Paxton in the Senate Chamber at the Texas Capitol, Wednesday, Sept. 13, 2023, in Austin, Texas. (AP Photo/Eric Gay)
6 of 14 |
Witness Ray Chester testifies during the impeachment trial for Texas Attorney General Ken Paxton in the Senate Chamber at the Texas Capitol, Wednesday, Sept. 13, 2023, in Austin, Texas. (AP Photo/Eric Gay)
7 of 14 |
Jurors stand as the impeachment trial for Texas Attorney General Ken Paxton resumes in the Senate Chamber at the Texas Capitol, Wednesday, Sept. 13, 2023, in Austin, Texas. (AP Photo/Eric Gay)
8 of 14 |
Ticketed members of the public attend the impeachment trial for Texas Attorney General Ken Paxton in the Senate Chamber at the Texas Capitol, Wednesday, Sept. 13, 2023, in Austin, Texas. (AP Photo/Eric Gay)
9 of 14 |
Witness Drew Wicker, Texas Attorney General Ken Paxton's former personal assistant, testifies during the impeachment trial for Paxton in the Senate Chamber at the Texas Capitol, Wednesday, Sept. 13, 2023, in Austin, Texas. (AP Photo/Eric Gay)
10 of 14 |
Ticketed members of the public attend the impeachment trial for Texas Attorney General Ken Paxton in the Senate Chamber at the Texas Capitol, Wednesday, Sept. 13, 2023, in Austin, Texas. (AP Photo/Eric Gay)
11 of 14 |
Witness Drew Wicker, Texas Attorney General Ken Paxton's former personal assistant, left, testifies during the impeachment trial for Paxton in the Senate Chamber at the Texas Capitol, Wednesday, Sept. 13, 2023, in Austin, Texas. (AP Photo/Eric Gay)
12 of 14 |
Texas state Sen. Brian Birdwell, center, and Sen. John Whitmire, left, talk with Texas Lt. Gov. Dan Patrick, front left, during the impeachment trial for Texas Attorney General Ken Paxton in the Senate Chamber at the Texas Capitol, Wednesday, Sept. 13, 2023, in Austin, Texas. (AP Photo/Eric Gay)
13 of 14 |
A woman who did not want to be named stands in the gallery with a handwritten T-shirt that reads "convict corrupt Ken" at the Texas State Capitol in Austin during the impeachment trial of Texas Attorney General Ken Paxton, Tuesday, Sept. 12, 2023. Paxton pleaded not guilty last week to numerous articles of impeachment. (Ricardo B. Brazziell/Austin American-Statesman via AP)
14 of 14 |
Whistleblower Blake Brickman testifies during the impeachment trial for Texas Attorney General Ken Paxton in the Senate Chamber at the Texas Capitol, Wednesday, Sept. 13, 2023, in Austin, Texas. (AP Photo/Eric Gay)
BY PAUL J. WEBER AND JAKE BLEIBERGUpdated 9:03 PM MST, September 13, 2023Share
AUSTIN, Texas (AP) — Lawyers for impeached Attorney General of Texas Ken Paxton were set to begin presenting their defense Thursday as the trial that will determine whether the Republican is removed from office winds down.
Attorneys for the bipartisan group of lawmakers prosecuting Paxton's impeachment rested their case Wednesday after a woman who was expected to testify about an extramarital affair with Paxton made a sudden appearance at the trial, but never took the stand.
The affair is central to the historic proceedings and accusations that Paxton misused his power to help Austin real estate developer Nate Paul, who was under FBI investigation and employed the woman, Laura Olson. One of the 16 articles of impeachment against Paxton alleges that Paul's hiring of Olson amounted to a bribe.
ADVERTISEMENT
Olson was called to the stand Wednesday morning in the Texas Senate and waited outside the chamber. But her testimony was delayed for hours before Lt. Gov. Dan Patrick, who is acting as the trial's judge, said toward the end of the day that Olson would not testify after all. He provided no further explanation but said both sides had agreed to it.
OTHER NEWS
Prosecution rests at Texas Attorney General Ken Paxton's impeachment trial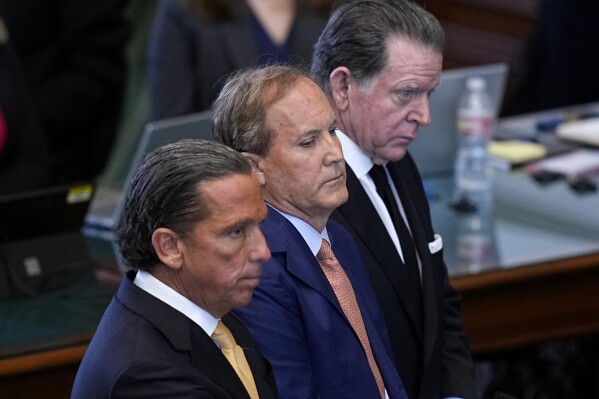 How an extramarital affair factors into Texas Attorney General Ken Paxton's impeachment trial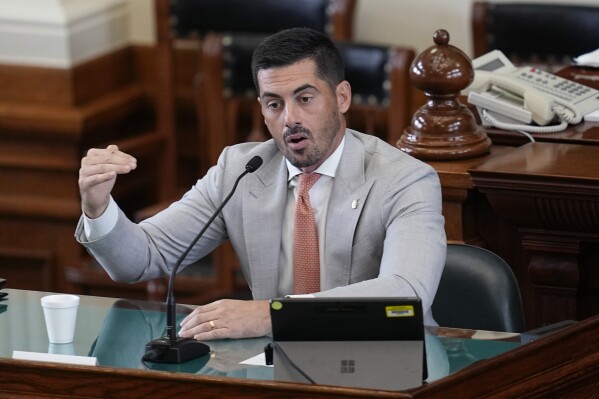 At impeachment, lawyer recounts Texas AG Ken Paxton supervising his investigation into FBI and judge
"She is present but has been deemed unavailable to testify," Patrick said.
Shortly after the announcement, Rusty Hardin, a lawyer for the prosecution said he was resting their side of the case. Paxton attorney Tony Buzbee then moved to end the trial on the grounds of insufficient evidence, but later withdrew the request without a vote shorty before the trial adjourned for the day.
Paxton, who was suspended from office pending the trail's outcome, is not required to attend the proceedings and has not appeared in the Senate since testimony began last week. As the scene played out Wednesday evening, Paxton posted on social media that he was headed to Maine next week to talk with former Fox News host Tucker Carlson about "the last two weeks in Texas politics."
"It should be interesting!" he said on X, the platform formerly known as Twitter.
ADVERTISEMENT