Biden challenges Putin to 'end the war' in Ukraine, threatens to ramp up sanctions against Russia
Biden challenges Putin to 'end the war' in Ukraine, threatens to ramp up sanctions against Russia
Biden spoke in Poland, nearly one year after Russia invaded Ukraine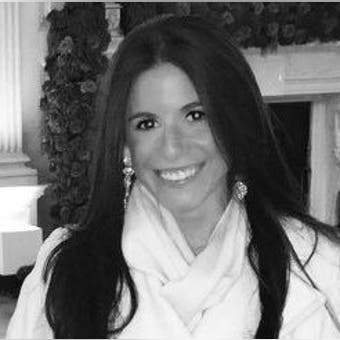 President Biden delivered a speech Tuesday in Warsaw, Poland, where he called on Russian President Vladimir Putin to end the war in Ukraine and said that Russia has committed crimes against humanity.
President Joe Biden on Tuesday challenged Russian President Vladimir Putin to "end the war" against Ukraine and warned that the U.S. and its allies around the world will continue to support Ukraine and push for new sanctions on the Kremlin.
Biden delivered that warning from Warsaw, Poland, nearly a year after Russia's invasion of Ukraine and a day after making a surprise visit to Ukraine.
"One year ago, the world was bracing for the fall of Kyiv," Biden said. "Well, I just came from Kyiv and I can report Kyiv stands strong. Kyiv stands proud. Kyiv stands tall. And most importantly, Kyiv stands free."
GOP LAWMAKERS SLAM BIDEN FOR UKRAINE TRIP, NEGLECTING EAST PALESTINE, SOUTHERN BORDER: 'THEY CAN KEEP HIM!'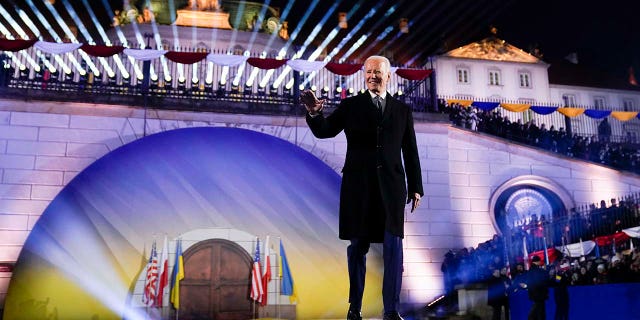 President Joe Biden arrives to deliver a speech marking the one-year anniversary of the Russian invasion of Ukraine, Tuesday, Feb. 21, 2023, at the Royal Castle Gardens in Warsaw, Poland. (AP Photo / Evan Vucci)
Biden said that a year after Putin's invasion, NATO is "more united and more unified than ever before."
"Putin is confronted with something today that he didn't think was possible a year ago — the democracies around the world have grown stronger, not weaker; but the autocrats around the world have grown weaker, not stronger," Biden said.
"One year into this war, Putin no longer doubts the strength of our coalition, but he still doubts our conviction; he doubts our staying power; he doubts our continued support for Ukraine; he doubts they can remain unified," Biden said. "But there should be no doubt — our support for Ukraine will not waiver. NATO will not be divided and we will not tire."
Citing remarks Putin made early Tuesday, Biden said the United States and Europe "do not seek to control or destroy Russia."
BIDEN ANNOUNCES MILLIONS MORE TAXPAYER DOLLARS TO ASSIST UKRAINE DURING SURPRISE TRIP TO KYIV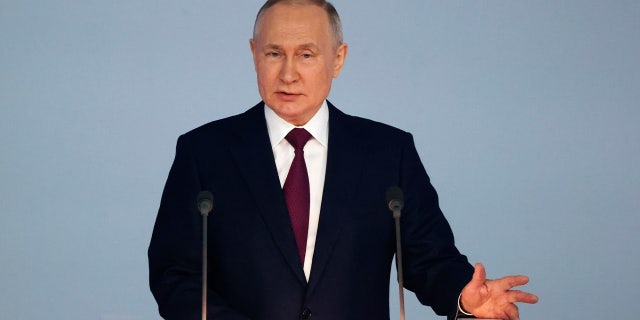 Russian President Vladimir Putin gives his annual state of the nation address in Moscow on Feb. 21, 2023. (Sergei Karpukhin / Sputnik / Kremlin Pool Photo via AP)
"The West is not plotting to attack Russia, as Putin said today," Biden said. "This war was never a necessity — it is a tragedy."
Biden said Putin "chose this war."
"Every day the war continues, this is his choice. He could end the war with a word," Biden said. "It's simple: If Russia stopped invading Ukraine, it would end the war."
Biden said that the United States and a "worldwide coalition of more than 50 nations" will continue to ensure that Ukraine stands able to defend itself.
BIDEN'S SURPRISE VISIT TO KYIV WILL HAVE 'ZERO' IMPACT ON RUSSIA-UKRAINE CONFLICT, PUTIN EXPERT SAYS