California Sen. Feinstein says she won't run for reelection
California Sen. Feinstein says she won't run for reelection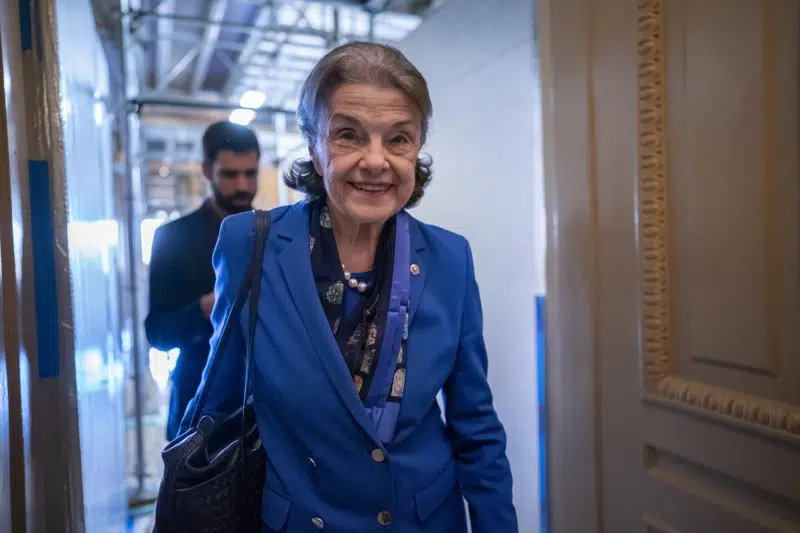 1 of 8
Sen. Dianne Feinstein, D-Calif., walks through a Senate corridor after telling her Democratic colleagues that she will not seek reelection in 2024, at the Capitol in Washington, Tuesday, Feb. 14, 2023. (AP Photo/J. Scott Applewhite)
LOS ANGELES (AP) — Democratic Sen. Dianne Feinstein, whose groundbreaking political career shattered gender barriers from San Francisco's City Hall to the corridors of Capitol Hill, said Tuesday she won't seek reelection in 2024.
The senator, who turns 90 in June, is the oldest member of Congress and has faced questions in recent years about her cognitive health and memory, though she has defended her effectiveness representing a state that is home to nearly 40 million people.
The announcement came after several prominent California Democrats, including U.S. Reps. Katie Porter and Adam Schiff, already had declared Senate campaigns. With Feinstein a now 30-year veteran of the Senate, there hasn't been a wide open competition for her seat in decades.
Feinstein plans to remain in Congress through the end of her current term. Speaking to reporters in Washington on Tuesday, she said "there's times for all things under the sun."
"I think that will be the right time, towards the end of next year," she said.
Feinstein is one of the Senate's few remaining veterans of the so-called Year of the Woman, referring to several women who were elected to the male-dominated chamber during the 1992 election. But even before she moved to Washington, Feinstein was one of the most prominent women in American politics.
She was the first woman to serve as president of the San Francisco Board of Supervisors in the 1970s and the first female mayor of San Francisco. She ascended to that post after the November 1978 assassinations of then-Mayor George Moscone and City Supervisor Harvey Milk by a former supervisor, Dan White. Feinstein found Milk's body.
In the Senate, she was the first woman to head the Senate Intelligence Committee and the first woman to serve as the Judiciary Committee's top Democrat. She gained a reputation as a pragmatic centrist who left a mark on political battles over issues ranging from reproductive rights to environmental protection.
Feinstein is particularly closely associated with efforts to broaden gun restrictions. Early in her career, the Senate approved her amendment to ban manufacturing and sales of certain types of assault weapons as part of a crime bill that President Bill Clinton signed into law in 1994. The ban expired 10 years later and was never replaced, but it remained a trademark issue in a career that was molded by gun violence.
"Through force of will, she led the fight to get the assault weapons ban passed. Like so many who have been touched by gun violence, that victory was personal for her," President Joe Biden said in a statement. "I've served with more U.S. senators than just about anyone. I can honestly say that Dianne Feinstein