Australian Defense Department to remove Chinese-made cameras
Australian Defense Department to remove Chinese-made cameras
By ROD McGUIRK2 hours ago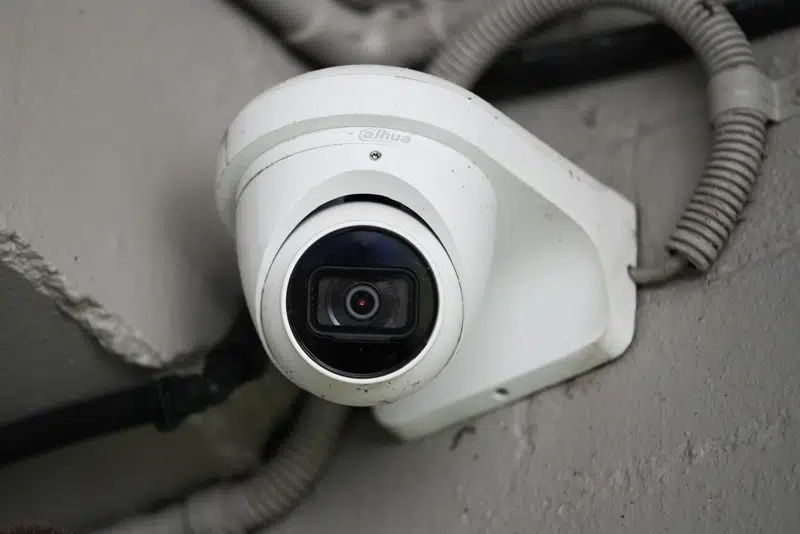 This shows a Chinese Dahua brand security camera in Sydney, Australia, Thursday, Feb. 9, 2023. Australia's Defense Department said Thursday that they will remove surveillance cameras made by Chinese Communist Party-linked companies from its buildings. (AP Photo/Mark Baker)
CANBERRA, Australia (AP) — Australia's Defense Department will remove surveillance cameras made by Chinese Communist Party-linked companies from its buildings, the government said Thursday after the U.S. and Britain made similar moves.
The Australian newspaper reported Thursday that at least 913 cameras, intercoms, electronic entry systems and video recorders developed and manufactured by Chinese companies Hikvision and Dahua are in Australian government and agency offices, including the Defense Department and the Department of Foreign Affairs and Trade.
Hikvision and Dahua are partly owned by China's Communist Party-ruled government.
China's Embassy to Australia did not immediately respond to a request for comment. China's general response to such moves is to defend their high tech companies as good corporate citizens who follow all local laws and play no part in government or party intelligence gathering.
ADVERTISEMENT
The U.S. government said in November it was banning telecommunications and video surveillance equipment from several prominent Chinese brands including Hikvision and Dahua in an effort to protect the nation's communications network.
Security cameras made by Hikvision were also banned from British government buildings in November.
AI search engines can now chat with us, but glitches aboundInvestors' query: Can Google answer Microsoft's AI threat?Ex-Twitter execs deny pressure to block Hunter Biden storyMicrosoft's Activision deal hurts gamers, UK watchdog says
Defense Minister Richard Marles said his department was assessing all its surveillance technology.
"Where those particular cameras are found, they're going to be removed," Marles told Australian Broadcasting Corp.
"There is an issue here and we're going to deal with it," Marles added.
An audit found that Hikvision and Dahua cameras and security equipment were found in almost every department except the Agriculture Department and the Department of Prime Minister and Cabinet.
The Australian War Memorial and National Disability Insurance Agency have said they would remove the Chinese cameras found at their sites, the ABC reported.
Opposition cybersecurity spokesman James Paterson said he had prompted the audit by asking questions over six months of each federal agency, after the Home Affairs Department was unable to say how many of the cameras, access control systems and intercoms were installed in government buildings.
"We urgently need a plan from the … government to rip every one of these devices out of Australian government departments and agencies," Paterson said.
ADVERTISEMENT
Both companies were subject to China's National Intelligence Law which requires them to cooperate with Chinese intelligence agencies, he said.
"We would have no way of knowing if the sensitive information, images and audio collected by these devices are secretly being sent back to China against the interests of Australian citizens," Paterson said.
ADVERTISEMENT
You May Like
DE&I Insights Every Executive Should KnowPromoted: LinkedIn | Lisa B. BairdLearn More
Eczema Rash: The Unusual Triggers You May Not Know AboutPromoted: StuffAnsweredLearn More
Amazon Left Scrambling As Prime Users Find Out About Secret DealsPromoted: Online Shopping Tools
Claim your No Deposit Offer at Stake and have a spin to become our next millionairePromoted: Slots Deals
ADVERTISEMENT
You May Like
Vandy stuns No. 6 Tennessee on Lawrence's buzzer-beating 3
Camp Lejeune ClaimsCamp Lejeune Claims are Being Filed Now
As jets closed in on China balloon, hobbyists were listening
UN experts: North Korean hackers stole record virtual assets
Pentagon: China's conducted spy balloon program for years
Bone On Bone? These "Bionic" Knee Sleeve Will Transform Your Knees Back 17 Years
These Knee Sleeves Will Transform Your Knees Back 17 Years
Ad Content
This Startup Is Causing An Uproar In The Laundry Detergent SpaceEarth Breeze
What The Pharma Industry Doesn't Want You To Know About Skin DecayHealthcare & Beauty Experts
Scalp Psoriasis Treatments Many May Wish They Saw SoonerStuffAnsweredLearn More
IRS E-File is Open – File Now & Get That Refund!TurboTaxLearn More
How Charitable Giving Can Honor A LegacyAmerican Diabetes Association
Upgrading to the AirCurve 10 C2C is Easier Than Ever BeforeThe Easy Blog by EasyBreathe.com
Ad Content
4 Must Know Tips for Recruiting a Racially or Ethnically Diverse CHROPromoted: LinkedIn | Lisa B. Baird
Deming: Dental Implants Starting At $149Promoted: ActiveBeatLearn More
Got an eye for saving?Promoted: Progressive Insurance
AP source: Lakers trading Westbrook to Utah in 3-team swapLOS ANGELES (AP) — The Los Angeles Lakers are trading Russell Westbrook to Utah and reacquiring guard D'Angelo Russell from Minnesota in a three-team, eight-player deal, a person with knowledge of the trade told The Associated Press on Wednesday night.46minutes ago
Ad Content
T-Mobile Announces 2040 Net Zero CommitmentT-Mobile
What Throat Phlegm Could Mean For your Health (No What You Expect)SaneSolution
Netflix Cuts Ties With More Highly Praised Seriesbonvoyaged.comRead More
Tech company wants to buy all junk cars across the countryPeddleGet Quote
Maps That Show Us A New PerspectiveExplored Planet
Deming, New Mexico: Are You Aware Of This?iQ ReportRead More
Ad Content
This all-natural superfood extract is flying off shelves in USPromoted: Pirooz Cell Care
MD: If You Have Toenail Fungus, Do This Immediately (Watch)Promoted: Healthy Guru
Don't Pay More than $10/Month for Cable & Internet (Check Prices)Promoted: WalletGenius
Not just balloons: How US sees China spying as major worryWASHINGTON (AP) — The Chinese balloonyesterday
AP NEWS
Cookie Settings
DOWNLOAD AP NEWS
Connect with the definitive source for global and local news
MORE FROM AP
FOLLOW AP
THE ASSOCIATED PRESS
All contents © copyright 2023 The Associated Press. All rights reserved.
javascript:void(0)