Special counsel asks for 'narrow' gag order for Trump in election interference case
Special counsel asks for 'narrow' gag order for Trump in election interference case
Jack Smith's office says Trump's "disparaging and inflammatory attacks" have spurred threats against witnesses and threaten the court process.
TAP TO UNMUTE
Sept. 15, 2023, 2:03 PM MST / Updated Sept. 15, 2023, 6:23 PM MST
By Ryan J. Reilly and Daniel Barnes
WASHINGTON — Citing threats against individuals former President Donald Trump has targeted, special counsel Jack Smith has asked a federal judge for a narrowly tailored gag order that restricts the 2024 presidential candidate from making certain extrajudicial statements about the election interference case brought against him.
A redacted copy of a government filing — released Friday, after an order from U.S. District Judge Tanya Chutkan — comes in connection with the election interference case, one of four criminal cases the former president is facing, two of which are federal.
"The defendant has an established practice of issuing inflammatory public statements targeted at individuals or institutions that present an obstacle or challenge to him," the special counsel's office wrote.
Recommended


The government said Trump "made clear his intent to issue public attacks related to this case when, the day after his arraignment, he posted a threatening message on Truth Social."
Trump's Aug. 4 post read: "IF YOU GO AFTER ME, I'M COMING AFTER YOU!"
Trump, the office wrote, "has made good on his threat," spreading "disparaging and inflammatory public posts on Truth Social on a near-daily basis regarding the citizens of the District of Columbia, the Court, prosecutors, and prospective witnesses.
"Like his previous public disinformation campaign regarding the 2020 presidential election, the defendant's recent extrajudicial statements are intended to undermine public confidence in an institution—the judicial system—and to undermine confidence in and intimidate individuals—the Court, the jury pool, witnesses, and prosecutors," the prosecutors wrote.
At an event in Washington, Trump made his first public remarks on the filing by attacking Smith, arguing that the special counsel "wants to take away my rights under the First Amendment, wants to take away my right of speaking freely and openly."
Steven Cheung, a spokesperson for the Trump campaign, responded earlier Friday by calling the filing "nothing more than blatant election interference because President Trump is by far the leading candidate in this race."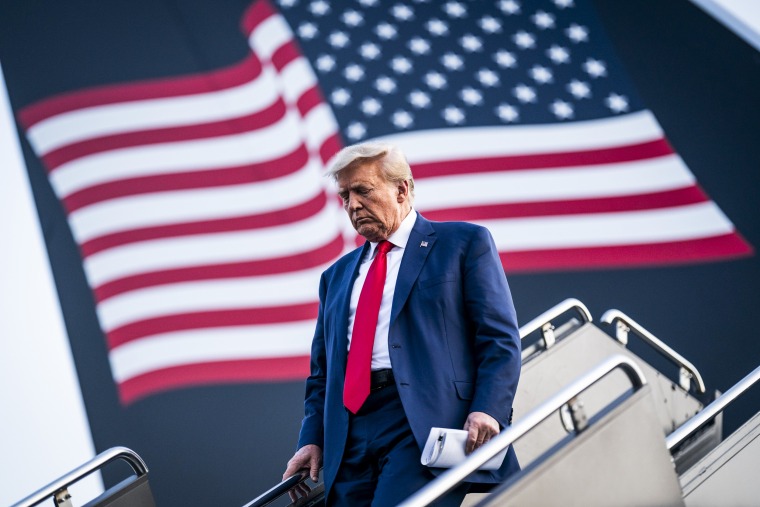 Trump's team has asked Chutkan to recuse herself, citing her comments about the Jan. 6 attack on the U.S. Capitol, a motion the government opposed.
Chutkan — who herself has herself received threats and had an increased security presence after being assigned the case — has set Trump's trial for March 2024.
Smith's office said that Trump's rhetoric against the court and prosecutors echoed the monthslong campaign after his 2020 election loss that resulted in the attack on the U.S. Capitol.
"As set forth in the indictment, after election day in 2020, the defendant launched a disinformation campaign in which he publicly and widely broadcast knowingly false claims that there had been outcome-determinative fraud in the presidential election, and that he had actually won," federal prosecutors wrote in the motion released Friday. "In service of his criminal conspiracies, through false public statements, the defendant sought to erode public faith in the administration of the election and intimidate individuals who refuted his lies."
"The defendant is now attempting to do the same thing in this criminal case," they continued, "to undermine confidence in the criminal justice system and prejudice the jury pool through disparaging and inflammatory attacks on the citizens of this District, the Court, prosecutors, and prospective witnesses."
CORRECTION (Sept. 15, 2023, 5:57 p.m. ET): A previous version of this story misspelled the first and last of the judge overseeing the case. Her name is Tanya Chutkan, not Tonya Chuktan.

Ryan J. Reilly is a justice reporter for NBC News.
Daniel Barnes reports for NBC News, based in Washington.
Jake Traylor and Isabelle Schmeler contributed.
Sponsored Stories
GOFINDYOULearn MoreSeniors: Say Goodbye To Expensive Internet If You Live In These Zip Codes
SMART SECURITY NOWLearn MoreWindows PC Owners Should Do This Before Saturday
Learn MoreSeniors: Say Goodbye To Expensive Internet If You Live In These Zip Codes
Learn MoreWindows PC Owners Should Do This Before Saturday
Search NowUnsold Lab Grown Diamonds Are Selling Almost for Nothing!
Read MoreAudiences are device agnostic, why isn't measurement?Nielsen CMO Jamie Moldafsky on how to solve the industry's cross-media measurement problem.
CAMPER VAN WAREHOUSE | SEARCH ADS/
These Loaded Camper Vans Are Turning Heads
More Americans Are Going Bananas For These Ductless Air Conditioner Units
Prime Is Now $179, But Few Know This Free Savings Hack
Learn MoreBoost Employee Engagement – Easy To Use Platform
New Mexico: Top Jobs in Mental HealthJoin the many mental health professionals who have found their dream jobs using our extensive job listings (CTA: Find Jobs)
Learn MoreSeniors Getting $30/Month Off Google Fiber Internet Plans (See If You Qualify)Perform A Simple Search On The Next Page To See Internet Deals For Seniors
Learn MoreAlbuquerque: These Phones Are Almost Being Given Away for Free
Search NowPhone Companies Hate When Seniors Discovers These $5/Month planSwitch to A Subsidized Senior Cell Phone Plan Now!
More From NBC News