VP Harris fights for Democrats' future — and her own
By CHRIS MEGERIANyesterday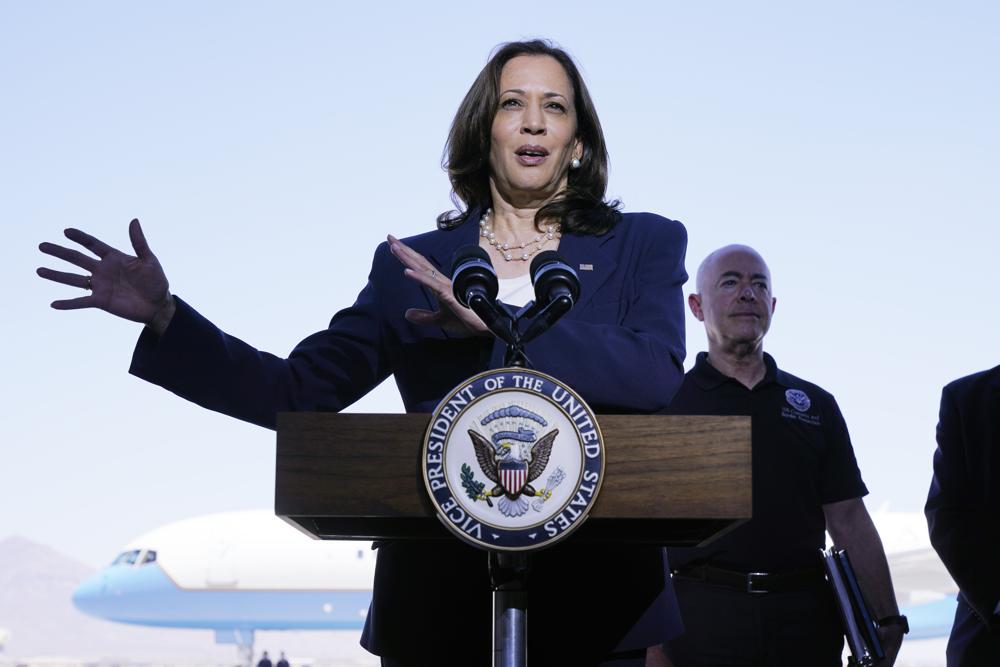 1 of 12
FILE – Vice President Kamala Harris talks to the media, June 25, 2021, after her tour of the U.S. Customs and Border Protection Central Processing Center in El Paso, Texas. Harris visited the U.S. southern border as part of her role leading the Biden administration's response to a steep increase in migration. (AP Photo/Jacquelyn Martin, File)
BOSTON (AP) — Ruby Brown beamed with excitement in a community college gymnasium as she waited for Vice President Kamala Harris to take the stage at a political rally for the Democratic ticket in Massachusetts
"As soon as her name was announced, I said I had to find a way to go," said Brown, 58.
The midterms are just days away, with control of Congress and statehouses across the country up for grabs, but Brown and her friends were really hoping for a hint of what might happen a few years down the line.
"That's why we're here," said Lisa Palmer-Glover, 56. "To see what's next on the plate."
The comments are just a glimpse of the expectations and special scrutiny that Harris faces as the first person of color and first woman to be vice president — and someone who campaigned for the top job before agreeing to be Joe Biden's running mate.
The vice presidency is never an easy position, requiring ambitious politicians to contort themselves into the role of sidekick. And it's been particularly difficult for Harris. She's a groundbreaking leader, a former U.S. senator and California attorney general. But she struggled with a portfolio of vexing challenges and internal staff turmoil soon after taking office.
Why do election experts oppose hand-counting ballots?EXPLAINER: How can the AP call races right as polls close?EXPLAINER: Threats to US election security grow more complexMisinformation and the midterm elections: What to expect
ADVERTISEMENT
Allies say she's found a degree of stability since then, and they describe the midterm elections as an opportunity to project her own voice on issues such as reproductive freedom, which became a centerpiece of her message after the U.S. Supreme Court overturned the nationwide right to abortion this year.
Now, with Democrats facing the possibility of a sweeping defeat at the ballot box next week, the party is bracing for another round of introspection about its future — and by extension, Harris' own.
It's not a conversation the vice president's inner circle wants to have as Biden lays the groundwork for a second term even as he approaches his 80th birthday.
"They intend to run, and they intend to run together," said Laphonza Butler, who was as an adviser to Harris' presidential campaign and now leads Emily's List, a political organization that supports women who favor abortion rights. "So until there's another question, that's the answer."
Still, midterm campaigning for other Democrats is a chance for Harris, who recently turned 58, to nurture constituencies that supported her in the past and could again. Her travel has focused on young people, voters of color and women, including at historically black colleges and roundtable meetings on abortion.