Ukrainians face nuclear threat with grit and dark humor
By HANNA ARHIROVA and ADAM SCHRECK28 minutes ago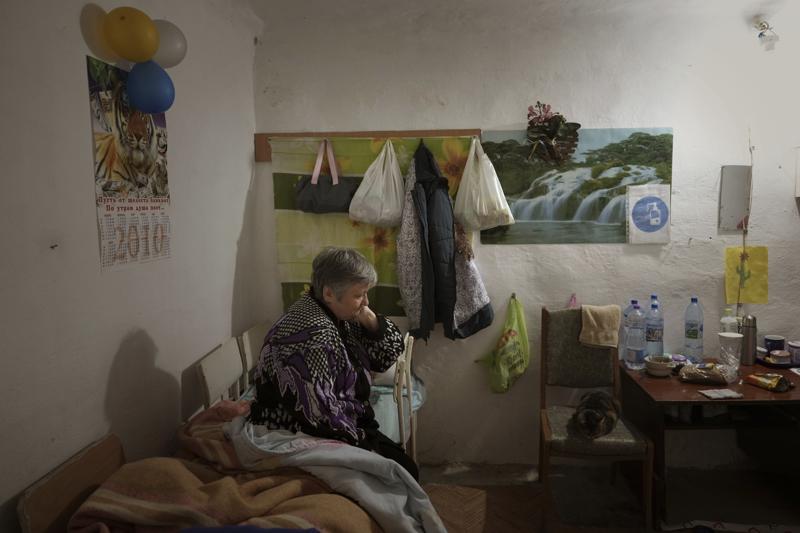 1 of 11
Natalia sits on a makeshift bed, on a shelter builded on the ground floor of her building in Mykolaiv downtown, Ukraine, Monday, Oct. 24, 2022. With the Russian invasion in its ninth month, many Ukrainians no longer ask if their country will be hit by nuclear weapons. They are actively preparing for that once-unthinkable possibility. (AP Photo/Emilio Morenatti)
KYIV, Ukraine (AP) — Dmytro Bondarenko is ready for the worst.
He's filled the storage area under his fold-up bed and just about every other nook of his apartment in eastern Kyiv with water and nonperishable food. There are rolls of packing tape to seal the windows from radioactive fallout. He has a gas-fired camping stove and walkie-talkies.
There's even an AR-15 rifle and a shotgun for protection, along with boxes of ammo. Fuel canisters and spare tires are stashed by his washing machine in case he needs to leave the city in a hurry.
"Any preparation can increase my chance to survive," he said, wearing a knife and a first-aid kit.
With the Russian invasion in its ninth month, many Ukrainians no longer ask if their country will be hit by nuclear weapons. They are actively preparing for that once-unthinkable possibility.
Over dinner tables and in bars, people often discuss which city would be the most likely target or what type of weapon could be used. Many, like Bondarenko, are stocking up on supplies and making survival plans.
ADVERTISEMENT
Nobody wants to believe it can happen, but it seems to be on the mind of many in Ukraine, which saw the world's worst nuclear accident at Chernobyl in 1986.
"Of course Ukraine takes this threat seriously, because we understand what kind of country we are dealing with," presidential adviser Mykhailo Podolyak said in an interview with The Associated Press, referring to Russia.
Iran marks 1979 US Embassy takeover amid nationwide protestsOfficials: Saudis tell US that Iran may attack the kingdomIRS crime-fighting arm takes on new tasks during Ukraine warBackup power used at Ukraine nuclear site for safety systems
The Kremlin has made unsubstantiated claims that Ukraine is preparing a "dirty bomb" in Russian-occupied areas — an explosive to scatter radioactive material and sow fear. Kyiv strenuously denied it and said such statements are more probably a sign that Moscow is itself preparing such a bomb and blame it on Ukraine.
MEMORIES OF CHERNOBYL
The nuclear fears trigger painful memories from those who lived through the Chernobyl disaster, when one of four reactors exploded and burned about 100 kilometers (60 miles) north of Kyiv, releasing a plume of radiation. Soviet authorities initially kept the accident secret, and while the town near the plant was evacuated, Kyiv was not.
Svitlana Bozhko was a 26-year-old journalist in Kyiv who was seven months pregnant at the time of the accident, and she believed official statements that played it down. But her husband, who had spoken to a physicist, convinced her to flee with him to the southeastern Poltava region, and she realized the threat when she saw radiation monitors and officials rinsing the tires of cars leaving Kyiv.