UAE names oil company chief to lead UN climate talks COP28
By JON GAMBRELL2 hours ago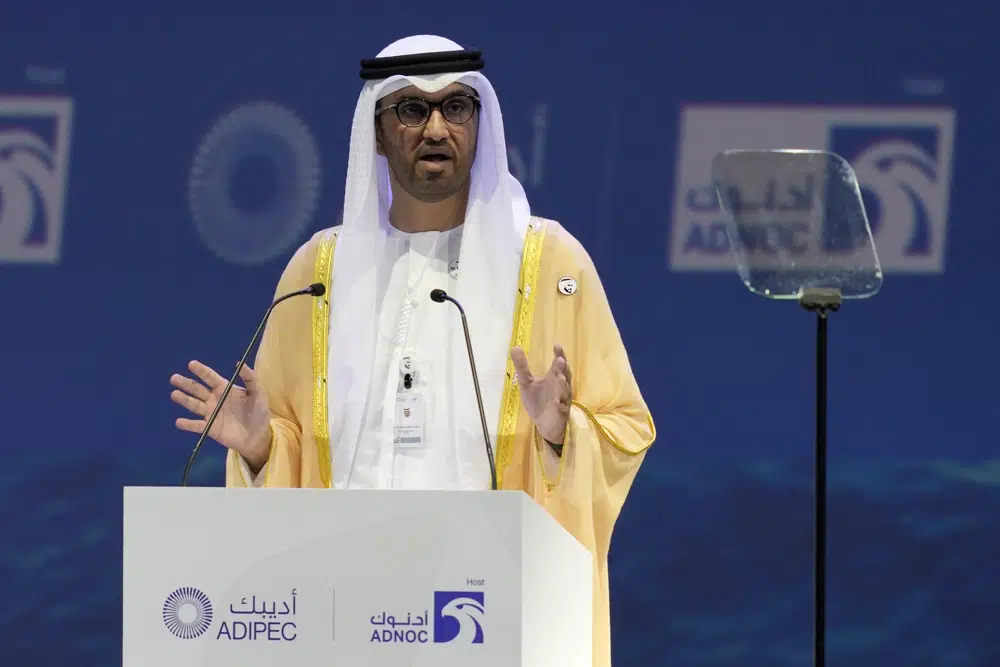 1 of 3
FILE – The Emirati Minister of State and the CEO of Abu Dhabi's state-run Abu Dhabi National Oil Co. Sultan Ahmed al-Jaber talks at the Abu Dhabi International Petroleum Exhibition & Conference in Abu Dhabi, United Arab Emirates, Oct. 31, 2022. (AP Photo/Kamran Jebreili, File)
DUBAI, United Arab Emirates (AP) — The United Arab Emirates on Thursday named the CEO of a state-run oil company who also oversees renewable energy projects to be the president of the upcoming United Nations climate negotiations in Dubai, drawing criticism from activists and highlighting the balancing act ahead for this crude-producing nation.
Authorities nominated Sultan al-Jaber, a trusted confidant of UAE leader Sheikh Mohammed bin Zayed Al Nahyan, who leads the Abu Dhabi National Oil Co. That firm pumps some 4 million barrels of crude a day and hopes to expand to 5 million daily.
Those revenues fuel the ambitions of this federation of seven sheikhdoms on the Arabian Peninsula — as well as the production of more of the heat-trapping carbon dioxide that the U.N. negotiations hope to limit.
But al-Jaber also once led a once-ambitious project to have a $22 billion "carbon-neutral" city on Abu Dhabi's outskirts — an effort later pared back after the global financial crisis that struck the Emirates hard beginning in 2008. Even today, he serves as the chairman of Masdar, a clean energy company that grew out of the project.
ADVERTISEMENT
"Sultan al-Jaber has the credentials and background to lean into trends that are already on going," said Ryan Bohl, a Mideast analyst for a risk-intelligence firm called the RANE Network. "Him being an oilman, I don't think that will be that big of a risk for him."
Garland appoints special counsel to investigate Biden docsUFO reports rise to 510, not aliens but still a threat to USNSA director pushes Congress to renew surveillance powersDeSantis tested on immigration as he weighs 2024 candidacy
The Emirates' state-run WAM quoted al-Jaber, a 49-year-old longtime climate envoy, as calling for "a pragmatic, realistic and solutions-oriented approach" to limit global warming to just 1.5 degrees Celsius (2.7 degrees Fahrenheit) by 2050. Scientists say that limit can avoid or at least lessen some of the most catastrophic future climate change harms.
Al-Jaber's nomination, however, drew immediate criticism. Harjeet Singh, who is the head of Global Political Strategy at Climate Action Network International, said al-Jaber being an oil company CEO posed "an unprecedented and alarming conflict of interest."
"There can be no place for polluters at a climate conference, least of all presiding over a COP," Singh said.
Alice Harrison of Global Witness put it even more bluntly: "You wouldn't invite arms dealers to lead peace talks. So why let oil executives lead climate talks?" Greenpeace said it was "deeply alarmed" by al-Jaber's appointment, adding: "This sets a dangerous precedent, risking the credibility of the UAE and the trust that has been placed in them."
ADVERTISEMENT
Each year, the country hosting the U.N. negotiations known as the Conference of the Parties — where COP gets its name — nominates a person to chair the talks. Hosts typically pick a veteran diplomat as the talks can be incredibly difficult to steer between competing nations and their interests. The nominee's position as "COP president" is confirmed by delegates at the start of the talks, usually without objections.
U.N. spokesman Stephane Dujarric, asked about whether Secretary-General Antonio Guterres thinks someone involved with fossil fuels should head COP28, stressed that the United Nations has "absolutely no involvement" in the selection.
ADVERTISEMENT