By HYUNG-JIN KIM10 minutes ago
South Korea: Talks with US on management of nukes underway
By HYUNG-JIN KIM10 minutes ago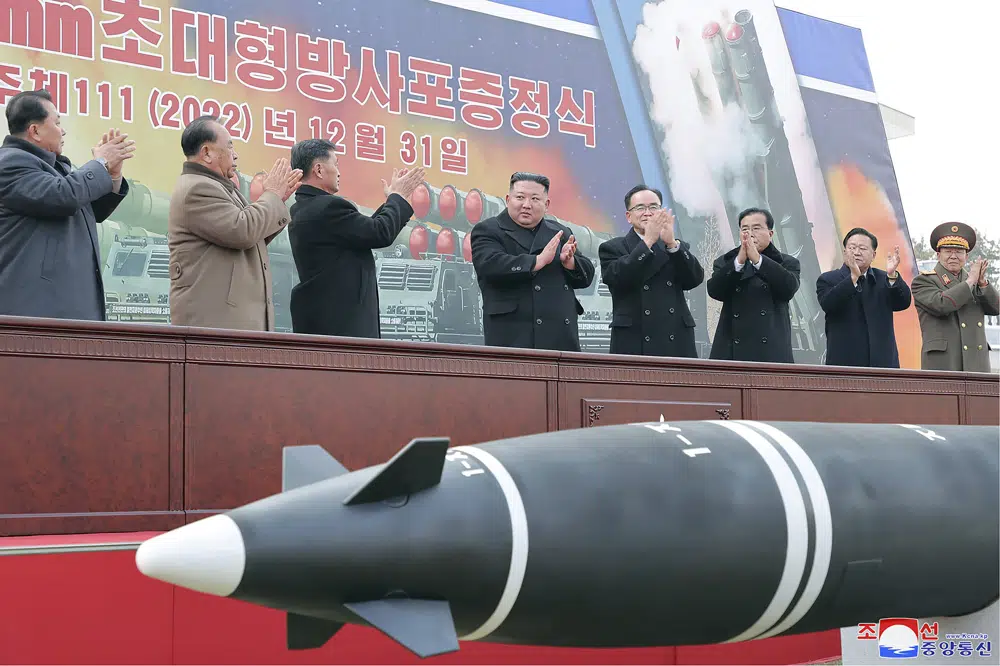 FILE – In this photo provided by the North Korean government, North Korean leader Kim Jong Un, center, attends a ceremony of donating 600mm super-large multiple launch rocket system at a garden of the Workers' Party of Korea headquarters in Pyongyang, North Korea Saturday, Dec. 31, 2022. Independent journalists were not given access to cover the event depicted in this image distributed by the North Korean government. The content of this image is as provided and cannot be independently verified. Korean language watermark on image as provided by source reads: "KCNA" which is the abbreviation for Korean Central News Agency. (Korean Central News Agency/Korea News Service via AP)
SEOUL, South Korea (AP) — South Korea reconfirmed Tuesday that Seoul and Washington are discussing South Korea being involved in U.S. nuclear asset management in the face of intensifying North Korean nuclear threats, after President Joe Biden denied that the allies were discussing joint nuclear exercises.
The difference came after North Korean leader Kim Jong Un entered the new year with a vow to mass-produce battlefield nuclear weapons targeting South Korea and introduce a more powerful intercontinental ballistic missile capable of striking the mainland U.S. Some experts say Kim would eventually aim to use his enlarged weapons arsenal to wrest outside concessions like sanctions relief.
South Korean President Yoon Suk Yeol said in a newspaper interview published Monday that the two countries were pushing for a joint planning and training involving U.S. nuclear assets and that the United States responded positively about the idea.
ADVERTISEMENT
Asked by a reporter later at the White House about whether the two countries were discussing joint nuclear exercises, Biden replied, "No."
Yoon's spokesperson, Kim Eun-hye, issued a statement Tuesday saying that Seoul and Washington "are discussing an intel-sharing, a joint planning and subsequent joint action plans over the management of U.S. nuclear assets in response to North Korea's nuclear (threats)."
2024 contest comes into view with hurdles for both partiesBiden's new year pitch focuses on benefits of bipartisanshipNorthern Arizona tribe to get federal aid for flood damageDems, GOP have distinct priorities for 2023: AP-NORC poll
Kim said Biden likely answered "no" because a reporter tersely asked him about a nuclear exercise without providing any background information.
In the Chosun Ilbo interview, Yoon said that while the U.S. nuclear weapons belong to the U.S., planning, intel-sharing and exercises involving them must be jointly conducted with South Korea. He said he finds it difficult to assure his people of a security guarantee with the current levels of U.S. security commitment.
South Korea has no nuclear weapons and is under the protection of a U.S. "nuclear umbrella," which guarantees a devastating American response in the event of an attack on its ally. But some experts question the effectiveness of such a security commitment, saying the decision to use U.S. nuclear weapons lies with the U.S. president.
Yoon's office didn't provide many details about his government's discussion with the United States. Some observers say South Korea is seeking to obtain a greater role on U.S. decision-making process on the deployment of its nuclear assets in times of tensions with North Korea.
ADVERTISEMENT
Kim Taewoo, a former head of Seoul's Korea Institute for National Unification, said the reported South Korea-U.S. discussion likely "benchmarked a NATO-style nuclear-sharing arrangement" that allows NATO member states' warplanes to carry U.S. nuclear weapons. He said the discussion still appears to be falling short of the NATO arrangement because possible nuclear exercises between the two countries would likely be South Korean air force aircraft escorting U.S. aircraft practicing nuclear strikes during joint drills.
"North Korea would take this sensitively. (South Korea and the U.S.) are discussing this to get North Korea to take this sensitively … because that can be a deterrence against North Korea," Kim Taewoo said.
ADVERTISEMENT
He said South Korea and the United Sates are likely using unofficial channels to discuss the topic. That allows South Korea to claim it's discussing the issue with the U.S. at the same time it allows Washington to deny that, he said.
Last year, North Korea performed a record number of weapons tests by launching a variety of ballistic missiles capable of reaching the U.S. mainland and its allies South Korea and Japan. In September, North Korea also adopted a new law authorizing the preemptive use of its bombs in a broad range of cases, including non-war scenarios.
During a recently ended ruling party meeting, Kim Jong Un ordered the "exponential" expansion of his country's nuclear arsenal and the mass-production of tactical nuclear weapons missioned with attacking South Korea, as well as the development of a new ICBM tasked with having a "quick nuclear counterstrike" capability — a weapon he needs to strike the mainland, North Korea's state media reported Sunday.
ADVERTISEMENT
You May Like
Say Hello to the Next Generation of Outdoor Cooking Technology.Promoted: Ooni Pizza Ovens
Finally Legal in Arizona, "You Gotta Try These THC Gummies!"Promoted: Tommy Chong's CBD
Molly Ringwald, 54, Takes off Makeup, Leaves Us With No WordsPromoted: Daily Finance Stories
Plant Bananas All Over Your Garden, Look What Happens A Week LaterPromoted: Tips and Tricks
ADVERTISEMENT
PAID FOR BY WELLNESSGUIDE101.COM
If You Have Toenail Fungus Try This Tonight (It's Genius!)
3-Minutes Shower Ritual Could Treat Foot Fungus
Ad Content
Researchers First Thought They Were Statuesinvesting.com
Killer New Volkswagen EVs Will Leave You BreathlessNew VWs | search ads
Let the good times rollChumba Casino
Are you our next millionaire?Chumba Casino
Glendale, Arizona: Are You Aware Of This?iQ Report
This is the most powerful flashlight in the worldLuoccia
Ad Content
If you own a mouse, you have to try this game. No Install. Play for free.Promoted: Combat Siege
Tech company wants to buy all junk cars across the countryPromoted: Peddle
You will never turn off your computer again.Promoted: PlanetCapture
Mitchell anota 71 puntos; Cavs vencen a Bulls en alargueCLEVELAND (AP) — Donovan Mitchell anotó 71 puntos, la cifra más alta de la campaña en la NBA y un récord de los Cavaliers de Cleveland, que remontaron un déficit de 21 unidades y doblegaron el lunes 145-134 a los Bulls de Chicago en tiempo extra.an hour ago
Ad Content
Where Are The 5G Cell Towers Near Me?5G Tower Locations
Birds refuse to leave plane alone – when pilots realize why they instantly landSoolide
Greta Thunberg Drives This Car At The Age Of 19investing.com
New Camper Vans Basically on Clearance SaleHot Deals – Top Searches
The App That's Teaching Americans Spanish In 15 Minutes A DayBabbel
Ad Content
Nine cars you don't want to drive past 100,000 milesPromoted: Peddle
Killer New EVs With Longest Range And Most PowerPromoted: New Electric Cars | Search Ads
Empty Alaska Cruise Cabins Cost Almost NothingPromoted: Alaska Cruise Deals | sponsored searches
Bills' Hamlin in critical condition after collapse on fieldCINCINNATI (AP) — Bills safety Damar Hamlin was in critical condition after he collapsed on the field Monday night, the NFL said, and Buffalo's game against the Cincinnati Bengals was suspended. Hamlin was administered CPR on the field, ESPN reported, and he was surrounded by teammates, some of them25minutes ago
AP NEWS
Cookie Settings
DOWNLOAD AP NEWS
Connect with the definitive source for global and local news
MORE FROM AP
FOLLOW AP
THE ASSOCIATED PRESS
All contents © copyright 2023 The Associated Press. All rights reserved.
javascript:void(0)