Solar energy projects are grinding to a halt in the US amid investigation into parts from China
By Ella Nilsen, CNN
Updated 7:10 AM ET, Fri May 6, 2022
Racking systems to hold solar panels sit empty on top of an old strip mine in Portage, Pennsylvania, on Monday, April 25.The fallout from a trade probe is rippling through the US solar industry, delaying projects and threatening to slow the renewable energy transition.
(CNN)The solar energy industry has been thrown into a panic and projects are grinding to a halt after the Biden administration launched an investigation that some solar CEOs worry could tank the industry.The Commerce Department launched the probe in March into whether four countries in Southeast Asia that supply about 80% of US solar panels and parts — Cambodia, Malaysia, Thailand and Vietnam — are using components from China that should be subject to US tariffs.RENEWABLE ENERGY NEWS
'The sound of money': Wind energy is booming in deep-red Republican states
Solar energy has the potential to power 40% of US electricity by 2035
Wind energy in the US hit a major milestone in early 2022
Honolulu is leading the way for solar power. Here's how other US cities rank
Wind and solar generated a record 10% of the world's power in 2021, report shows
5 alternative energy sources to speed our transition away from fossil fuelsThe fallout within the industry has been significant.
A survey in late April by the Solar Energy Industries Association, a non-profit trade association, found 318 solar projects in the US had already been delayed or canceled, and several CEOs told CNN they expect more to follow. Industry leaders fear the probe could also have a devastating impact on the solar workforce.https://a0568f4b88a576ddf55e812f4312aa42.safeframe.googlesyndication.com/safeframe/1-0-38/html/container.html
The Commerce Department has defended it as a transparent and necessary process, but several solar industry experts and executives told CNN it has also essentially frozen most solar imports into the US because of the threat of steep, retroactive tariffs.
"With this administration and this much support, we're in a position where we're going to be laying off people in the renewables industry," George Hershman, CEO of utility solar contractor SOLV Energy, told CNN. "While you say all those things we agree with, we're getting crushed because we literally can't buy a module today. It's so frustrating."Enter your email to subscribe to the CNN Five Things Newsletter.close dialog

You give us five minutes, we'll give you five things you must know for the day.Sign Me UpBy subscribing you agree to ourprivacy policy.The investigation was launched after one small US-based company, Auxin Solar, filed a complaint in February. Auxin CEO Mamun Rashid told CNN that the complaint "was existential" for his company.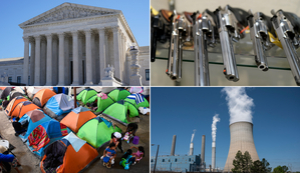 Roe leak may impact how Supreme Court decides gun rights, climate and immigration cases this spring"When prices of finished panels from Southeast Asia come in below our bill of materials cost, American manufacturers cannot compete," Rashid said, adding that "if foreign producers are circumventing U.S. law and causing harm to U.S. producers like Auxin Solar, it needs to be addressed."Rashid told CNN it's "lamentable" that frustration is aimed at his company, rather than the "foreign suppliers" that he says are circumventing US law. Rashid also noted that Auxin is "here and can quickly scale up to meet needs of utilities within 2 to 3 quarters if we have the purchase order today."Solar industry leaders have been communicating with the Commerce Department and have also communicated their concerns about the probe to Biden's top climate officials — including McCarthy and US Climate Envoy John Kerry — a person familiar with the conversations said."The administration has been in touch with and is engaging with all kinds of solar stakeholders including the trade associations but also labor, communities, and NGOs," a White House official told CNN.
'The worst moment'
The Commerce probe comes on the heels of last year's ban on solar panels and parts that were suspected of having links to forced labor in China's Xinjiang Province.The Department of Homeland Security directed US Customs and Border Protection to issue a Withhold Release Order, which banned imports made by Chinese company Hoshine Silicon Industry Co., after the government alleged the company uses forced Uyghur labor.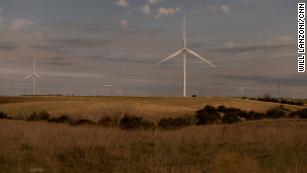 'The sound of money': Wind energy is booming in deep-red Republican states"Obviously, the industry absolutely needed to address any concerns about forced labor, but the implementation of that [order] was far from smooth," Solar Energy Industries Association President Abigail Ross Hopper told CNN.At ports around the country, CBP agents seized and detained any solar products they suspected had links to Hoshine, unless companies could prove they did not.US Customs and Border Protection statistics provided to CNN note the agency detained 734 shipments valued at $246 million, which the agency said is just 1.86% of the total value of all solar imports into the United States. But Hershman said the order ultimately led to a chilling effect across the industry, where companies withheld shipments for fear of being caught in an overly broad net at US ports."If you have materials detained, you don't want to ship more," Hershman said.
91 total views, 1 views today