Show Low Chamber welcomes Monica's Cafe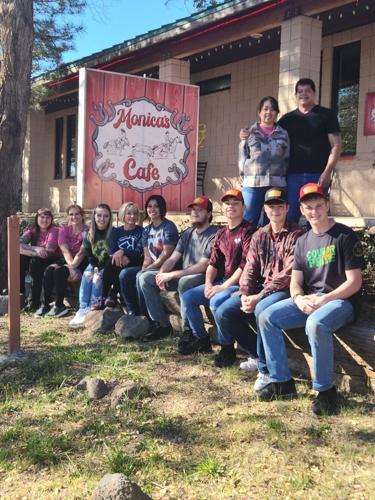 https://trinitymedia.ai/player/trinity-player.php?pageURL=https%3A%2F%2Fwww.wmicentral.com%2Fshow-low-chamber-welcomes-monicas-cafe%2Farticle_eec5f31c-5d8a-59d3-b880-2c53ef356132.html&partner=Flex&fab=1&textSelector=I2FydGljbGUtYm9keQ%3D%3D&unitId=2900003117&userId=659edb87-d9e3-4f6e-a0c0-f872bc23ae4d&isLegacyBrowser=false&version=20221108_efc6bd86fa10240af6d2ed67a67c188d04db5579&useCFCDN=0&themeId=140
The Show Low Chamber of Commerce helped welcome the men and women of Monica's Café to the city on Friday.
Monica's Café, which moved into the building formerly used by Sweethearts Cafe & Pizzeria at 1100 E. Hall St., has been open since Oct. 1, but owner Monica Montalvo decided to wait a month before having a grand opening party and agreeing to have the Show Low Chamber of Commerce host a ribbon cutting.
"We've hit the ground running since the day we started, but I wanted to give our staff some time to settle in and ready to serve this community in the best way possible," Montalvo said,
On Oct. 28, one week before the café's ribbon cutting, Montalvo sat with her husband, Audie, Stacy Butora and Tawny Quihuys, who are managers and servers, to discuss her plans for her business and what has driven her to opening a restaurant.
Monica has worked in the food industry since she was 13 years old. Over that time, she's waited tables, cooked, cleaned and done everything there is to do in a restaurant.
"A lot has changed since the days when I waited tables," she said, "but I've always held a lot of love for this line of work. I love being able to interact with people and make their day, and we've made sure to build a staff that has the same mindset."
Audie was brought in to help manage the restaurant and its staff. He said, "The atmosphere here is amazing. Between our employees and the customers we see every day, it's hard not to stay in a good mood. It's a huge responsibility to manage here, but these people make it easy."
Monica said one of her main goals when setting up her business was to dedicate as much effort as possible to creating a family environment in her workplace. Monica was inspired to open a restaurant because of her mother, who owned Lucy's Horseshoe Cafe in Show Low many years ago.
Monica's father helped her envision what the restaurant would look like. She aimed to capture some of her father's Western energy by keeping to a cowboy theme and decorating the building in red, which was his favorite color.
"He was a good man and my best friend. I hope he's proud of the work we're doing," she said.
Keeping with the family theme, November holds a large significance in the lives of the Montalvos. Monica mentioned that both her father's birthday and her parents' anniversary are commemorated on Nov. 5, and that her and Audie's daughter's birthday is Nov. 11.
"This time of the year means a lot to Monica and me, so it's very special to us that we were able to have the grand opening be in November as well," Audie said.
Butora and Quihuys both had worked with Monica before she opened her restaurant, and both immediately jumped on the opportunity to work with her again.
Butora said, "I would do anything for Monica. Whatever she needs, I'm there. She always does her best to keep a friendly environment that encourages love and teamwork, and I'm always going to be on board for that."
Quihuys said that Monica's leadership is the main reason she was excited to work at her restaurant, saying, "You honestly can't find a nicer person on the Mountain. I've worked in Show Low for nine years, and I've never met anyone like her before."
Monica's Café is joining a tens