MEDIAPublished May 22, 2022 7:14pm EDT
SF Examiner editorial board demands Pope remove archbishop who barred Pelosi from communion over abortion
The paper called for Pope Francis to remove the 'radical' Cordileone from leadership
closehttps://static.foxnews.com/static/orion/html/video/iframe/vod.html?v=20220510013842#uid=fnc-embed-1&url=www.foxnews.com%2Fmedia%2Fsf-examiner-editorial-board-demands-pope-remove-archbishop-who-barred-pelosi-communion-abortion
NEWYou can now listen to Fox News articles!Listen to this article0:00 / 2:161XBeyondWords
The San Francisco Examiner's editorial board wrote a scathing rebuke of the city's archbishop, Salvatore Cordileone, after he announced he would deny Speaker of the House Nancy Pelosi, D-Calif., Holy Communion, over her staunch support for abortion.
Cordileone wrote to the Pelosi on Friday, warning her that she cannot receive Communion, while vowing to codify Roe v. Wade.
"You are not to present yourself for Holy Communion and, should you do so, you are not to be admitted to Holy Communion," he wrote.
SAN FRANCISCO ARCHBISHOP BARS PELOSI FROM RECEIVING HOLY COMMUNION DUE TO ABORTION SUPPORT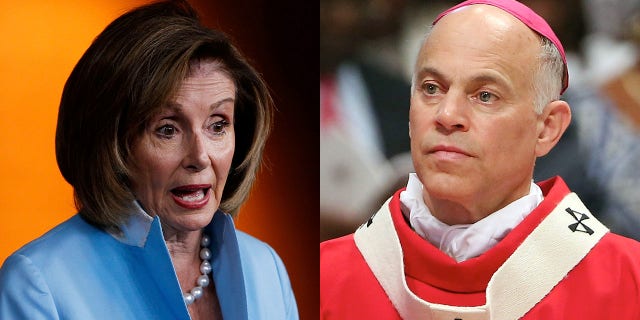 Archbishop Salvatore Cordileone said Nancy Pelosi would be barred from Holy Communion, over her abortion stance. (Reuters/Getty Images)
In response, the liberal editorial board blasted the Catholic leader for "punishing" Pelosi, instead of "right-wing politicians" who "[vote] against health care or funding for the poor."
They defended Pelosi as a leader who has "consistently fought on the morally right side of these issues," and praised her as a role model for women.
The editorial board argued that by denying Pelosi Holy Communion, the archbishop wasn't being loyal to Christ.
121 total views