Russian missiles cross into NATO member Poland, kill 2: senior US intelligence official
Two killed in Poland after Russian missile strike crossing into NATO territory
By Liz Friden , Caitlin McFall | Fox News
Russian missiles flew over NATO territory and killed two people in Poland Tuesday, a senior U.S. intelligence official told The Associated Press.
The Polish government has not immediately confirmed the report, but one spokesman Piotr Mueller told the publication that top leaders were holding an emergency meeting over the "crisis situation."
RUSSIA HAMMERS KYIV, UKRAINE WITH MISSILES, VIDEO SHOWS FIERY AFTERMATH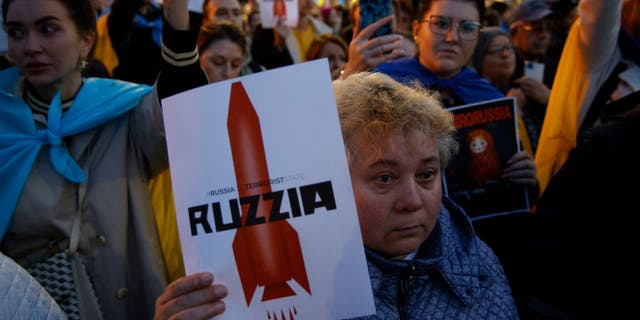 A woman holds a sign with a grahpic of a missile rocket during a rally in front of the Russian Embassy in Warsaw, Poland on 10 October, 2022. (Photo by STR/NurPhoto via Getty Images)
Two people were reportedly killed after a projectile struck and area where grain was drying in the village of Przewodów near the Ukrainian border.
Fox News could not immediately reach NATO or the Polish defense ministry for confirmation on the strikes.
The Pentagon told reporters that it was taking the reports "seriously and looking into them.
"Right now we are aware of the press reporting on this and we have no information at this time to corroborate those reports," Pentagon Press Secretary Brig. Gen. Pat Ryder said. "I don't want to speculate or get into hypotheticals when it comes to our security commitments.
"We've been crystal clear that we will defend every inch of NATO territory," he said in reference to Article 5.
President Biden has repeatedly said the U.S. will be steadfast in its support for Poland or any NATO member nation in the face of Russia's aggression.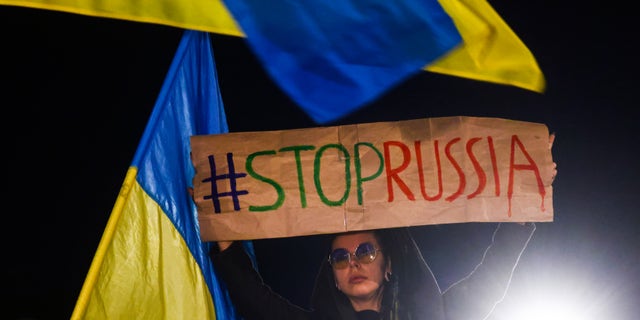 Ukrainian citizens and supporters attend a demonstration of solidarity with Ukraine at the Main Square, after latest Russian missiles targeted civilian infrastructure in several cities in Ukraine. Krakow, Poland on October 10, 2022. (Photo by Beata Zawrzel/NurPhoto via Getty Images)
BIDEN CALLS PUTIN A 'BUTCHER' AFTER MEETING WITH UKRAINIAN REFUGEES IN POLAND
After traveling to Poland earlier this year to meet with officials and Ukrainian refugees who fled the war-torn nation during the early days of the war, Biden issued a stark tone on Washington's stance.
"Don't even think about moving on one single inch of NATO territory," Biden said speaking from Warsaw in March. "We have a sacred obligation under Article 5 to defend each and every inch of NATO territory with the full force of our collective power."
Biden renewed these commitments again in September when he addressed Russian President Vladimir Putin from the White House and said, "We're fully prepared to defend…our NATO allies. To defend every single inch of NATO territory — every single inch.
"So, Mr. Putin, don't misunderstand what I'm saying: every inch," he added.
Poland has been extremely critical of Putin's war in Ukraine, including by its lawmakers who called for Russian to be designated a "terrorist state" just last month.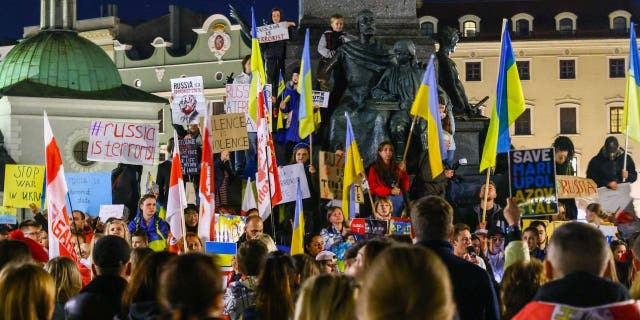 Ukrainian citizens and supporters attend a demonstration of solidarity with Ukraine at the Main Square, after latest Russian missiles targeted civilian infrastructure in several cities in Ukraine. Krakow, Poland on October 10, 2022. (Photo by Beata Zawrzel/NurPhoto via Getty Images)
CLICK HERE TO GET THE FOX NEWS APP
But Russia expert and former DIA intelligence officer for Russian Doctrine & Strategy, Rebekah Koffler, told Fox News she believes the strikes Tuesday were an accident waiting to happen.
"Moscow doesn't want to start a war. If there's one thing Putin fears it's U.S.-NATO intervention," she said, noting that she is 99 percent confident the strikes Tuesday were an accident. "It's exactly the pathway — unintentional escalation — that could lead to U.S.-NATO involvement in the Russia-Ukraine conflict, potentially leading it to World War III.
"Hopefully, the powers that be in Moscow, Washington, and Kyiv will realize they are playing with fire and get to the table to settle," she added. "Cooler heads must prevail. The sooner the better."
Check back on this developing story.
Liz Friden is a Pentagon producer based in Washington, D.C.
Sponsored Stories You May Like
Your Memory Is Photographic If You Can Name Even 10/20 Films From One Framehttps://themoneytime.com/
Arizona Gov't Will Cover The Cost To Install Solar If You Own A Home In These Zip Codesfinancedaily.org
Add This To Your Toothpaste To Help Regrow Gums in a Few DaysDental Hacks
Here Are 23 of the Coolest Gifts For This 2022Best Tech Trend
Top US Men's Surgeon: Do This Once Daily To 'Shrink' Enlarged Prostateprostanews.com
5 Signs It Could Be Time to Fire Your AdvisorSmartAsset
Everyone Who Has US Dollars In Their Bank Account Should Watch Thisusfinancial.news
Doctor Says Slimming Down After 60 Comes Down To ThisThe Right Wing Health
[Photos] After 220 Years Brothers Found Oak Island TreasureCulturess
Iranian man who inspired Tom Hanks' 'The Terminal' dies at Paris airport
Employee of Hydro-Québec dam charged with espionage by Canadian police
Mexico beachgoers at popular tourist area find 3 dead bodies with torture marks washed ashore
Here Are 23 of the Coolest Gifts for This 2022TechNews
What if the US had not entered in 1941? Game simulates alternative historyHistory Strategy Game
The Top 2023 Family SUVs Have Arrived. 3 Rows Of Seating, Affordable, Tons Of Tech & MoreSearch ads
Sponsored Stories
Arizona Will Cover Cost to Install Solar Panels in These Zip CodesEasySolar
Banned For 84 Years; Powerful Pain Reliever Legalized In Arizonabehealth.space
Hands Down! The World's Healthiest BreakfastKa'Chava
[Pics] They Found This Deep In The Ocean, It's Worrying ScientistsYourDIY
[Photos] Ann Romney: She Is Happily Married To This Manhttps://therapyjoker.com/
[Gallery] The Worst Dresses To Ever Appear At The OscarsBleacher Breaker
More From Fox News
Paul Pelosi attack: New federal indictment reveals what suspect was wearing when police arrivedFox News
Kari Lake predicts she will be the next Arizona governor with '100% certainty'Fox News
UVA shooting timeline: Michael Hollins' dad says Christopher Darnell Jones 'shot up' bus of ex-teammatesFox News
Possible recount in Arizona governor race, Eric Swalwell's 'stupid' message and more top headlinesFox News
Mediterranean's fast-warming waters threaten coastal livelihoodsFox News
Russia orders more hypersonic missiles as Ukrainian brass warns of possible attack during G20 summitFox News
More From Fox News
Dallas air show collision: Who are the 6 victims killed?
D.B. Cooper expert: New evidence points to person of interest in unsolved case
Baywatch star Donna D'Errico poses in sexy lingerie, after revealing she's lonely and unloved
Kevin Costner learns 'Yellowstone' election results, discusses his own political views: 'I'm disappointed'
Boebert Colorado House seat may come down to recount against Democratic challenger
Arizona middle school teacher resigns 'under pressure' after pornographic OnlyFans account surfaces
Afghanistan leader imposes sharia across the country
Beheaded bodies of 2 Egyptian girls found at sprawling camp in northeastern Syria
Iran may use mass executions to quell anti-hijab protests across country, human rights group warns
Conversation2.6K Comments
25.9K Viewing
49
View 15 new comments
Sort by Best
Show More Comments
Get all the stories you need-to-know from the most powerful name in news delivered first thing every morning to your inbox
Arrives Weekdays
More From Fox News
Newt Gingrich: Transfer of House speakership from Pelosi to McCarthy is the 'biggest single moment'
Arizona gov election: Katie Hobbs defeats GOP challenger Kari Lake, race may now go to recount under state law
Trump blasts Maricopa County after Arizona Sen. Mark Kelly defeats Blake Masters: 'Do Election over again!' | Fox News
Emma Thompson says she was 'utterly blind' to ex-husband Kenneth Branagh's affair with Helena Bonham Carter
Zambian student dies while fighting alongside Russian troops, Zambian government wants answers
Leaders gather at G20 from nations with very different COVID rules. Here's how they vary.
Promoted
Biglife says its gospel ministry "spreading like wildfire" in Middle Eastern regions
Other
This material may not be published, broadcast, rewritten, or redistributed. ©2022 FOX News Network, LLC. All rights reserved. Quotes displayed in real-time or delayed by at least 15 minutes. Market data provided by Factset. Powered and implemented by FactSet Digital Solutions. Legal Statement. Mutual Fund and ETF data provided by Refinitiv Lipper.