Russian missile strike hits shopping mall with more than 1,000 people inside, Ukraine says
"The number of victims is impossible to imagine," President Volodymyr Zelenskyy said.
TAP TO UNMUTE
Link copiedSAVECreate your free profile or log in to save this article
June 27, 2022, 8:01 AM MST / Updated June 27, 2022, 10:29 AM MST
By Yuliya Talmazan, Phil McCausland and Artem Grudinin
Ukraine said it feared scores of civilians might be dead or injured after a Russian missile strike hit a crowded shopping mall in the center of the country Monday.
More than 1,000 people were inside at the time of the rocket attack, President Volodymyr Zelenskyy said.
"The number of victims is impossible to imagine," he added in a post on the Telegram messaging app, sharing video that showed plumes of gray smoke rising above a building that was consumed in flames as people and first responders ran in front of it.
The apparent attack hit a shopping center in Kremenchuk, a city in the Poltava region on the banks of Ukraine's Dnieper River. Dmytro Lunin, head of the Poltava region, said at least 10 people were killed and more than 40 others were injured.
The Ukrainian Air Force Command reported that the missiles were fired from long-range bombers that took off from a Russian air base north of Ukraine.
NBC News has not verified that claim or the number of any deaths. The Russian Embassy in the United States did not immediately respond to a request for comment on the Ukrainian claims.
Sponsored Stories
LUME DEODORANTThis OBGYN is Changing the Feminine Hygiene Industry
VIMEOThe secret for creating effective webinars and how to do it yourself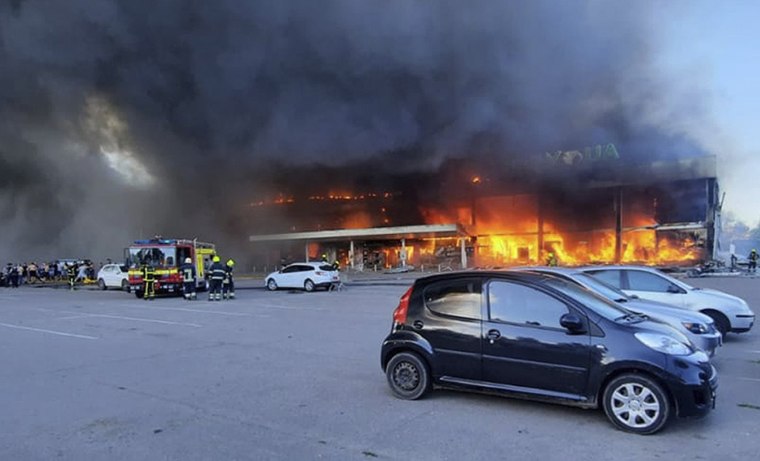 Zelenskyy said the site did not present any danger or strategic value for the Kremlin.
"Russia continues to take out its powerlessness on ordinary citizens. It is useless to hope for adequacy and humanity on its part," he added.
The Ukrainian president addressed leaders at the Group of Seven summit Monday, pleading for more military support such as "additional air defense capabilities that could shoot down missiles out of the sky," according to national security adviser Jake Sullivan.
Get the Morning Rundown
Get a head start on the morning's top stories.SIGN UPTHIS SITE IS PROTECTED BY RECAPTCHA PRIVACY POLICY | TERMS OF SERVICE
The U.S. is preparing to send a medium- to long-range surface-to-air missile system, Sullivan said in a briefing with reporters.
As details filtered through from Kremenchuk, Ukrainian Foreign Minister Dmytro Kuleba said that the response from the world should be "more heavy arms for Ukraine, more sanctions on Russia and more businesses leaving Russia."
The strike took place just before 4 p.m. local time (9 a.m. ET), according to Ukraine's State Emergency Service, which said that recovery efforts were ongoing with the help of 115 rescuers and 20 pieces of equipment. Efforts also continued to extinguish the flames, which covered more than 110,000 s