Puget Sound Energy agrees to move more customers from gas to electric heat
Jan. 11, 2023 at 6:00 am Updated Jan. 11, 2023 at 1:43 pm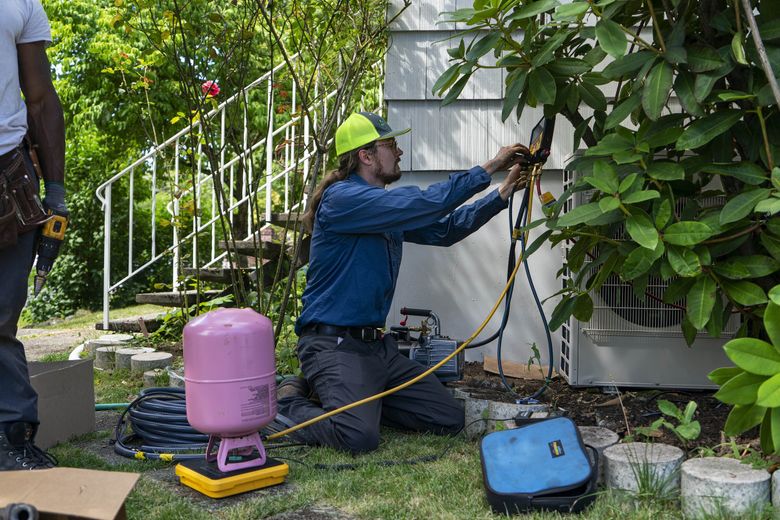 By
Seattle Times staff reporter
About 10,000 Puget Sound Energy customers will be offered financial incentives to switch from gas to electric heat in a pilot program that will help chart a new course for the state's largest energy utility.
The program is part of rate increase agreements approved last month by the Washington Utilities and Transportation Commission, which also require a phaseout of ratepayer subsidies for new PSE gas hookups.
These two measures, and other rate case settlement provisions, are intended to keep PSE on a path that largely eliminates greenhouse gas emissions from its operations. A 2019 law calls for power utilities to reduce this pollution to net-zero by 2045, and the 2021 Climate Commitment Act sets a tightening cap on them.
The laws require huge changes for PSE, which serves some 1.2 million electric customers and another 850,000 natural gas customers mostly in northwest Washington. PSE will have to move away from natural gas and coal, which in 2020 was used to generate half of the utility's electricity, and also is expected to slash pipeline deliveries of natural gas to homes and businesses.
As a regulated utility, PSE must have rate increases approved by the utilities commission, which reviews them in rate case proceedings.
The commission also has an oversight role in monitoring PSE's moves to cut greenhouse gas emission. The most recent rate case was complicated and sometimes contentious as PSE, along with environmental groups, wrestled over how to equitably cut emissions.
ADVERTISING
"We anticipate that utilities around the country will look to this agreement as a model," said Jaimini Parekh, senior attorney for Earthjustice, who participated in settlement negotiations on behalf of the Sierra Club, the NW Energy Coalition and Front & Centered.
"We are in agreement with the environmental community that this case really lays the foundation for the company's transition to clean energy," said Jon Piliaris, director of regulatory affairs for PSE.
One example of the shift is the $15 million pilot program to offer incentives to switch from gas to heat pumps and other efficient electric appliances. This will get underway later this year in parts of Western Washington where PSE delivers gas and electricity, as well as in Seattle, where Seattle City Light delivers power.
The knowledge gained from this effort is supposed to be used to develop a broader plan for switching more PSE customers off natural gas. PSE plans for its power to increasingly come from cleaner sources, such as solar and wind farms.