Northland Pioneer College celebrates indigenous peoples
Submitted
Nov 9, 2022 Updated 2 hrs ago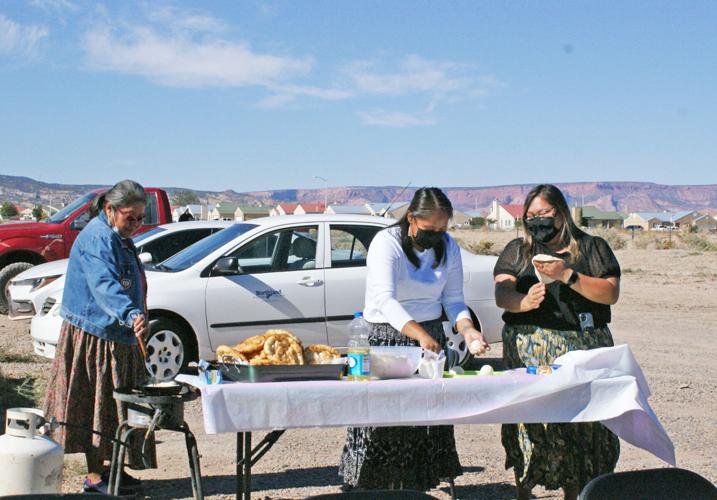 Fresh Navajo fry bread is in the works at Indigenous People's Day on Oct. 10, 2022.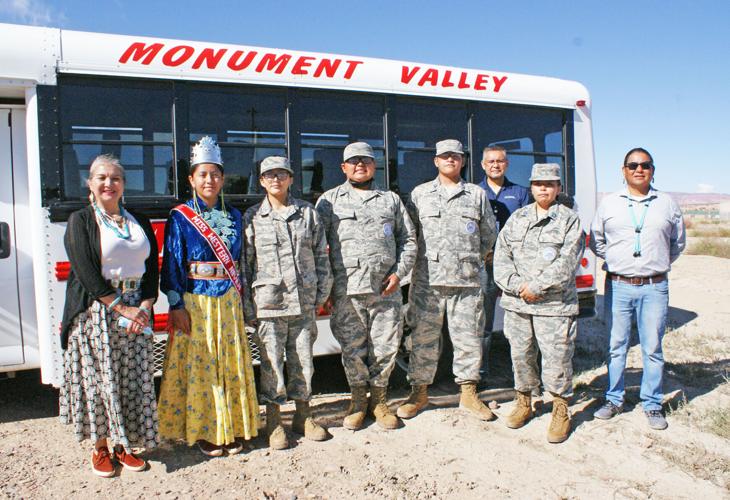 Members of Monument Valley High School's Jr. ROTC, Sgt. Sombrero, Council Delegate Nathanial Brown, Miss Western Navajo Nation teen Dayhenoa Yazzia, and DGB member Kristine Laughter are shown at Indigenous People's Day on Oct. 10, 2022.
US and Tribal flags fly above the beautiful backdrop of the White Mountain Apache tribe.
NPC President Chato Hazelbaker, from left, SBDC Director Rich Chanick, Miss Cibecue Apache MakanaLani Pike, Navajo County district five representative Dawnsafe Whitesinger, and NPC DGB member Derrick Leslie are shown at NPC's Indigenous Day flag-raising celebration on Oct. 10, 2022 in Whiteriver.
https://trinitymedia.ai/player/trinity-player.php?pageURL=https%3A%2F%2Fwww.wmicentral.com%2Fnews%2Flocal_news%2Fnorthland-pioneer-college-celebrates-indigenous-peoples%2Farticle_46f8fbef-d602-52a6-a013-9b9b8ce969e0.html&partner=Flex&fab=1&textSelector=I2FydGljbGUtYm9keQ%3D%3D&unitId=2900003117&userId=659edb87-d9e3-4f6e-a0c0-f872bc23ae4d&isLegacyBrowser=false&version=20221108_efc6bd86fa10240af6d2ed67a67c188d04db5579&useCFCDN=0&themeId=140
Northland Pioneer College (NPC) recently celebrated Indigenous People's Day with flag-raising events at the college's tribal locations in Hopi, Kayenta, and Whiteriver on October 10, 2022. The college offers classes at four campuses and five center locations across Navajo and Apache counties, including the tribal homelands of the Navajo, Hopi, and Apache peoples, covering the nation's second-largest community college service area — 21,158 square miles. The events brought tribal and college leadership, staff, and students together, and paid tribute to the collaborative efforts and ongoing support between the tribes, NPC, and the communities it serves.
During the flag-raising ceremony in Kayenta, NPC District Governing Board (DGB) member Kristine Laughter, a graduate of Monument Valley High school and representative for NPC's coverage area on the Navajo Nation, said it is necessary to "Remember the many things that we as an indigenous people have done, what we have gone through, how we have persevered.
"Our Navajo people have many struggles, but we can also come together to celebrate the success that we as Navajo people have achieved. We know that education is the key to that success and NPC is dedicated to bringing quality education to our people."
Laughter is working with NPC's DGB and administration to improve NPC's Kayenta center by bringing a science lab to the Kayenta facility in the near future.
Joining Laughter in the celebration was Sgt. John Sombrero and members from Monument Valley High School's Junior ROTC; Navajo Nation Council Delegate, Nathanial Brown; the newly-crowned Miss Western Navajo Nation Teen, Dayhenoa Yazzi; and NPC Kayenta Center Manager Diane Joe and her staff, who prepared fresh frybread and served Navajo tacos to guests and participants to end the day's festivities.
At NPC's Whiteriver location, NPC administration joined Small Business Development Center (SBDC) staff, White Mountain Apache tribal leadership, and the newly crowned Miss White Mountain Apache, in recognition and honor of the special day. The Small Business Development Center (SBDC) at NPC is working to assist businesses in tribal regions to start, grow and expand. In line with the priorities of the college, the SBDC has made a strong outreach effort to Native American communities in Northern Arizona that need help with getting a business going or keeping it on the right track.
According to SBDC Director Rich Chanick, "As we come out of the pandemic we remain committed to working with these underserved populations to get businesses started or to help businesses recover. Many of these individuals are challenged by a lack of strong internet and we have been traveling the region from Kayenta to Whiteriver to meet their needs in person."
With November proclaimed as National Native American Heritage Month in the US, NPC's celebration of the tribal communities, lands, traditions, and cultural heritage of indigenous peoples continues.
NPC's Eagle Club, a student organization that promotes awareness of multiculturalism at NPC, is taking the opportunity to honor and celebrate the heritage and invaluable contributions, leadership, and unwavering perseverance of indigenous peoples all month long.
During the week of November 13-19, NPC encourages everyone to participate in their activities and events and come together to celebrate indigenous heritage. Eagle Club advisor, Shandiin Deputee, notes NPC's "students, staff, and the community will be able to take part in the weeklong celebration by choosing days, or the entire week, to 'rock your mocs,' or native jewelry, or to wear special NPC Turquoise Awareness ribbons or