New plans to widen police powers for disruptive protests
Share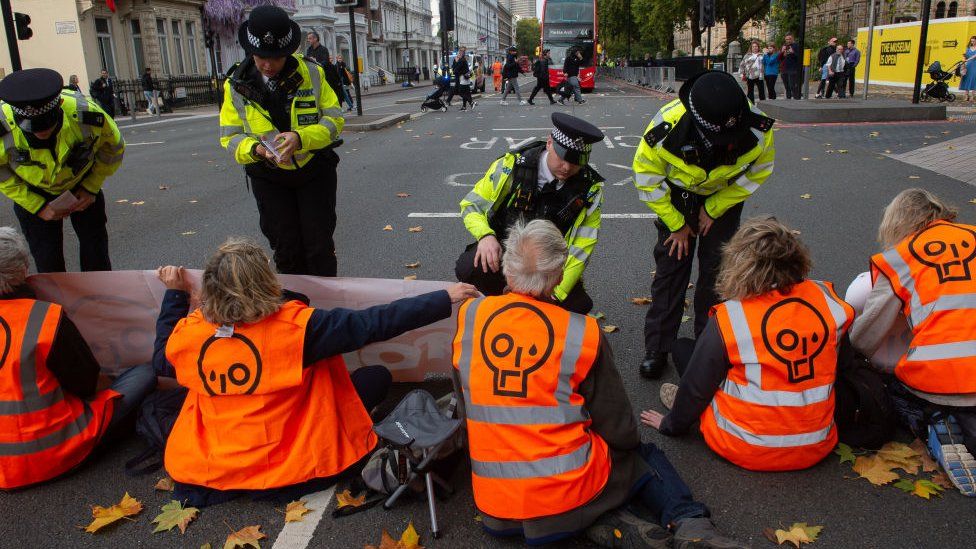 By Becky Morton
Political reporter
Police could be allowed to shut down protests before they cause serious disruption, under new government plans.
Downing Street said the proposals would help officers clamp down on "a disruptive minority" who use tactics like blocking roads and slow marching.
It said the changes seek to give police greater flexibility and clarity over when they can intervene.
But human rights group Liberty said the proposals amounted to an attack on the right to protest.
The plans will be set out in an amendment to the Public Order Bill, due to be introduced on Monday.
Its aim is to crack down on disruptive protests by groups like environmental activists Just Stop Oil, Insulate Britain and Extinction Rebellion, which have used tactics including blocking roads.
The bill, which covers England and Wales, is currently being scrutinised by the House of Lords and any changes at this stage could be blocked by peers before they become law.
The proposals are likely to provoke strong opposition from some peers, who have been critical of previous attempts to increase police powers to shut down protests.
No 10 said the changes would mean police would not have to wait for disruption to take place to shut down a protest.
It said forces could also consider the "total impact" of a series of protests by the same group, rather than seeing them as standalone incidents.
Prime Minister Rishi Sunak said: "The right to protest is a fundamental principle of our democracy, but this is not absolute. A balance must be struck between the rights of individuals and the rights of the hard-working majority to go about their day-to-day business.
"We cannot have protests conducted by a small minority disrupting the lives of the ordinary public."
Chief Constable BJ Harrington, the National Police Chiefs' Council lead for public order and public safety, said: "This will support officers in confidently and quickly taking action and making arrests where appropriate."