Michigan school shooter, 16, pleads guilty to killing four classmates
Michigan school shooter, 16, pleads guilty to killing four classmates
Ethan Crumbley pleaded guilty Monday to 24 counts against him, including murder and terrorism, in the November 2021 shooting at Oxford High School.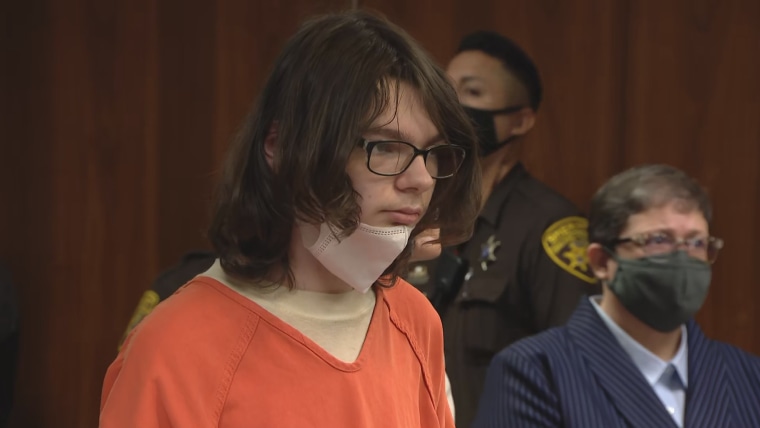 02:47
Link copied
Oct. 24, 2022, 6:14 AM PDT
By Marlene Lenthang
Ethan Crumbley, the 16-year-old accused of gunning down four schoolmates last year in a Michigan suburb, pleaded guilty Monday to all charges against him.
He was charged as an adult with the killings as well as wounding six other students and a teacher at Oxford High School on Nov. 30, 2021.
The news comes after prosecutors in Oakland County said last week he was expected to plead guilty to 24 charges against him, including terrorism, and the victims were notified.
Crumbley appeared in court with long hair in an orange uniform and face mask. He kept his head down for much of the hearing.
In the hearing Crumbley said the gun used in the shooting was purchased by his father. He said he asked his father to purchase the firearm and gave him his own money to make the purchase. He also said the gun was not locked.
An Oakland County judge accepted the plea and set a Miller hearing date for Feb. 9, 2023. A Miller hearing is a type of pre-sentencing hearing specific to youth potentially facing life without parole. A sentencing date will be set after that hearing.
He was charged with one count of terrorism causing death, four counts of first-degree murder, seven counts of assault with intent to murder and 12 counts of possession of a firearm in the commission of a felony.
His lawyers had previously filed an insanity plea but they dropped that filing to go forward with the guilty plea.
The Oxford High School shooting drew national attention, not just for the killings — but also for the prosecution of Crumbley's parents, James and Jennifer Crumbley.
They've been ordered to stand trial Jan. 17 after they were charged with four counts of involuntary manslaughter. His parents are accused of ignoring warning signs that may have led to the deadly rampage.
James and Jennifer Crumbley pleaded not guilty late last year.
'An important day' for the survivors and victims
In a news conference Monday, Oakland County Prosecutor Karen McDonald said the guilty plea marked "an important day for our community, the survivors and especially those who lost children they loved."
Get the Morning Rundown
Get a head start on the morning's top stories.SIGN UPTHIS SITE IS PROTECTED BY RECAPTCHA PRIVACY POLICY | TERMS OF SERVICE
"We are not aware of any other case anywhere in the country where a mass shooter has been convicted of terrorism on state charges," she said.
McDonald said there were no plea negotiations, no plea offers, reductions or sentencing agreements prior to his plea.