Live updates | Russia-Ukraine War
Live updates | Russia-Ukraine War
The Associated Pressan hour ago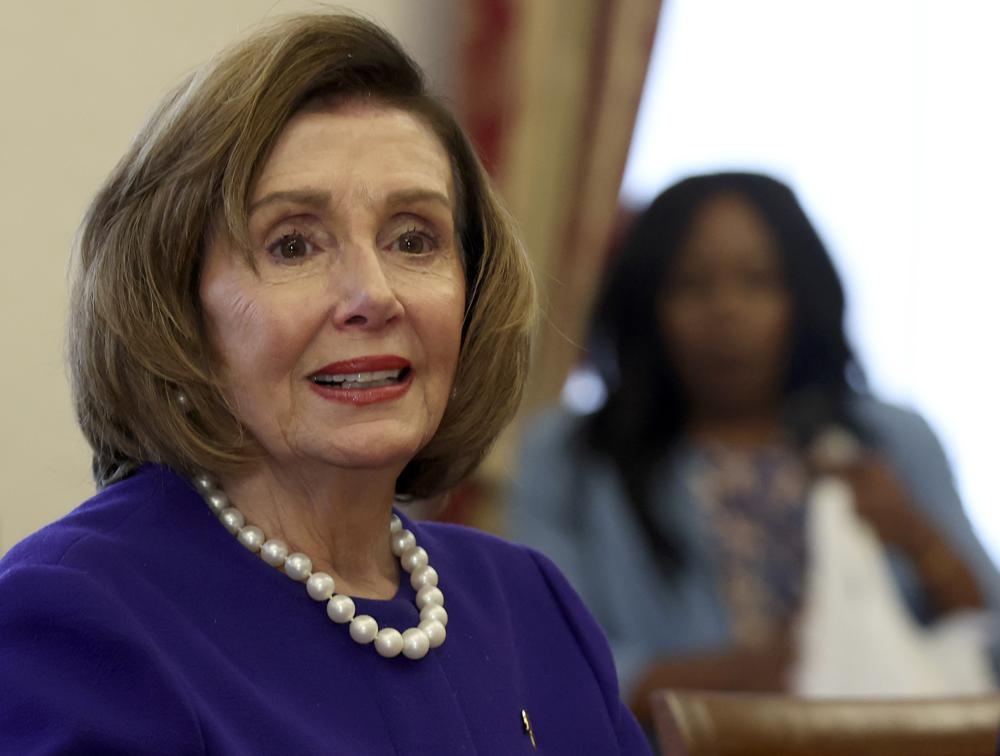 1 of 9
House Speaker, U.S. Representative Nancy Pelosi speaks with Speaker of the Croatian Parliament Gordan Jandrokovic, before a two-day summit of European parliaments' speakers with the leaders of Ukraine, in Zagreb, Croatia, Monday, Oct. 24, 2022. (AP Photo)
ZAGREB, Croatia — U.S. House of Representatives Speaker Nancy Pelosi said Monday that Iran is "making a big mistake" by supplying Russia with drones that are targeting Ukraine's infrastructure.
"We've been trying for a while now to have a nuclear agreement with Iran so that we can make the world a safer place and now they're going off aiding the Russians and making the world a less safe place," Pelosi said in Zagreb, Croatia.
The United States and key Western allies have accused Russia of using Iranian-made drones to attack civilians and power plants in Ukraine. Iran has denied it is supplying Russia with the explosive-laden missiles but the distinctive triangle-shaped drones have been seen.
"First of all, we have to be able to counter the drones," Pelosi said at a joint press conference with Croatian Prime Minister Andrej Plenkovic. "It is a dangerous technology and it must be stopped."
ADVERTISEMENT
Pelosi was in Croatia to attend an international forum aimed at supporting Ukraine's independence in the face of the Russian aggression.
KEY DEVELOPMENTS:
— Ukraine reports success in shooting down 70% of drones launched by Russia
— Ukraine hospital's staff fight dark memories of occupation
— Ukrainian woman's quest to retrieve body of prisoner of war
Macron: Ukraine to decide time, terms of peace with RussiaRussian runner stripped of 2012 Olympics title for dopingEXPLAINER: Dirty bombs sow fear and panic, cause few deathsSweden's top diplomat: We'll fulfil deal with Turkey on NATO
— Macron: Ukraine to decide time, terms of peace with Russia
— EXPLAINER: What would retreat from Kherson mean for Russia?
___
MOSCOW — A senior Russian official says that authorities have taken steps to boost weapons production amid the fighting in Ukraine.
Dmitry Medvedev, deputy head of Russia's Security Council chaired by President Vladimir Putin, said he visited the country's top tank factory in the Ural Mountains city of Nizhny Tagil on Monday to discuss ways of increasing output.
Medvedev noted that foreign observers have predicted that Russia would run out of its weapons stockpiles soon, adding that such forecasts were bound to fail.
He said that "production of weapons and equipment — from tanks and cannons to precision missiles and drones — is increasing many fold."
"You just wait," he said.
___
MOSCOW — Russia's military says it has discussed with its British counterparts the alleged threat of Ukraine using a dirty bomb.
According to a statement Monday by Russia's Defense Ministry, Gen. Valery Gerasimov, chief of the Russian General Staff, discussed "the situation related to the possible use of a dirty bomb by Ukraine" with Britain's Chief of the Defense Staff Admiral Tony Radakin.
ADVERTISEMENT
Russian Defense Minister Sergei Shoigu first made the claim over the weekend in phone calls with his counterparts from the United States, Britain, France and Turkey.
The Russian Defense Ministry said Shoigu voiced concern about "possible Ukrainian provocations involving a 'dirty bomb,'" a device that uses explosives to scatter radioactive waste. It doesn't have the devastating effect of a nuclear explosion, but could expose broad areas to radioactive contamination.
The U.S., Britain and France responded by saying in a joint statement that "our countries made clear that we all reject Russia's transparently false allegations that Ukraine is preparing to use a dirty bomb on its own territory."
ADVERTISEMENT
___
NICOSIA, Cyprus — Hungary's foreign minister says his counterparts in other European Union countries are seized by a "rhetoric of war" that's pushing the prospect of peace in war-torn Ukraine farther away.
Péter Szijjártó says his country has been calling for an immediate ceasefire and for peace talks between Ukrainian and Russian officials as soon as possible. Europe's security, economy and energy supply will increasingly suffer the longer the war continues, he said Monday.
Szijjártó said after talks with his Cypriot counterpart that the EU's sanctions on Russia as a result of its invasion of Ukraine have "failed," driving up inflation and bringing "extremely high energy costs" in Hungary because of reduced gas supply.
The top Hungarian diplomat urged the E