Lake Mead Update: Are Water Levels Rising?
BY ROBYN WHITE ON 12/29/22 AT 5:58 AM EST00:56
U.S. Drought By Numbers As Lake Mead Nears Deadpool
SHARE
Share on FacebookShare on TwitterShare on LinkedInShare on RedditShare on FlipboardShare via EmailComments
TECH & SCIENCEWATERDROUGHTNEVADAARIZONA
https://trinitymedia.ai/player/trinity-player.php?pageURL=https%3A%2F%2Fwww.newsweek.com%2Flake-mead-water-levels-rising-megadrought-arizona-1770084&unitId=2601060880&userId=b87dd37c-c5f7-462f-835b-222304252346&isLegacyBrowser=false&version=20221229_cc7862a3214a3c24e295a636d3e1369eb829ff37&useCFCDN=0&themeId=140
Throughout 2022, Lake Mead made national headlines due to its rapidly declining water levels. The reservoir across Nevada and Arizona is formed by the Hoover Dam on the Colorado River.
It provides electricity for hundreds of thousands of people living in communities across the area. But due to the ongoing megadrought gripping the southwestern U.S., it has been hurtling towards dead pool level—which could be catastrophic.
Dead pool level is at about 895 feet. At this level, water would not flow past the dam, meaning it would not be able to generate electricity.
This year saw the lake's water levels the lowest they have ever been. But it was also the year they rose slightly for the first time in three years.
ADVERTISING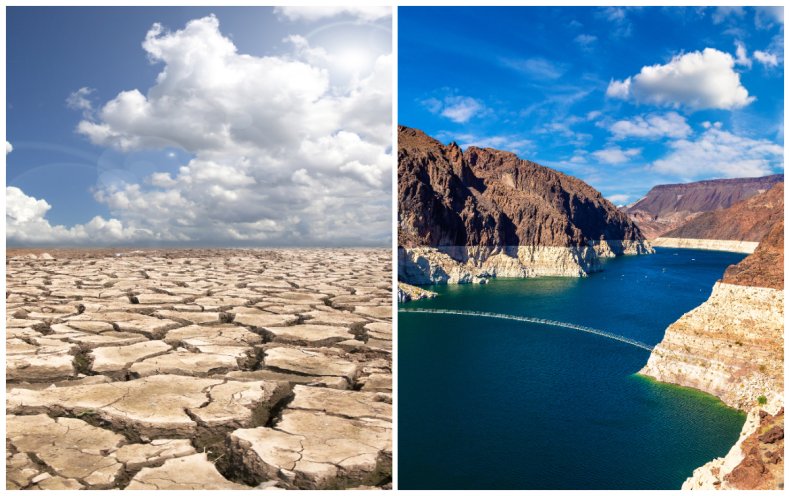 In July, the lake's water levels were the lowest they have been since the reservoir was first constructed in the 1930s, at 1,040 feet. While July is typically a dry time of year in the region, 2022 was a particularly low point for Lake Mead. At the same time in 2021, the water levels were at 1,067 feet, while in 2020 they were at 1,086 feet.