LA taps hotel rooms as estimated 40,000 people live homeless
yesterday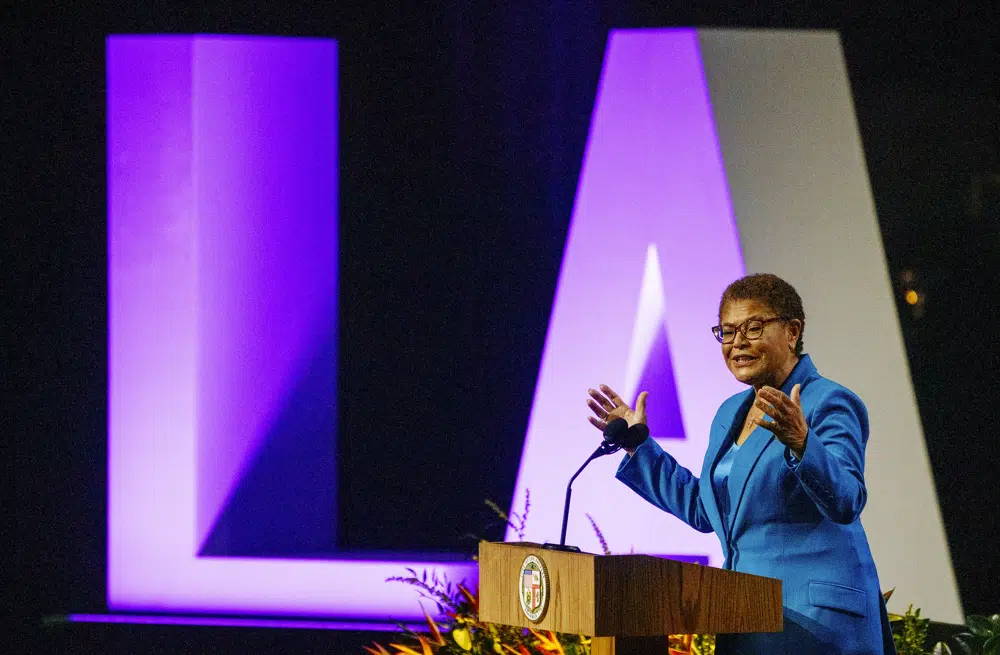 1 of 4FILE – New Los Angeles Mayor Karen Bass speaks during her inaugural address, Sunday, Dec. 11, 2022. The new mayor of Los Angeles, Bass, said Sunday, Dec. 18, her administration will start moving homeless people in tent encampments into hotel and motel rooms through a new program that launches Tuesday. (AP Photo/Damian Dovarganes, File)
LOS ANGELES (AP) — The new mayor of Los Angeles, Karen Bass, said Sunday her administration will start moving homeless people from tent encampments into hotels and motels through a new program that launches Tuesday.
Bass told NBC's "Meet the Press" host, Chuck Todd, that her plan to move homeless people into rooms immediately will not "address everybody, but it is going to address, hopefully, a significant number." She said people will not be forced to move, but that sanitation crews will stand by to clean up areas after people have left.
"But this is not coercing people. This is not ticketing people or incarcerating people. This is moving people from tents to hotels or motels," she said.
On her first day as mayor of Los Angeles, Bass declared a state of emergency on homelessness. She vowed to get people housed and more housing built so that residents can see a real difference, which hasn't been visible despite billions spent on programs to curb homelessness, including $1.2 billion in the current city budget.
ADVERTISEMENT
Bass, a Democrat and former congresswoman, has said she intends to get over 17,000 homeless people into housing in her first year through a mix of interim and permanent facilities.
Washington visits Los Angeles on 9-game road slideFamed LA cougar P-22 euthanized following health problemsClippers beat Wizards 102-93; Washington drops 9th in a rowTiger Woods limping in a tournament he wouldn't dare miss
An estimated 40,000 people are homeless in Los Angeles, a city of nearly 4 million. Homelessness is hugely visible throughout California with people living in tents and cars and sleeping outdoors on sidewalks and under highway overpasses.
Bass said outreach workers will try to coax people indoors. People are homeless for a variety of reasons, including mental illness, addiction and job loss.
The mayor's office did not provide on Sunday details of the housing program, including what it would cost and where the money would come from.
California Gov. Gavin Newsom first launched the idea of placing homeless people in motel and hotel rooms at the start of the pandemic in 2020. He has since encouraged cities and counties to convert motels and other buildings into housing for homeless people.
Advocates for the homeless have welcomed the use of motel rooms, where people can have their own bathroom far away from the clutter of congregated shelters. But they have criticized what they call "sweeps" of encampments that force people to move and separate them from their belongings in the absence of a firm motel room offer.
ADVERTISEMENT
Todd asked Bass how to judge her success on eliminating homelessness.
"Encampments should be significantly down if not eliminated, and there should be housing being built, underway, at a much more rapid pace," she said. "And there should not be 40,000 people who are unhoused, that's for sure."
ADVERTISEMENT
You May Like
Now Legal in Arizona, Cheech & Chong Say "You Gotta Try This!"Promoted: Tommy Chong's CBD
When you succeed, so do we. Hiring for remote roles.Promoted: Fidelity Investments
Tech company wants to buy all junk cars across the countryPromoted: Peddle
A Garden Office Doesn't Have To Be Expensive (See Prices Here)Promoted: Yahoo! Search
ADVERTISEMENT
PAID FOR BY VISIT TEMECULA VALLEY
How to Live This Holiday Glass Full in Temecula Valley
Spend this holiday season gathered with family and friends, experiencing the best of Temecula Valley.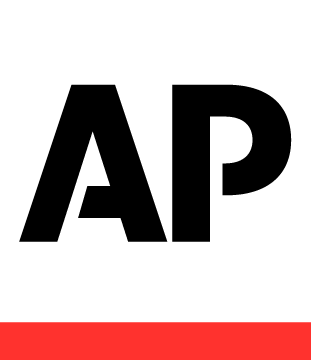 javascript:false
javascript:false
Ad Content
America's largest LEGO event is coming to Mesa, AZ!LEGO Festival!
Stetson Men's Apache 4X Buffalo Wool Cowboy HatBoot Barn
Cleans Pores, Removes Dirt, Excess Sebum and Dead Skin, Making Your Skin Smoother.Hot Sale 70% OFF
Bone On Bone? These "Bionic" Knee Sleeve Will Transform Your Knees Back 17 YearsFitnusBrace
The Incredible New BMW Lineup Has ArrivedLuxury SUV Savings | Search Ads
Tile Makes Finding Easy, Starting at $14.99.Tile
Ad Content
Amazon Left Scrambling As Prime Users Find Out About Secret DealsPromoted: Online Shopping Tools
Why millions of Americans have stopped buying their glasses at the optometristPromoted: GlassesUSA.com
Killer Hybrids And EVs Are Finally Here: See 2022's Thrilling New PricesPromoted: Stuff Answered
Reno mayor sues after finding tracking device on vehicleRENO, Nev. (AP) — Reno mayor Hillary Schieve is suing a private investigator and his company after finding a device attached to her vehicle that was capable of tracking its real-time location. The lawsuit, first reported by The Nevada Independent on Thursday, alleges that the investigator trespassedDecember 16, 2022
Ad Content
I need this in my life. I can see inside everythingNew Product
The Socks Everyone Wants When It Gets ColdBombas
Self-Adhesive Leather Refinisher – 50%off now!auldea
The Killer New Volvos Will Leave You BreathlessVolvo Deals
Shop Stylish & Comfortable Beds on Clearance Sale TodayBeds & Mattresses
The New Toyota GR Corolla Is A Jaw DropperBest Toyota Deals | Search Ads
Ad Content
The Great Exodus: Residents are Now Moving to These StatesPromoted: Forbes
BlackRock CEO Predicts Next Wave of Market WinnersPromoted: Altimetry
This Harness Has Changed Our Life As Dog OwnersPromoted: Doggy Kingdom
Russians find asylum lifeline to US, but at a high priceCHULA VISTA, Calif. (AP) — Phil Metzger promises to arrange entry to the United States for Russian-speaking asylum-seekers through unmatched connections with U.S. border officials and people in Mexico who can guarantee safety while traveling.December 16, 2022
AP NEWS
Cookie Settings
DOWNLOAD AP NEWS
Connect with the definitive source for global and local news
MORE FROM AP
FOLLOW AP
THE ASSOCIATED PRESS
All contents © copyright 2022 The Associated Press. All rights reserved.
https://recaptcha.net/recaptcha/api2/bframe?hl=en&v=5qcenVbrhOy8zihcc2aHOWD4&k=6LcUNQcjAAAAAIu8-hEKGDr7xxKi3O4yU0oKtl_7https://secure-assets.rubiconproject.com/utils/xapi/multi-sync.html?p=19564_2&endpoint=us-east
about:blank
about:blank
https://recaptcha.net/recaptcha/api2/bframe?hl=en&v=5qcenVbrhOy8zihcc2aHOWD4&k=6LcUNQcjAAAAAIu8-hEKGDr7xxKi3O4yU0oKtl_7https://secure-assets.rubiconproject.com/utils/xapi/multi-sync.html?p=19564_2&endpoint=us-east
javascript:void(0)