Kevin McCarthy makes major concession to conservatives as his speaker bid hangs by thread
McCarthy will make it easier for party members to remove House speaker
By Anders Hagstrom , Tyler Olson | Fox News
Rep. Kevin McCarthy, R-Calif., is making a final bid to convince the right wing of his party to support his speakership, making major concessions to the group ahead of Tuesday's vote.
McCarthy's central concession is allowing for any five Republican representatives to force of vote of no confidence in the speaker. He also vowed to end the practice of proxy voting and virtual participation in hearings, requiring lawmakers to be in Washington to participate in hearings and votes.
"Just as the Speaker is elected by the whole body, we will restore the ability for any 5 members of the majority party to initiate a vote to remove the Speaker if so warranted," he wrote in a letter to his Republican colleagues on Sunday.
"Congress was never intended for Zoom, and no longer will members be able to phone it in while attending lavish international weddings or sailing on their boat. We will meet, gather and debate in person — just as the founders envisioned," he added.
LAUREN BOEBERT, MARJORIE TAYLOR GREENE SNIPE AT EACH OTHER OVER MCCARTHY SPEAKER SUPPORT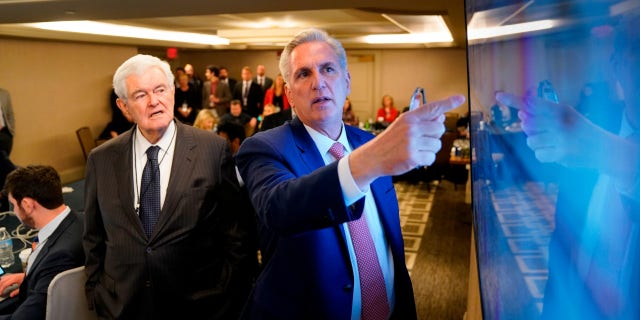 Former House Speaker Newt Gingrich, left, and House Minority Leader Kevin McCarthy watch election results at the Madison Hotel in Washington, D.C., on Nov. 8, 2022. (Jabin Botsford/The Washington Post via Getty Images)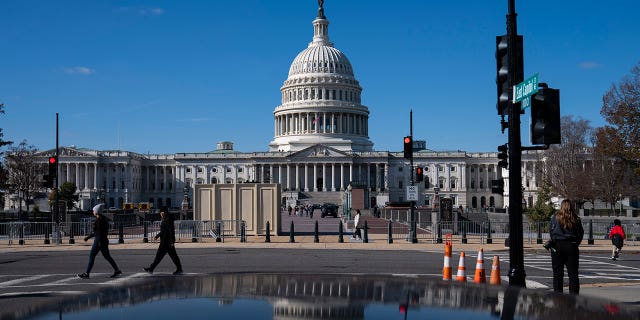 The U.S. Capitol is shown during the second day of orientation for new members of the House of Representatives on Nov. 14, 2022. (Sarah Silbiger for The Washington Post via Getty Images)
Previous House rules, put in place by former Speaker Nancy Pelosi, required a member of the House leadership from the majority party to initiate a vote to remove the current speaker.
ANDY BIGGS TO CHALLENGE KEVIN MCCARTHY FOR SPEAKER ON HOUSE FLOOR
Reps. Matt Gaetz, R-Fla., Andy Biggs, R-Ariz., Matt Rosendale, R-Mont., and Bob Good, R-Va., have already vowed to oppose McCarthy's bid.
He also faces potential opposition from GOP Reps. Scott Perry of Pennsylvania, Paul Gosar of Arizona, Chip Roy of Texas, Dan Bishop of North Carolina, Andy Harris of Maryland and Andrew Clyde of Georgia, along with Rep.-elects Andy Ogles of Tennessee, Anna Paulina Luna of Florida and Eli Crane of Arizona, among others.
McCarthy told Fox News Digital he is confident that his concessions have convinced some lawmakers who were on the fence.
"Every single Republican in Congress knows that Kevin does not actually believe anything. He has no ideology," Gaetz wrote in a December op-ed for the Daily Caller. "Some conservatives are using this fact to convince themselves that he is the right leader for the moment, as McCarthy is so weak he'll promise anything to anyone."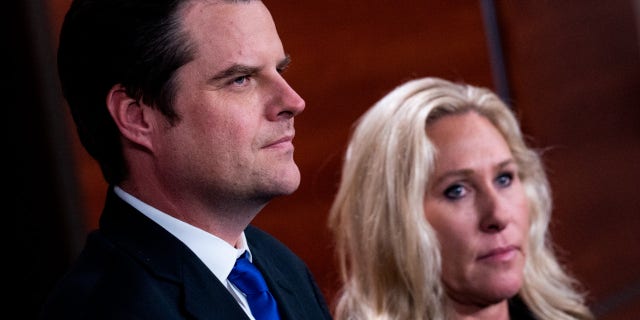 Reps. Marjorie Taylor Greene and Matt Gaetz hold a news conference in the Capitol Visitor Center on Nov. 17, 2022. (Tom Williams/CQ-Roll Call Inc. via Getty Images)
CLICK HERE TO GET THE FOX NEWS APP
"In sports, when the team l