Iran marks 1979 US Embassy takeover amid nationwide protests
By JON GAMBRELLNovember 4, 2022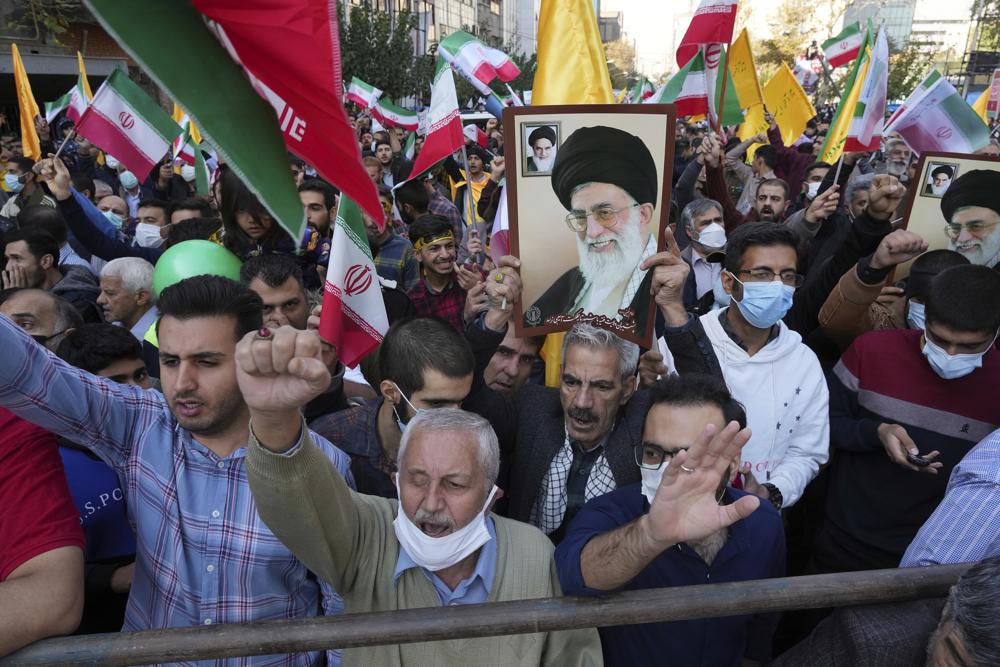 1 of 9
Demonstrators chant slogans as one of them holds up a poster of Iranian Supreme Leader Ayatollah Ali Khamenei during a demonstration in front of the former U.S. Embassy in Tehran, Iran, Friday, Nov. 4, 2022. Iran on Friday marked the 1979 takeover of the U.S. Embassy in Tehran as its theocracy faces nationwide protests after the death of a 22-year-old woman earlier arrested by the country's morality police. (AP Photo/Vahid Salemi)
DUBAI, United Arab Emirates (AP) — Iran on Friday marked the 1979 takeover of the U.S. Embassy in Tehran as its theocracy faces nationwide protests after the September death of a 22-year-old woman who was arrested by the country's morality police. Meanwhile, activists in southeast Iran claimed security forces killed at least 16 people in protests there.
Iranian state-run television aired live feeds of various commemorations around the country, with some in Tehran waving placards of the triangle-shaped Iranian drones Russia now uses to strike targets in its war on Ukraine. But while crowds in Tehran looked large with chador-wearing women waving the Islamic Republic's flag, other commemorations in the country appeared smaller, with only a few dozen people taking part.
Iran's hard-line President Ebrahim Raisi, speaking to people gathered in front of the former U.S. Embassy building, criticized those protesting the theocracy.
ADVERTISEMENT
"Anyone taking the smallest step in the direction of breaching security and riots, must know that they are stepping in the direction of enemies of the Islamic Revolution," he said. "Americans think they can execute the plan they carried out in some countries like Syria and Libya here. What a false dream!"
Soldier shoots dead 1 comrade, 3 police in southern IranPower blackouts hit Ukraine amid heavy Russian shellingIran Revolutionary Guard launches rocket amid more protestsIran acknowledges sending drones to Russia for first time
Those at the commemoration also waved effigies of French President Emmanuel Macron and Saudi Crown Prince Mohammed bin Salman. Signs and chants from the crowd called out: "Death to America! Death to Israel!"
The demonstrations that have convulsed Iran for seven weeks after the death of Mahsa Amini mark one of the biggest challenges to the country's clerical rulers since they seized power in the 1979 Islamic Revolution. At least 314 protesters have been killed and 14,170 arrested since the unrest began, according to Human Rights Activists in Iran, a group that's been monitoring the crackdown on demonstrators.
Iran's government has not offered an overall death toll, with one state newspaper even making the counterfactual claim that no one had been killed by security forces over the 49 days of protests.
Later on Friday, protests beg