Harvey Weinstein to be charged in UK over assault claims
yesterday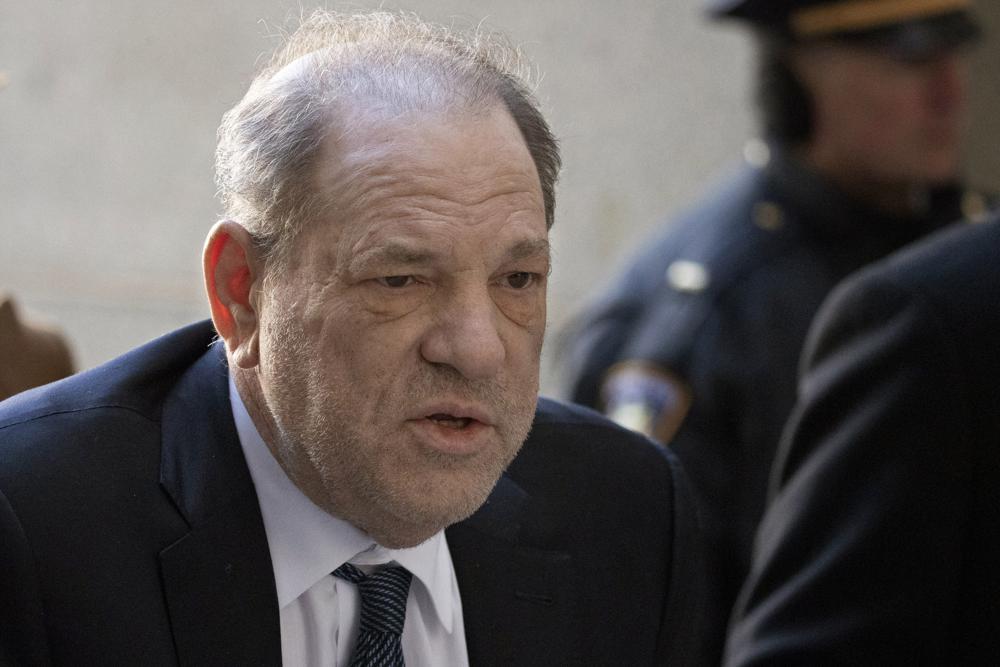 1 of 2FILE – Harvey Weinstein arrives at a Manhattan court in New York, as jury deliberations continue in his rape trial, Feb. 21, 2020. British prosecutors say they have authorized police to charge ex-film producer Harvey Weinstein with two counts of indecent assault against a woman in London in 1996. The Crown Prosecution Service said in a statement "charges have been authorized" against Weinstein, 70, following a review of evidence gathered by London's Metropolitan Police in its investigation. (AP Photo/Mark Lennihan, File)
LONDON (AP) — British prosecutors said Wednesday they have authorized police to charge former film mogul Harvey Weinstein with two counts of indecent assault against a woman in London in 1996.
The Crown Prosecution Service said in a statement that "charges have been authorized" against Weinstein, 70, following a review of evidence gathered by London's Metropolitan Police.
Police said the alleged offenses against the woman, now in her 50s, took place in during July and August 1996.
After revelations about Weinstein emerged in 2017, British police said they were investigating multiple allegations of sexual assault that reportedly took place between the 1980s and 2015.
Unlike many other countries, Britain does not have a statute of limitations for rape or sexual assault.
Weinstein, the co-founder of the Miramax entertainment company and The Weinstein Company film studio, was once one of the most powerful people in Hollywood, having produced films such as "Pulp Fiction" and "The Crying Game."
ADVERTISEMENT
He became the most prominent villain of the #MeToo movement after women began to go public in 2017 with accounts of his behavior.
Weinstein is serving a 23-year sentence after his 2020 conviction in New York for raping an aspiring actress in a New York City hotel room in 2013 and sexually assaulting production assistant Mimi Haleyi at his apartment in 2006.
Jan. 6 Capitol attack committee goes prime time with probeChina and Russia defend North Korea vetoes in first at UNHearings guide: What to know as the Jan. 6 panel goes publicWhat we know about Trump's actions as insurrection unfolded
He is jailed in California, where he was extradited last year, and is awaiting trial on charges he assaulted five women in Los Angeles and Beverly Hills from 2004 to 2013.
It's not clear if the U.K. plans to seek Weinstein's extradition so he could stand trial in Britain.
The announcement in England on Wednesday came two weeks after U.K. prosecutors authorized police to charge actor Kevin Spacey with four counts of sexual assault against three men. The alleged incidents took place in London between March 2005 and August 2008, and one in western England in April 2013.
ADVERTISEMENT
You May Like
Balancing opportunity and risk in small and mid-cap equitiesPromoted: abrdn
All the glitter, without the glue.Promoted: Krylon® Spray PaintLearn More
The Price for Medicare Might Be Cheaper Than You ThinkPromoted: Medicare Plans | AssetAdvisor.org
A spray paint that sticks to nearly anything.Promoted: Krylon® Fusion All-In-One®Learn More
ADVERTISEMENT
NY official pleads guilty to federal voter fraud chargesTROY, N.Y. (AP) — An upstate New York Republican is being forced out of her city council post after pleading guilty to three federal counts of voter fraud and amid unfounded assertions across the country — mostly by some in the GOP — of widespread elections tampering.yesterday
Ad Content
Learn how you can reduce post-workout muscle soreness by up to 50%Promoted: Try #1 KT Tape
Freelancers Could Qualify For These Small Business CardsPromoted: NerdWallet
2022's Standout Business Credit Cards. See Deals That Outshine the RestPromoted: NerdWallet
Learn how to train harder with less muscle sorenessPromoted: Try #1 KT Tape
Long, fraught timeline of tensions over Iran nuclear programIran has started removing 27 surveillance cameras installed by U.N. inspectors at nuclear sites around the country, widening a dispute over Tehran's program as it enriches uranium closer than ever to weapons-grade levels.42minutes ago
China and Russia defend North Korea vetoes in first at UNUNITED NATIONS (AP) — China and Russia defended their vetoes of a strongly backed U.S. resolution that would have imposed tough new sanctions on North Korea, speaking at a first of its kind General Assembly meeting Wednesday.today
Ad Content
The App That's Teaching Americans Spanish In 15 Minutes A DayPromoted: Babbel
Hedge Fund Legend Predicts the Next 1,000% WinnerPromoted: Empire Financial ResearchRead More
New Mexico: Top Car Insurance CompaniesPromoted: The Insurance BulletinRead More
Arizona county didn't accept 18K ballots after 2020 election dayCLAIM: A documentJune 7, 2022
Todd and Julie Chrisley found guilty on federal chargesATLANTA (AP) — Todd and Julie Chrisley, stars of the reality television show "Chrisley Knows Best," were found guilty Tuesday in Atlanta on federal chargesyesterday
AP NEWS
Cookie Settings
DOWNLOAD AP NEWS
Connect with the definitive source for global and local news
MORE FROM AP
FOLLOW AP
THE ASSOCIATED PRESS
All contents © copyright 2022 The Associated Press. All rights reserved.