German transport minister opposes EU combustion engine ban
By FRANK JORDANS6 minutes ago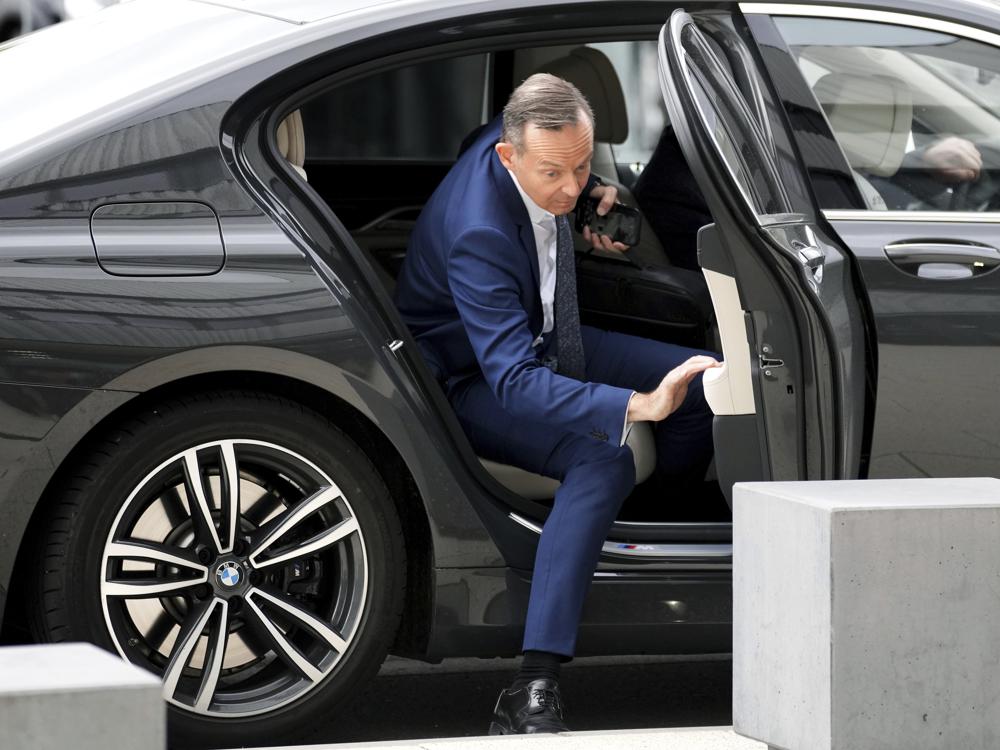 1 of 6FILE – Volker Wissing, now Federal Minister for Digital Affairs and Transport, arrives in a BMW car in Berlin, Germany, Thursday, Oct. 21, 2021. Germany's transport minister said Thursday that he opposes plans to ban the sale of new cars with combustion engines across the European Union in 2035, arguing this would discriminate against vehicles powered with synthetic fuels. EU lawmakers voted Wednesday to back the measure that requires automakers to cut carbon-dioxide emissions by 100% by the middle of the next decade, effectively prohibiting the sale in the 27-nation bloc of new cars powered by gasoline or diesel. (AP Photo/Michael Sohn, File)
BERLIN (AP) — Germany's transport minister voiced strong opposition Thursday to plans to ban the sale of new cars with combustion engines across the European Union in 2035, arguing this would discriminate against vehicles powered with synthetic fuels.
EU lawmakers voted Wednesday to back the measure that requires automakers to cut carbon-dioxide emissions by 100% by the middle of the next decade, effectively prohibiting the sale in the 27-nation bloc of new cars powered by gasoline or diesel.
The plan, which still needs to be approved by EU member states, would significantly boost electric vehicles because lawmakers refused to exempt cars powered with synthetic fuels from the ban. It will hurt German automakers, who have focused on powerful and expensive vehicles with combustion engines while falling behind foreign rivals when it comes to electric cars.
"We don't agree with the decisions," German Transport Minister Volker Wissing told reporters in Berlin.
ADVERTISEMENT
"We want to shape the transformation in a way that is technologically open," he said. "This includes registering new cars beyond 2035 if they are powered exclusively with synthetic fuels in a climate neutral way."
Synthetic, or e-fuels, are either refined from plants or manufactured using basic chemical processes and electricity. If the electricity is generated with renewable sources, such as wind or solar, then the fuels are considered 'climate neutral' because burning them releases only as much carbon into the atmosphere as was previously removed.
Activists decry French retailer over Amazon deforestationAlmost all of Portugal in severe drought after hot, dry MayActivists try giant screen to clean up Guatemalan riverPG&E pledges net-zero emissions by 2040, will keep using gas
But critics argue that the limited supply of e-fuels should be reserved for those modes of transport where electrification isn't currently feasible, such as airplanes.
Experts at the Institute of Energy and Climate Research in Juelich, Germany, have calculated that a mid-size car running on synthetic fuel would use seven times as much energy as a comparable electric vehicle.
Wissing is under pressure from Germany's powerful auto lobby group VDA, which criticized the EU Parliament's vote as "a decision against innovation and technology." It is unclear whether his position is shared by the rest of the German government.
Environmentalists cheered the EU vote as a way to chart Europe toward a greener future.
Cars account for about 12% of greenhouse gas emissions released in the EU. The bloc aims to reduce emissions from all sources to net zero by 2050, and experts say road transport is one of the sectors that needs to reach that goal earlier.
___
Follow all AP stories on climate change at https://apnews.com/hub/climate.
ADVERTISEMENT
You May Like
Research Psoriatic Arthritis SupportPromoted: Yahoo Search
Roof Replacement Estimator – Just Enter Your Zip CodePromoted: The Roofing EstimateGet Quote
The Cost of Dedicated Web Hosting Might Surprise YouPromoted: Best Web Host
3 Tips From A Cyclocross Pro On Mental ToughnessPromoted: Bicycling Magazine
ADVERTISEMENT
Few laughs, tough questions as Biden chats with KimmelLOS ANGELES (AP) — There weren't a lot of laughs, but President Joe Biden got some unsolicited advice from Jimmy Kimmelan hour ago
Ad Content
Arizona's average window prices for 2022Promoted: ProFind Windows
Luxurious All Inclusive Resorts Are Now On Sale, Top DealsPromoted: StuffAnswered
Researching a breakthrough material to lower emissionsPromoted: ExxonMobil
See How Much Does it Cost to Replace a RoofPromoted: The Roofing Estimate
Virus testing the new normal as China sticks to 'zero-COVID'BEIJING (AP) — Thousands of coronavirus testing sites have popped up on sidewalks across Beijing and other Chinese cities in the latest development in the country's "zero-COVID" strategy. Lines form every day, rain or shine, even where the spread of the virus has largely stopped.today
Facebook fails again to detect hate speech in adsSAN FRANCISCO (AP) — The test couldn't have been much easier — and Facebook still failed.an hour ago
Ad Content
Research Healthy & Natural Dog Treats OnlinePromoted: Yahoo! Search
New rules to reduce emissionsPromoted: ExxonMobil
5 Ways to Recession Proof Your Business NowPromoted: NavLearn More
Jan. 6 Capitol attack committee goes prime time with probeWASHINGTON (AP) — With never-seen video, new audio and a mass of evidence, the House committeean hour ago
EU court says UK residents in EU nations can't vote thereBRUSSELS (AP) — The European Union's top court ruled Thursday that British citizens living long-term in the 27 EU member countries have no right to vote or stand for office in the bloc unless they have obtained a European nationality.today
AP NEWS
Cookie Settings
DOWNLOAD AP NEWS
Connect with the definitive source for global and local news
MORE FROM AP
FOLLOW AP
THE ASSOCIATED PRESS
All contents © copyright 2022 The Associated Press. All rights reserved.
javascript:void(0)